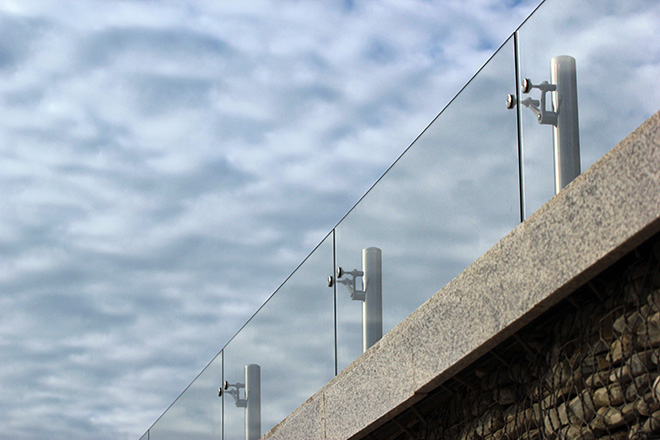 Working on rooftops is dangerous if the proper safety measures are not in place. The Occupational Safety and Health Administration (OSHA) has laid down requirements for employers to provide their workers with fall protection.
Roof fall protection systems are provided any number of ways, from roof davits, roof guardrails, skylight protection and more. The type of protection required is often determined by the nature of the work and its possible dangers. When a person is working within two meters of the falling edge, roof guardrails are required for protection, which can be temporary or permanent.
Types Of OSHA-Certified Roof Guardrails
In this article, you'll learn about the three types of OSHA-certified roof guardrails.
Modular Safety Rail Systems
A modular safety guardrail system is an OSHA-certified is a roof guardrail that's low-cost, durable, and provides exceptional fall protection. This safety guardrail is easy to install and all you need is a hex key for installation. Modular systems are versatile and can be installed in such a way that the workers can easily move them around. In addition to being flexible, modular systems are also lightweight. This means that moving the rail system between areas is easy and doesn't require a crane.
A modular safety rail system is used in the construction industry for a variety of purposes. Along with preventing falls, these roof rails have been commonly used with additional safety equipment to improve the safety measures taken for preventing work injuries and equipment damage. Modular safety rail systems have been used to prevent workers from falling in floor holes. They are also used to prevent workers from tripping over elevated platforms and dangerous equipment.
There are several benefits to using modular roof guardrails as they provide your workplace with a safe and secure environment. By providing the right levels of security and safety for your employees, you can help prevent many workplace injuries that can occur on the job and reduce the cost of workplace accidents and injuries.
Architectural Series Guardrail System
This is a fall prevention roof guardrail system that provides a compliant OSHA-approved roof safety rail and an appealing architectural design. It incorporates the non-penetrable rail with an artistic structure for applications where both aesthetics and safety are crucial, such as on green roofs.
With a four-point retractable aluminum suspension, this safety rail has an innovative dual-hinge system that allows it to be opened and closed. It also comes with a pre-drilled mounting hole for a locking device and the ability to install it in minutes. It's also compatible with most existing roofing styles including slate, aluminum, fiberglass, and asphalt shingles. The installation of this roof security system is easy and can be achieved in one day.
This type of security guardrails was designed to withstand the harshest of weather conditions. This makes it a perfect choice for those living in cold climates and where winter can wreak havoc. This also means it's ideal for installation in high-pressure areas. The unique, patented design of this guardrail offers improved protection over traditional roof security rails. Installing this innovative roof guardrail can save lives and reduce the risk of serious injury to yourself or family members in an accident.
Structure-Mounted Guardrail Systems
Since each building structure differs, structure-mounted guardrail systems are not the same and need to be customized according to the construction site. Although the posts, top rail, and the middle rail may be similar for all structure-mounted guardrails, for them to fit perfectly to the building structure, customization is a must. While designing the customized structure-mounted guardrail systems, it's important to ensure that the floor design has been thoroughly revised and approved by the building owner.
Structure-mounted guardrail systems are designed so that it can protect people and pets from falling or coming off. The materials used in the design of these systems are typically made of steel, although they can also be constructed from wood. Many of these systems are designed to have a locking mechanism. If you choose to install a structure-mounted guardrail system, make sure that you know do some research to find the best price and installation service.
How To Know If The Roof Guardrail System Is Good Quality?
The effectiveness and convenience of a roof guardrail system depends on its quality. Not only is it essential for your roof guardrails to be OSHA-certified, but it's equally important to make sure that they are made of good-quality, sturdy material.
Below are a few points that will help you know if the guardrail system is of good quality.
A well-designed guardrail will ensure that the guardrails reduces or eliminates the risks of falls.
Roof guardrails should be made according to the designer's specification to ensure that it fits the structure appropriately.
The guardrail system should be installed by a professional to make sure that the installation is correct.
Conclusion
Roof guardrails are important to prevent hazardous falls. Though there are several types of roof guardrails, the most popular among them are the modular safety rail systems, the architectural series guardrail systems, and the structure-mounted guardrail systems.
Modular safety guardrail systems are popular because of their flexibility and ease of installation. Architectural roof guardrails incorporate non-penetrable rails and are aesthetically appealing. If you want the roof guardrails to fit perfectly to the structure of the building, structure-mounted guardrail systems are ideal.
To ensure that you're using the best quality roof guardrails, make sure that it's designed appropriately and is made according to the specifications of your roof. It's also important to know if any testing done on the guardrail, so make sure to look for certifications from the manufacturer. Being cautious before you make your purchase will help ensure that it complies with the best safety standards to prevent workplace injuries and home accidents. Finally, make sure that the roof guardrail installation is done by a professional.