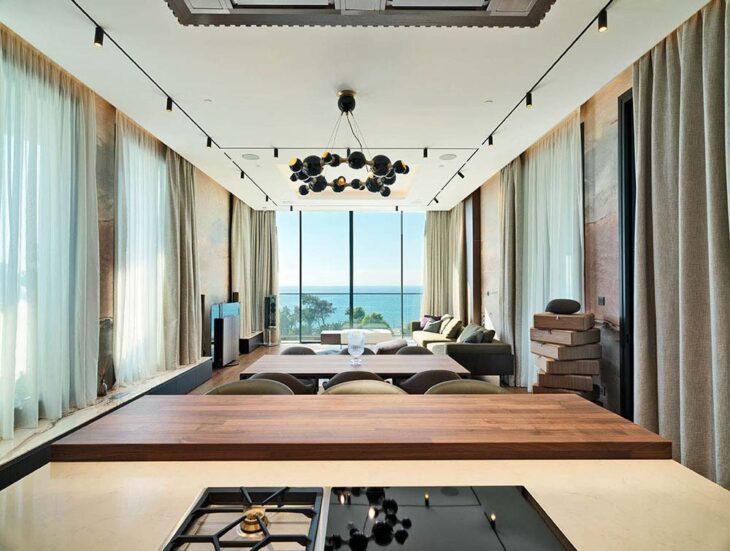 Otomi Studio has recently completed an interior design project for a duplex apartment in Limassol, Cyprus. The two storey apartment overlooks the Mediterranean sea and offers a refuge where well-being aligns with design providing unique sensations in an elegant space.
This project's main challenge was to turn this enormous space into a more intimate setting for a family of 3. We were able to capture the feeling of remoteness in nature by using basic elements like stone and lumber, as well as a panoramic sea view. Earth and timber tones served as the inspiration for the selection of wall coverings, which created a cozy atmosphere with ornamental panels' acoustic and aesthetic effects. Wide oak parquet planks cover the whole floor of the apartment, going parallel to the main facade. Throughout the project, pieces made of brushed bronze and brass enhance the decor.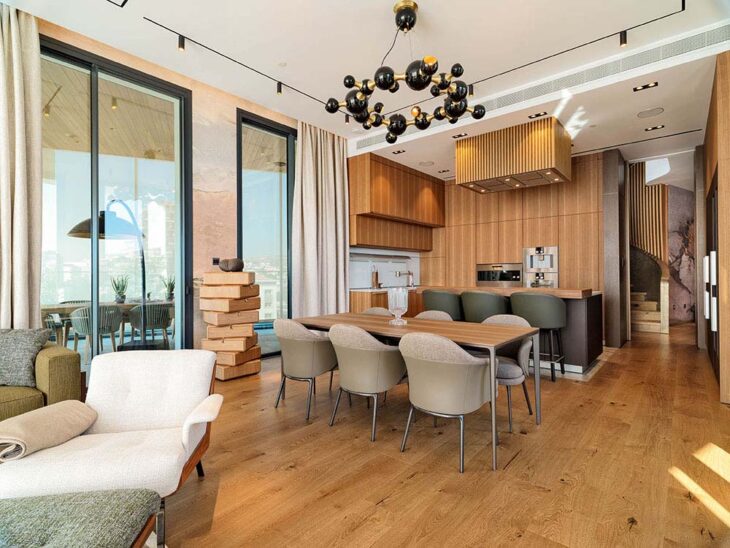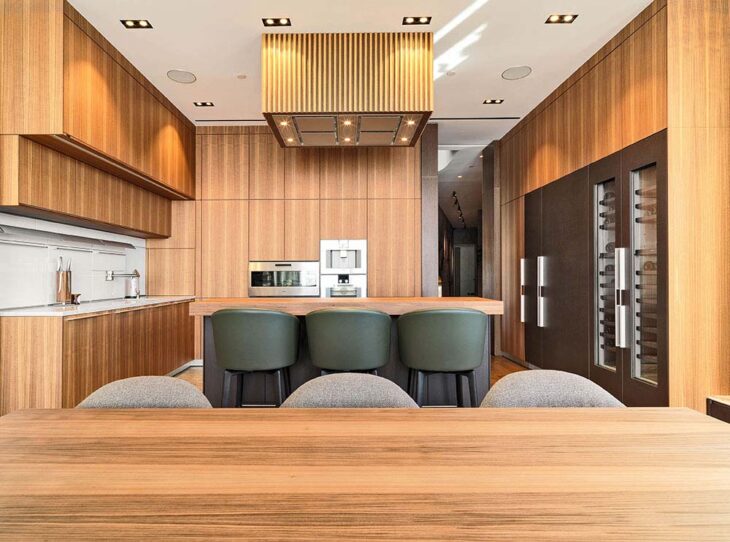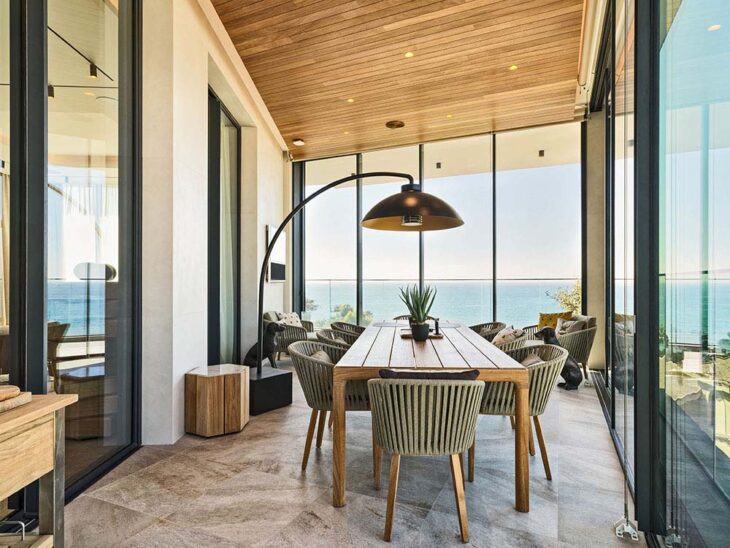 A unique spiral staircase made of wood inspired by Pirarucu fish skin on the inside and hammered bronze railing on the outside welcomes you to the space. A specially designed chandelier composed of blown glass enhances the design. Teak wood has been shaped into sea waves for the side wall. This set depicts the movement of nature, such as a whirlpool's vortex, fish flowing downstream, and a python slithering around its prey.
With a blend of natural walnut for the storage cabinet doors and dark structural oak for the kitchen appliance doors, the kitchen is integrated into the open concept dining and living area. The extendable dining table and free-form chandelier demonstrate how open space may be transformed. Living and dining rooms are connected by linear, low-wall storage drawers with marble tops that were manufactured to order. A sliding glass door connecting the dining and living areas to the veranda gives the space a sensation of openness and clarity. When you cross this line, a private area that offers sanctuary and touch with nature is created. Furniture made of solid teak, an iroko ceiling lit by stars, and a clay tile wall finish.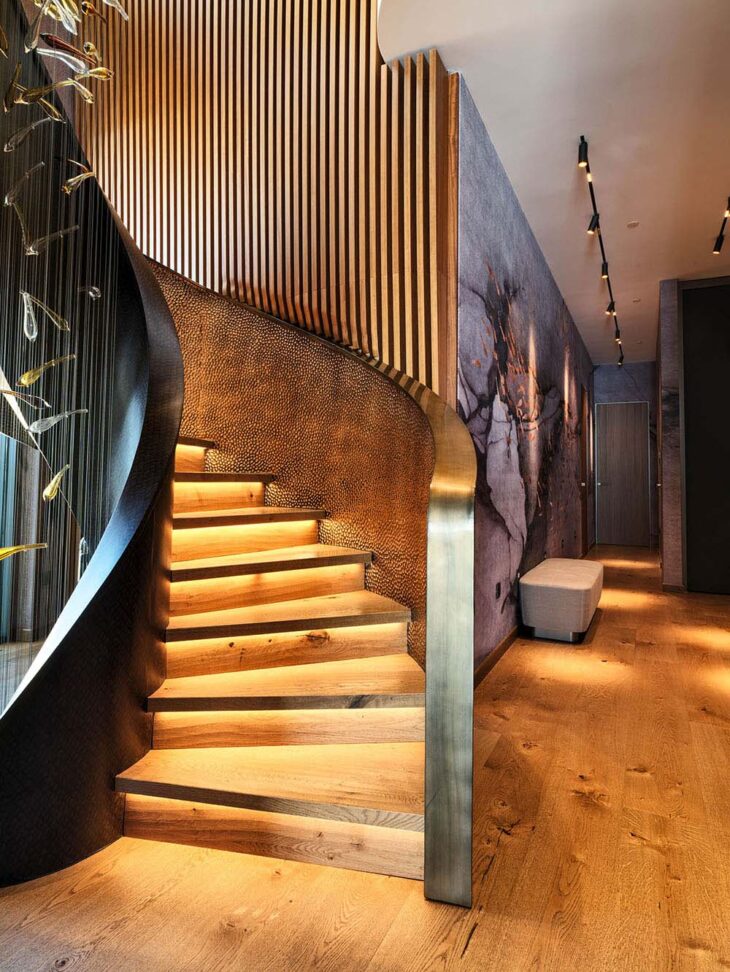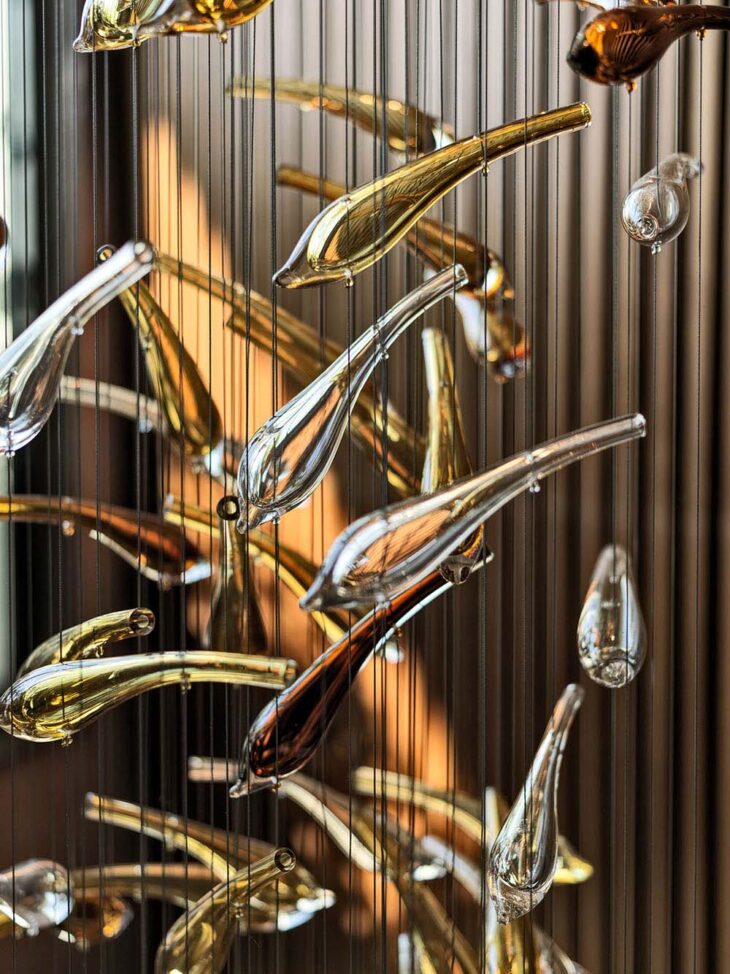 In the master bedroom, the elevated bed podium symbolizes safety and peace. The walk-through wardrobe serves as a passageway between the bathroom and the bedroom. Its meticulous design, which takes into account even the slightest details of the client's habits and lifestyle, was done with great care. Grey reflective glass, which is the dominating material, plays with openness, semi-transparency, and preservation. Through a lovely ornamental glass prism, the integrated illumination offers the best view of the objects kept in the closet.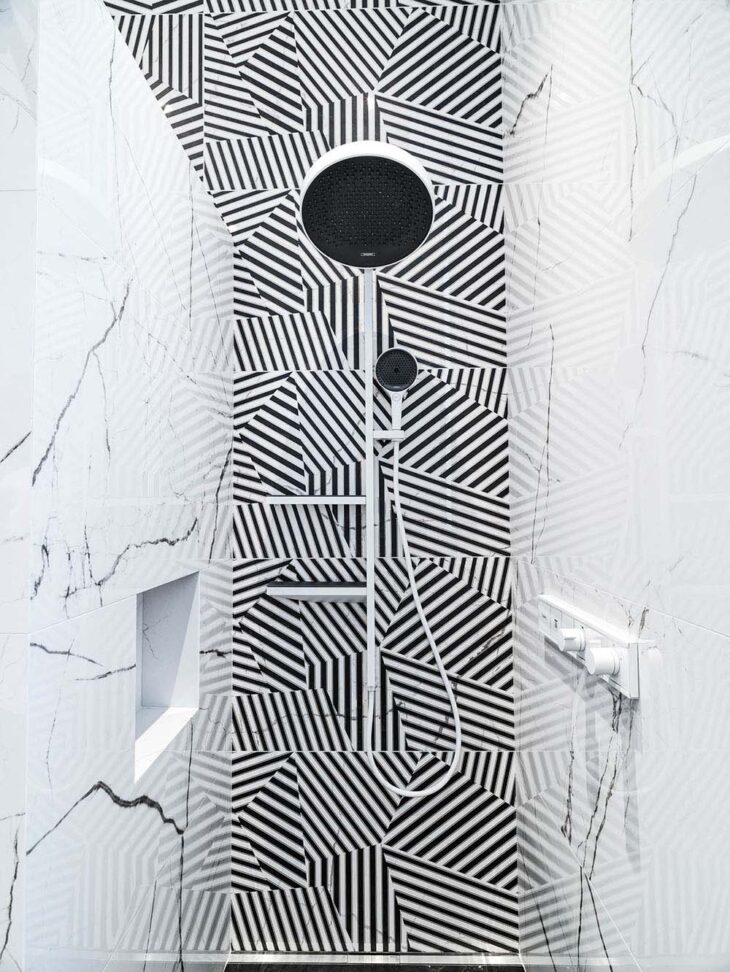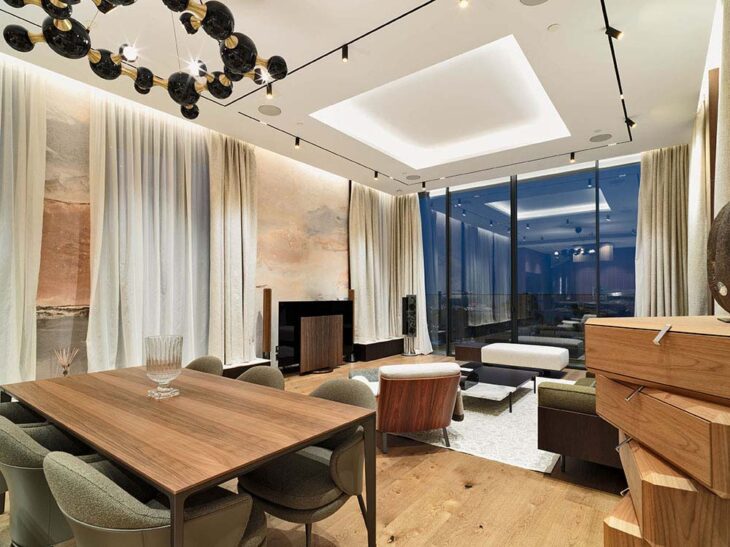 The ceramic tiles in the master bathroom's marble theme go in well with the other interior components. A fully symmetrical, custom-built vanity made of teak and fluted wood with enormous full-height mirrors that emphasize the already opulent room. The free form chandelier between the vanities and above the free-standing bathtub is reflected by the integrated LED illumination of the mirror frames, which forms a mystical portal.
Project Name: Limassol Seafront Duplex (Interior Design)
Office Name: Otomi Studio – www.otomi-studio.com
Firm Location: Limassol, Cyprus
Completion Year: 2022
Gross Built Area (m2/ ft2): 450 m2
Project Location: Limassol, Cyprus
Program / Use / Building Function: Private apartment
Team
Lead Interior Designer: Alexander Golinski
Lead Interior Designer: Estera Anna Kierus
Interior Designer: Eftychia Zanti
Product Designer: Loukas Chatzigiannis
Interior Architect: Evelyn Christodoulou
Architectural Designer: Karim El Harary
Photo Credits: Antonis Engrafou – www.antonisengrafou.com