ENOTA has been commissioned to design the extension for the popular Hotel Natura in Rogla, Slovenia. The hotel exhibits possibly the biggest visual change from the identifiable expression of the earlier interventions, which more prominently reflected the nearby, rurally developed terrain. It was built as the last addition to a chain of hotels. Although intended to be Rogla's top hotel, Hotel Natura never reached its full potential. A large portion of the planned accommodations never got built, but the investor now plans to change the typology and expand the hotel by adding multipurpose common areas and a swimming pool for leisure.
The architects decided to design the new part to have an autonomous look but logical affiliation with the existing building. A snow-covered lodge in the middle of pristine, unspoiled nature is what most visitors envision when they set out to the top of Rogla. The needs of an accommodation provider in the actual world are obviously different; they want to offer as much lodging as they can, complete with balconies whose size and appearance varies greatly from those of a single chalet.
That helped to guide the choice to connect the impossible: to transform the façade into the roof. The façade appears to have been changed into the area's historically distinctive timber gable roof. The facade's wood is loosely packed and exposed, allowing it to weather and take on the character of the surroundings. Because of this, the new addition makes more of the nearby woodland and traditional rural development than it does the old building.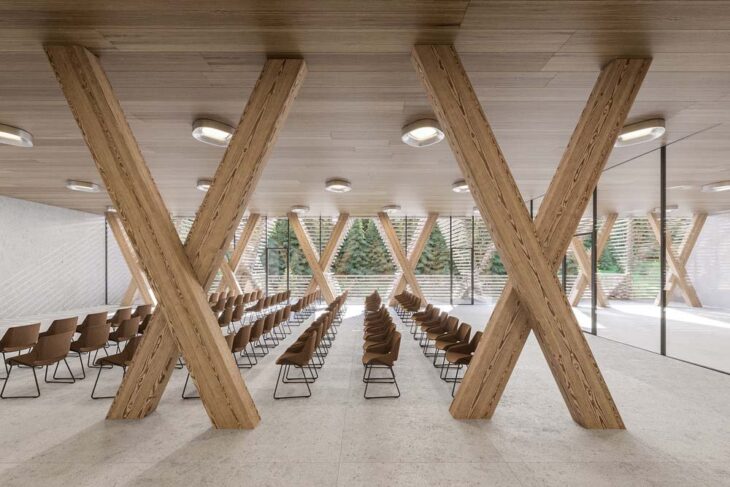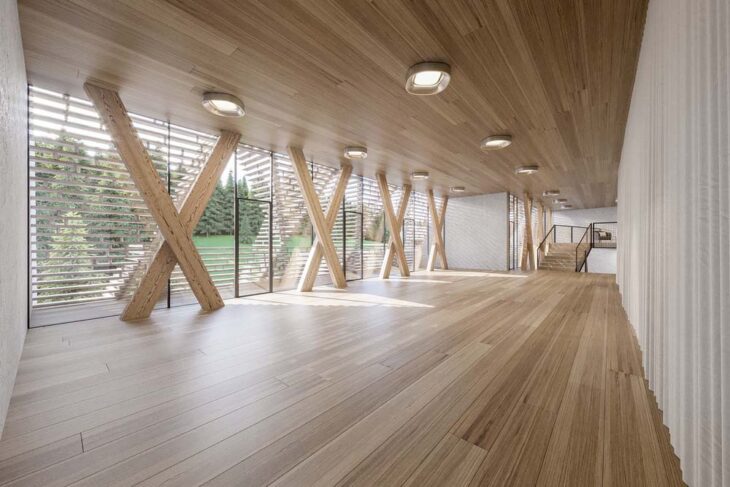 The program's internal organization distinguishes between the public and accommodation components. The entire public program has taller storeys that open into the forest hinterland to the north, while all of the guestrooms have slightly lower ceiling heights that face the ski stadium to the south. Floor height discrepancies are bridged by a new staircase built as a "vertical hall," as well as a new double-sided elevator. Such architecture lends itself to appealing interior areas with plenty of crosslights and natural lighting, including hallways. Despite the fact that the public and accommodation areas are clearly separated, they may be joined in cases when the entire annex or its individual self-contained sections is rented out.
Project information
Project: Hotel Natura Extension
Type: Commission
Year: 2020
Status: In progress
Size: 6.260 m2
Site: 6.310 m2
Footprint: 3.500 m2
Client: Unitur
Location: Rogla, Slovenia
Coordinates: 46°27'08.5″N 15°19'46.2″E
Architecture: ENOTA
Project team: Dean Lah, Milan Tomac, Sara Mežik, Jurij Ličen, Nuša Završnik Šilec, Peter Sovinc, Jakob Kajzer, Rasmus Skov
Collaborators: Spacer (visualizations)
Find more projects by ENOTA: www.enota.si