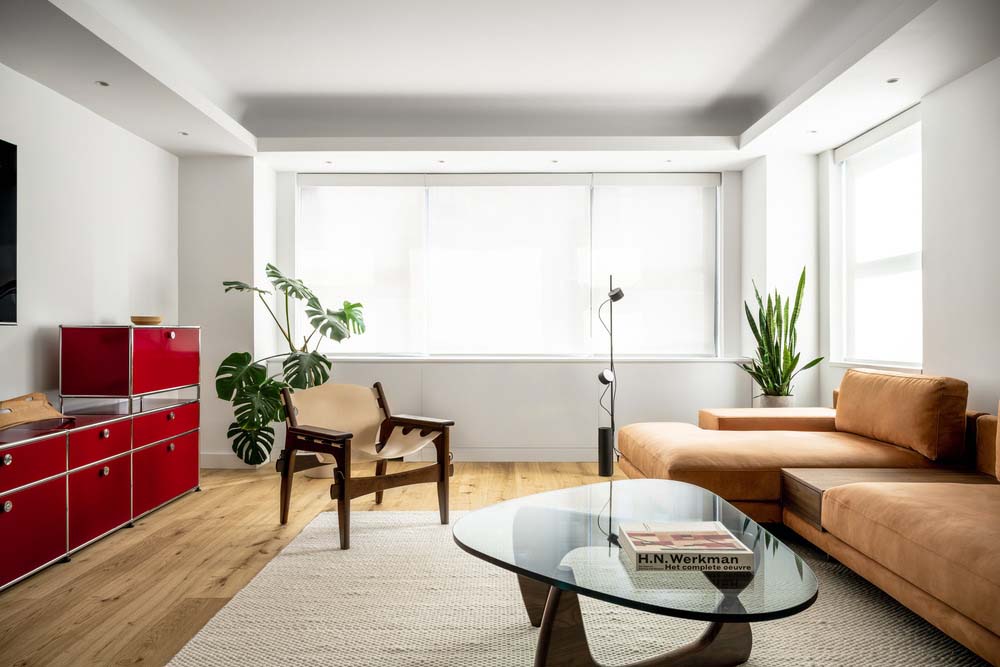 The Palmer Apartment in New York City's Upper East Side has undergone an extensive transformation, thanks to the innovative design work of Fernando Fisbein Architect. This remarkable renovation project has breathed new life into a 1,350-square-foot pied-à-terre, creating an inviting and functional space for its Los Angeles-based owners.
Originally from New York City but living on the West Coast for three decades, the couple decided it was time to refresh their city home, nestled on the vibrant corner of 57th Street and Park Avenue. With their two sons residing in the city, the desire to spend quality time with family and host friends in the heart of Manhattan inspired this renovation endeavor.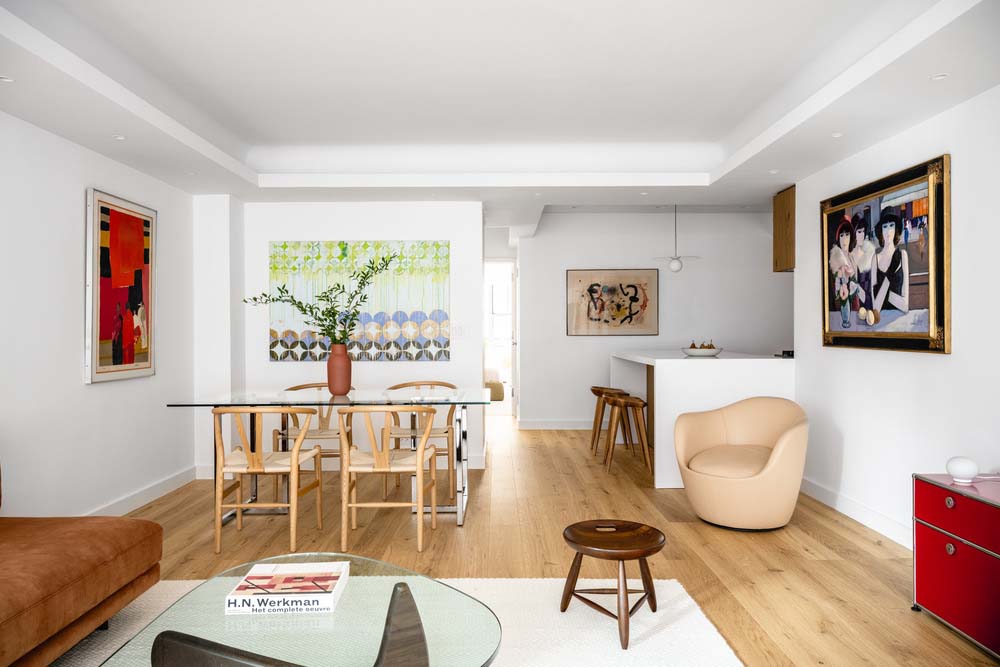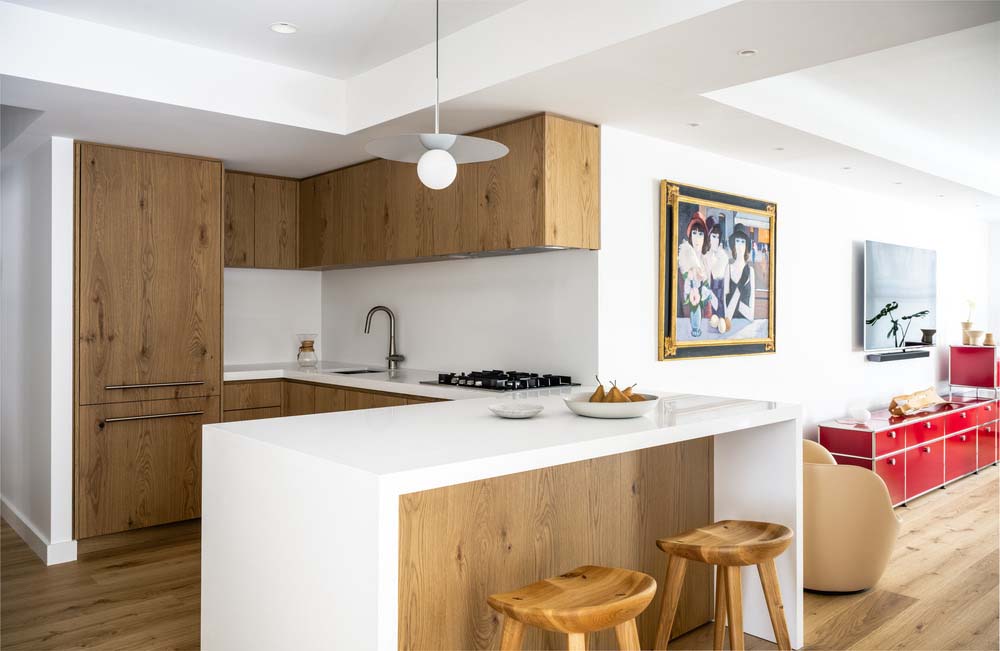 The apartment's original layout was a challenge. Around 40 years ago, the previous homeowners had combined a 1-bedroom unit with an adjacent studio, leaving a fragmented and outdated space. The one-bedroom portion remained largely unchanged, while the studio was transformed into a primary suite.
Fernando Fisbein Architect was enlisted to guide the complete overhaul of the apartment, addressing numerous issues such as excessive partitions, damaged flooring, outdated lighting, mirror cladding in the bathrooms, limited storage, and the absence of laundry facilities within the unit.
The design approach focused on creating an open and harmonious living space. To achieve this, plain sawn white oak planks by LV Wood were used throughout the living, dining, and kitchen areas to maintain consistency. A continuous ceiling design was implemented to seamlessly integrate the apartment's existing beams and provide direct and indirect lighting.
One of the standout features of this renovation is the conceptual activity wall, serving as a central spine to organize the apartment's various functions. This dynamic millwork features integrated lighting and provides storage, display, work, and support spaces along its length. The space was stripped to its essentials, with floors leveled, trims removed, and custom radiator covers installed to create a clean slate for the new design.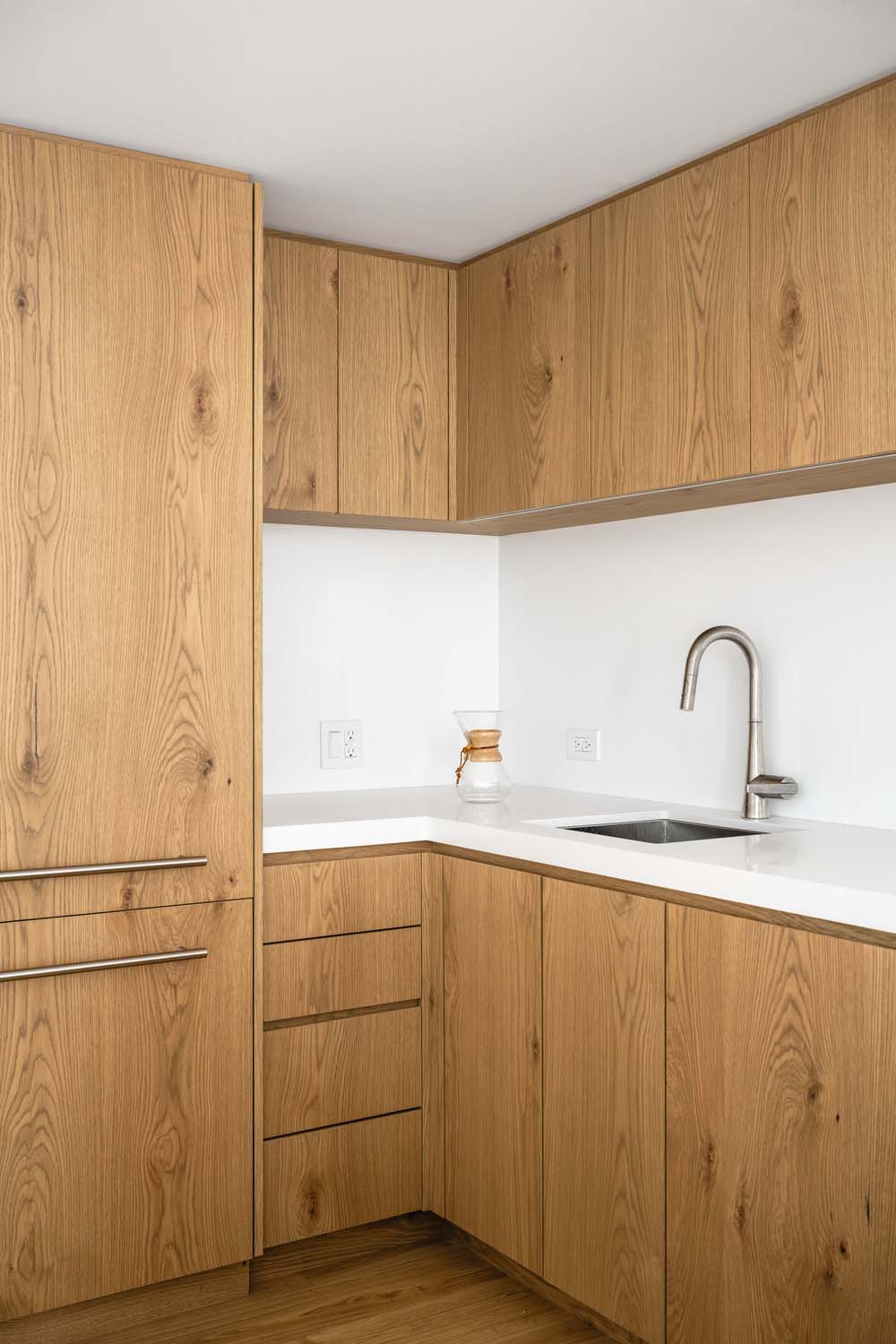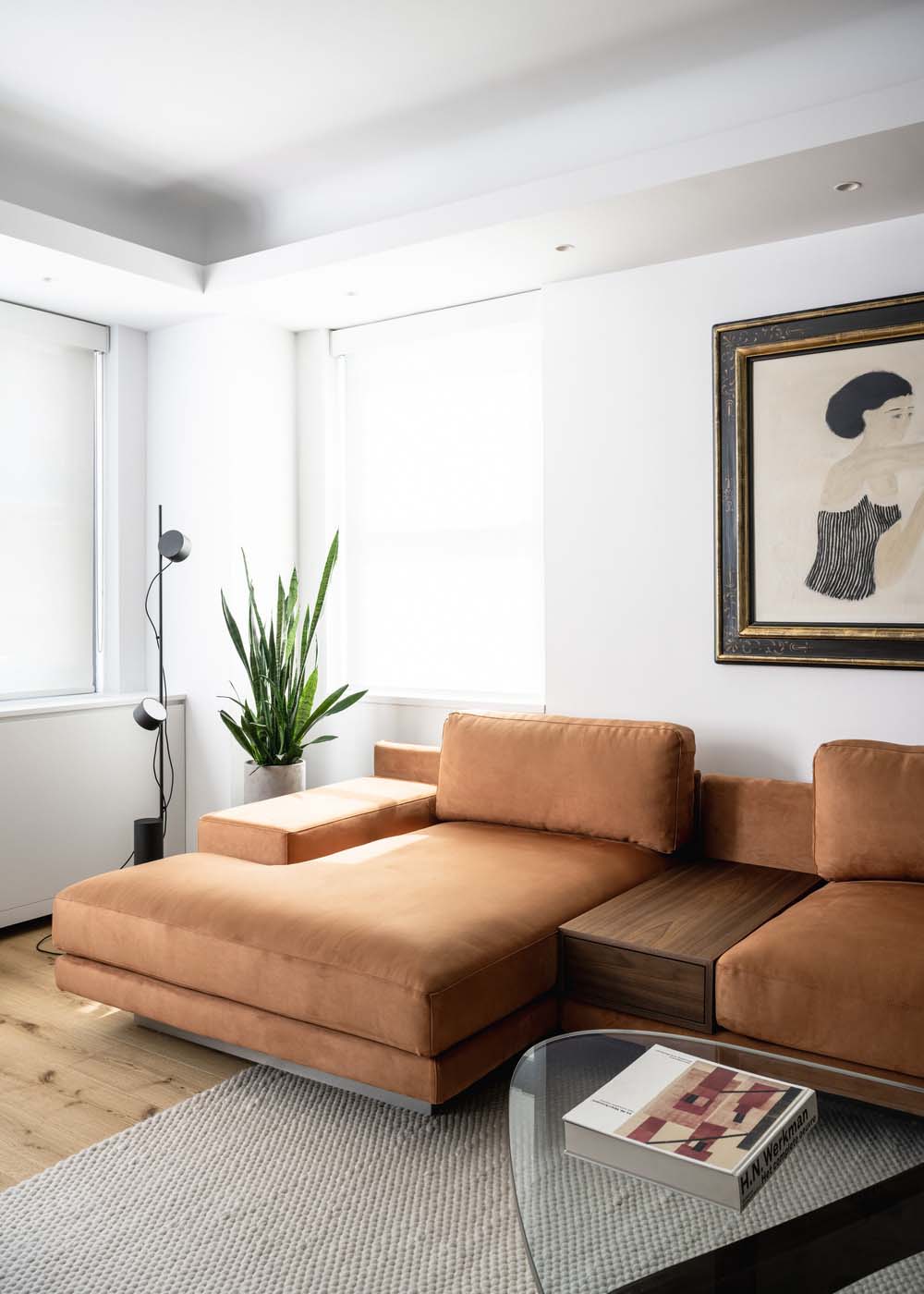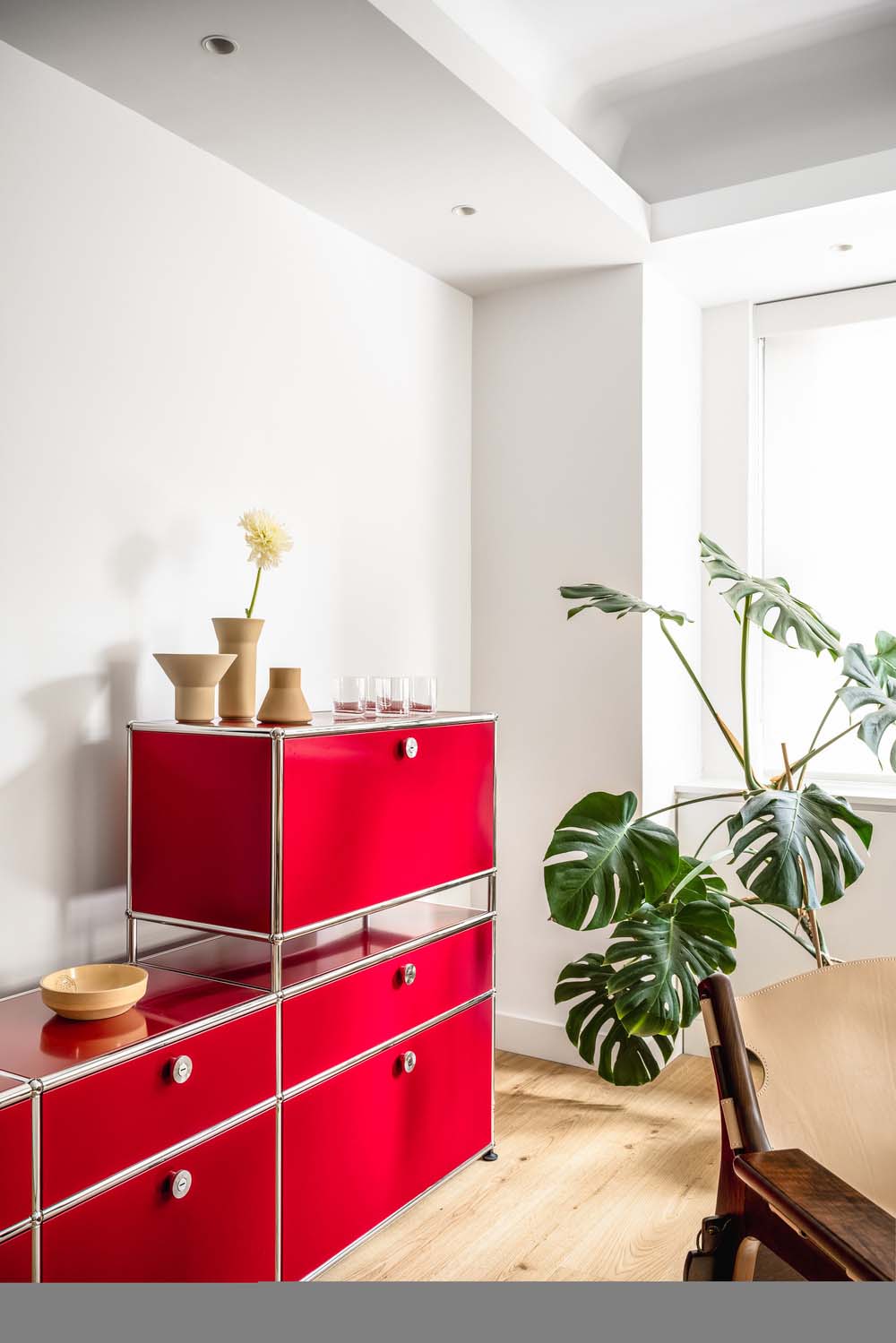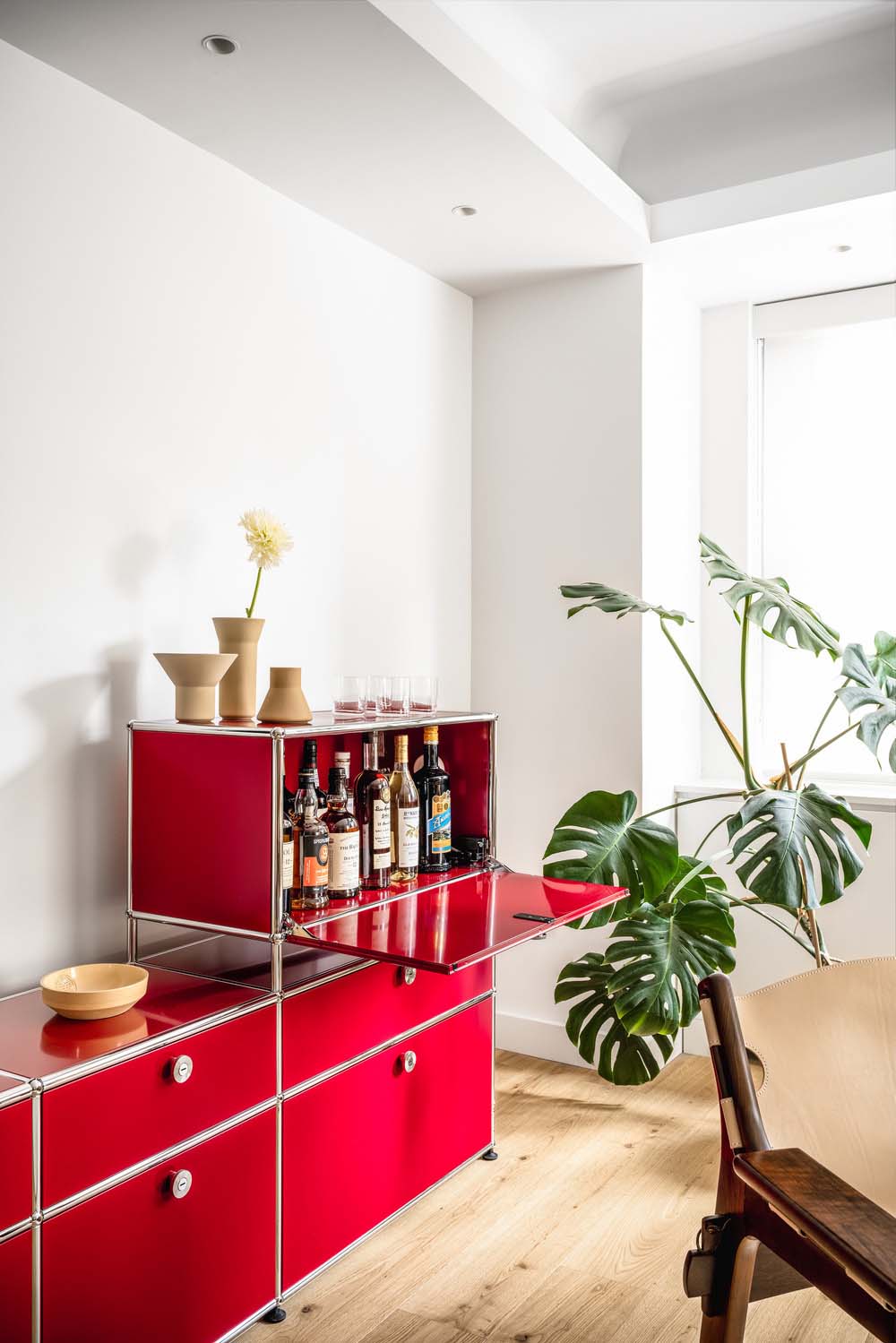 The kitchen plays a pivotal role in the apartment's layout. Partitions were removed, and a new peninsula now extends into the dining area, enhancing the sense of space and connectivity between different areas. This open kitchen design allows natural light to penetrate deeper into the apartment while providing a seamless transition from social to private spaces.
Custom cabinetry made from white oak live flitch and countertops molded from white engineered stone, both crafted by Townhouse Kitchens, bring sophistication and functionality to the kitchen. A Bola Disc pendant by Pablo Studio floats above the peninsula, adding a touch of playful elegance to the space.
The living room, with its captivating view of 57th Street, features a collection of modernist furniture, including a custom-designed USM Haller media console and bar. A mix of vintage and contemporary pieces, such as an Isamu Noguchi coffee table and Kilin chair by Sergio Rodrigues, infuse the room with warmth and character.
In the dining area, a small glass table by CB2 is paired with iconic Wishbone Chairs by Hans Wegner, offering an intimate yet stylish setting for formal dinners. A vintage leg splint from 1942 by Charles and Ray Eames adds a touch of history to the space.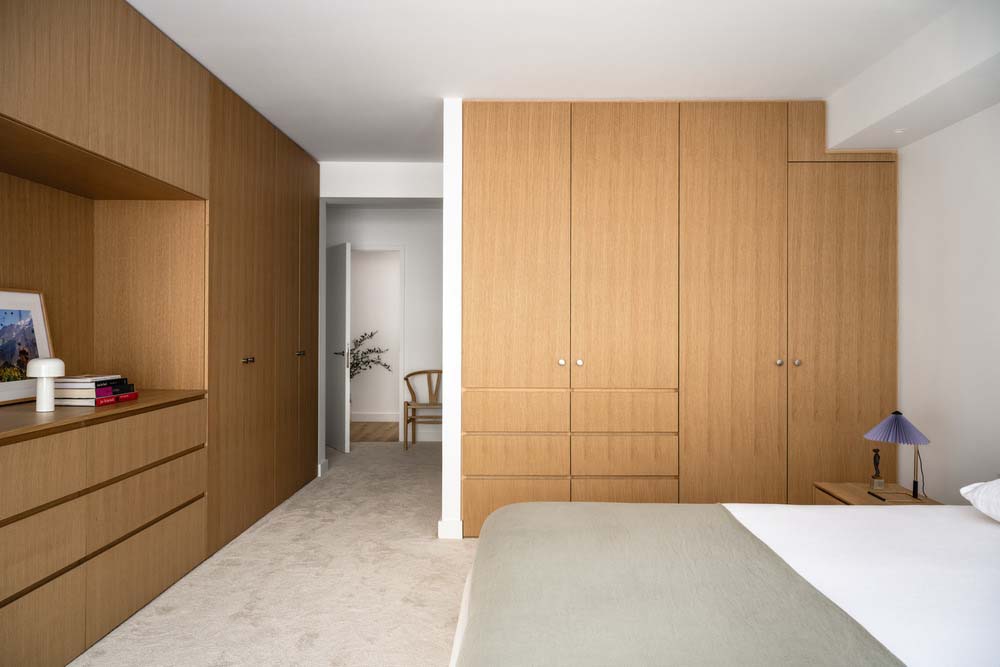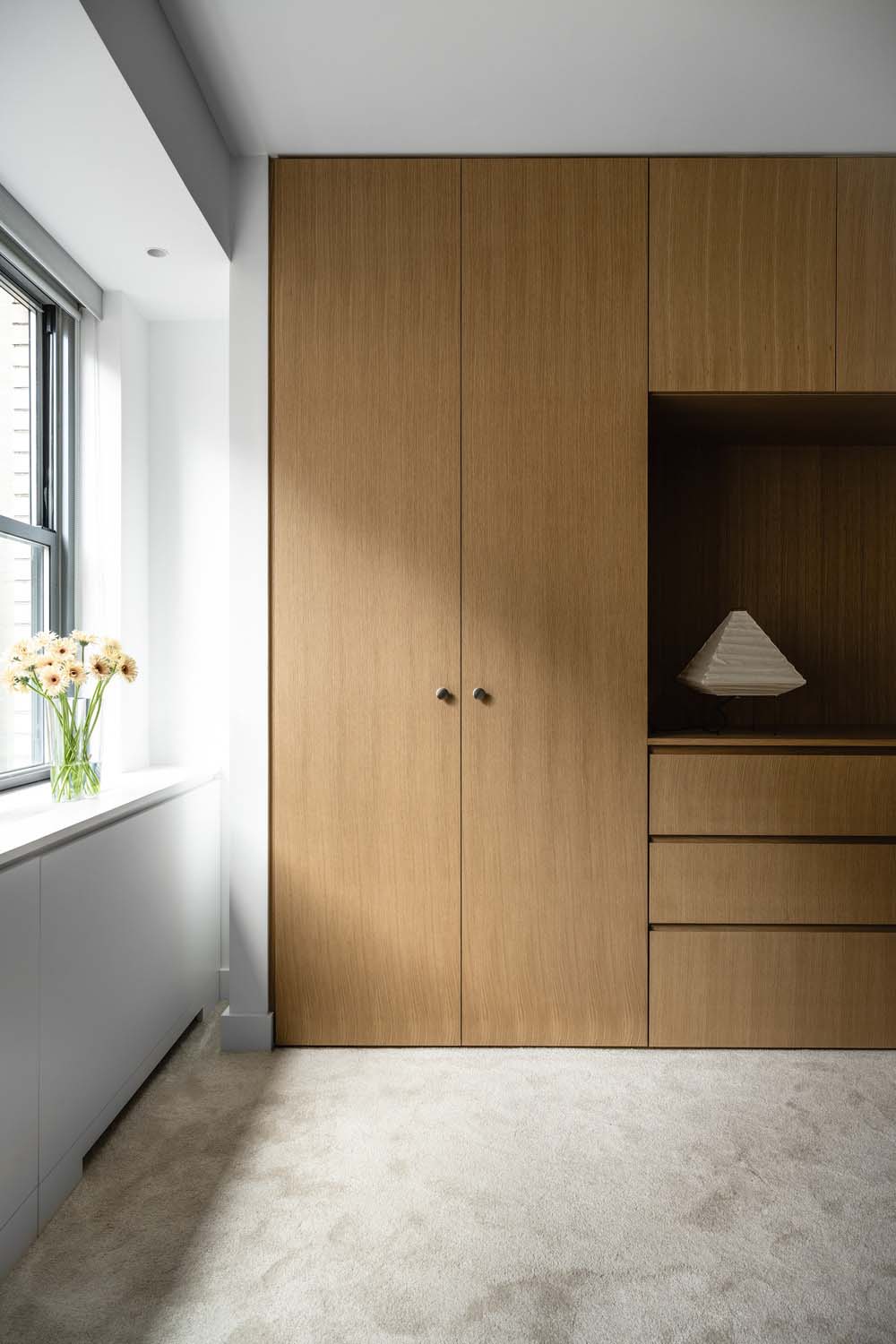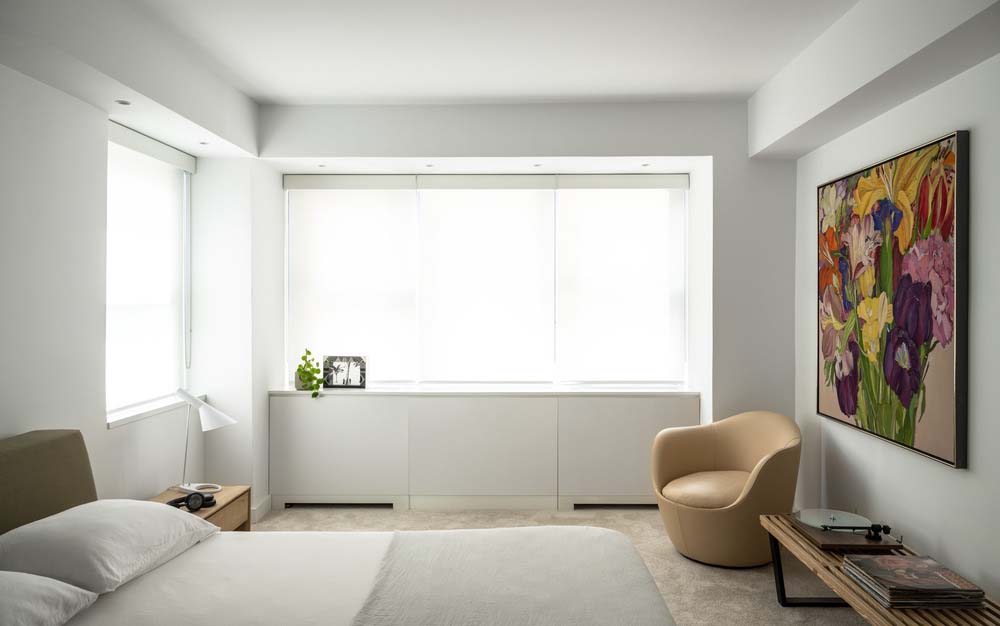 The primary bedroom serves as a cozy retreat, complete with a hidden projection screen for movie nights. Custom-built white oak storage cabinets from AT Concepts provide ample space to keep the room clutter-free.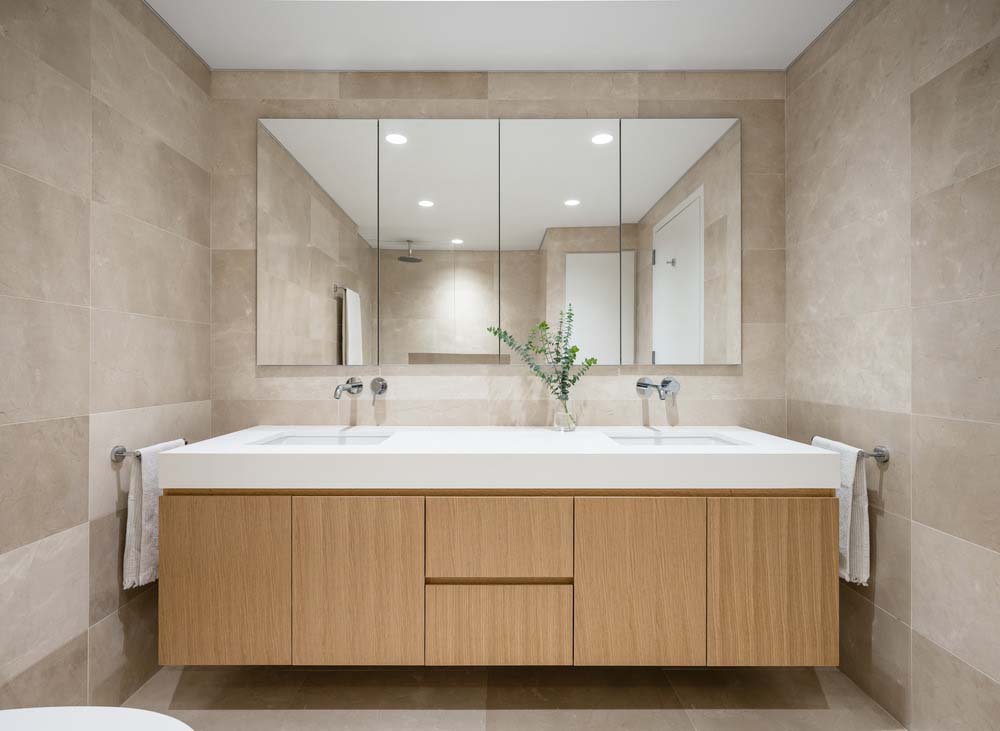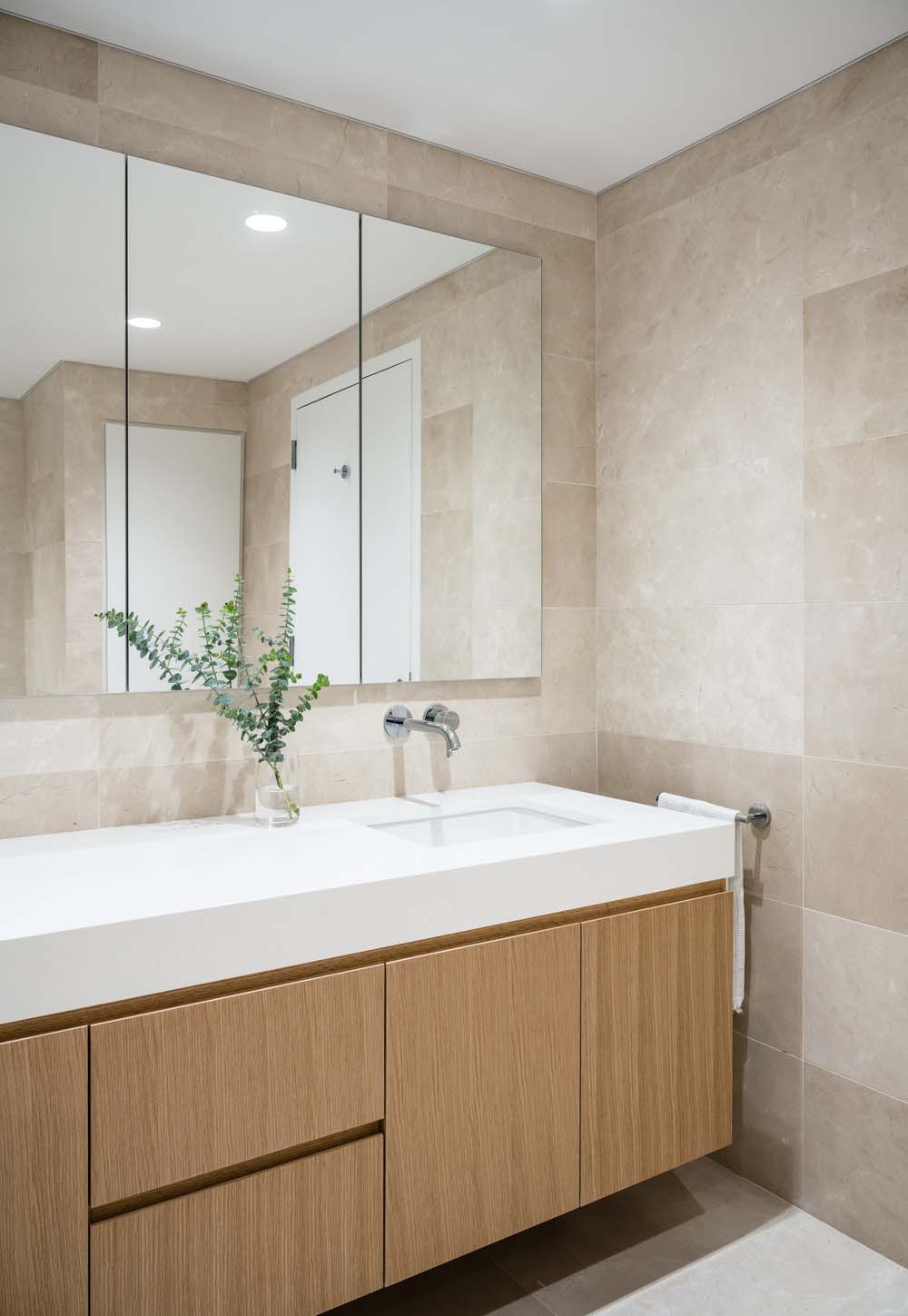 The primary suite's bathroom has been enlarged and exudes a bright and minimalist aesthetic with its Crema Marfil marble finishes and custom white oak vanities, also crafted by AT Concepts. The secondary bathroom follows a similar aesthetic theme, maintaining its original layout but receiving a stylish update.
The second bedroom has been transformed into a versatile space for music and meditation. Featuring pieces by renowned designers such as George Nelson, Hlynur Atlason, and Arne Jacobsen, this room showcases a blend of form and function.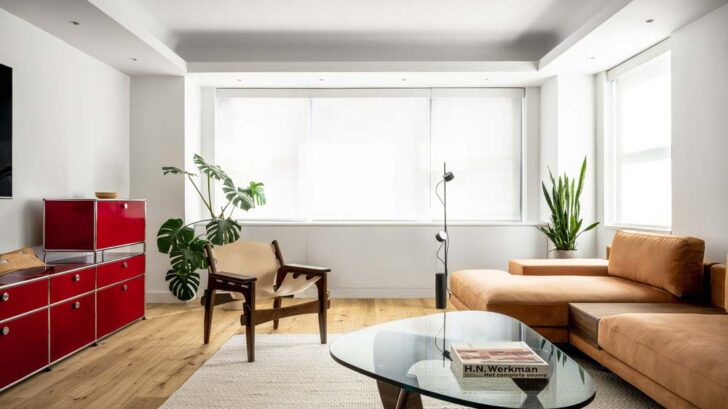 Project information
Project Name: Palmer Apartment
Location: New York, NY, United States
Year of Design: 2022
Year of Construction: 2023
Area: 1,350 SF (125 m2)
Architect: Fernando Fisbein Architect – www.fernandofisbein.com
MEP Engineer: Palma Design
Expeditor: Somma Design & Consulting
Specifications: Construction Specifications
General Contractor: AT Concepts
Kitchen Contractor: Townhouse Kitchens