NONG STUDIO designed this striking designer's apartment in Shanghai, China. Take a look at the complete story after the jump.
From the architects: Habits change, and interiors must change with them. In the past, space was static, this was the classical notion for thousands of years. Our century is instead characterized by dynamism… there's a fourth dimension now: time. -Joe Colombo
Home is alive when it meets time, which can sculpture the space and gives life flexibility and interaction with memories, experience and nostalgia. So, the designer strives to create his apartment that will last over time, by not using any kind of dominant style but saving more blanks for artworks, furniture and collections to perform. The freestyle in Jazz inspired designer in some way, which is about improvisation and the ability to react spontaneously, to invent and explore. There is no reason why all these pieces are displayed together other than the fact that designer loves them all, and applied them in elegant new combinations and contexts.
The living room is divided into dinning and leisure area, and connected by Taurus black marble fireplace and plenty of orderly displayed artworks hanging on the wall. In the dinning area, hundreds of collections, such as chunky ceramics by Jamie Hayon, scale model of window frames from Frank Wright, wooden toys collections from Vitra, doggy audio created by Yoshitomo Nara, glass vessels from Mondrian…are all placed on the Cassina Veliero bookshelf by Italian designer Franco Albini. Besides, 1950s Shanghai style cupboard, a pale marble table by Angelo Mangiarotti and a cape-shape pendant by Catellani&Smith, forms a complex sensibility of very poetic and trans-times-and-space illusion. In the living area, mix & match of modern design with vintage furnishings starts a dialogue through the time but creates a cozy and comfortable ambience in the end. Other than a couple of emerald-green and houndstooth re-fabricated vintage Lady chairs, the color palette here is kept neutral with a grey sofa by Ligne Roset, glass tea table by Glass italia and several vintage stools various from 1920s China or 1970s Italy.
Wall between living room with study was torn down to unite space as a whole. The study wall is dramatically decorated with opera-scene wallpaper, and a vintage teak wood desk manufactured by an Italian furniture-maker now centers in the space, Various books and toys are displayed on a brass bookshelf curved around the room's perimeter, the surface of which will change when time erodes.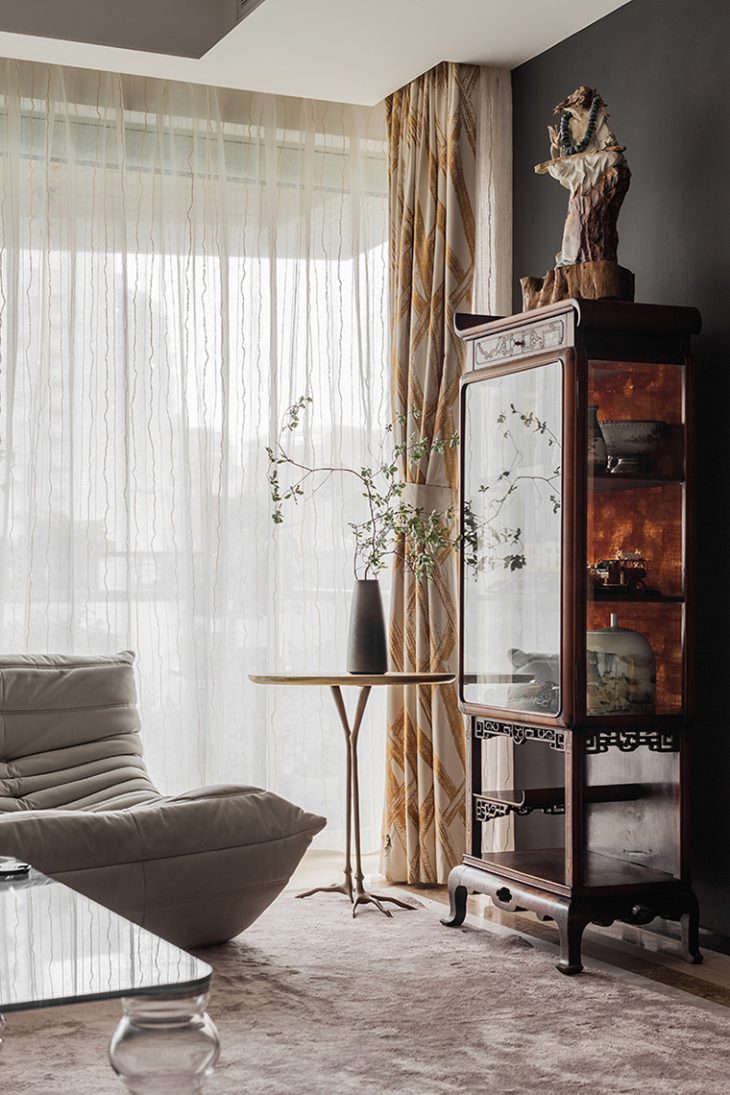 The corridor was created and integrated with many Chinese accents,such as artworks and paintings by ancient and contemporary artists from China, Italy, France and America, in order to feature the space in a eclectic mood . An adjacent room alongside the corridor is transformed into a tea room in exotic color palette. Featuring vintage furnishings, cherry-red walls, Tibet thang-ka paintings and checkerboard carpentry, the room is intended to evoke the bold color, eclecticism and glamour of the the Republic of China period.
Light wood veneer wall panels, Art Deco style marble fireplace and paper-cut pattern rug by HenriMatisse features the master suite, creating a similar interplay of elegance and playfulness. As well as nightstands are replaced by a pair of French Napoleon III style brass red-velvet chairs.
Every day is a journey and the journey itself is home. The designer sees this unconventional home as an individualistic expression of what he holds dear. Art and design meld with comfort to present unpredictable yet dynamic interactions.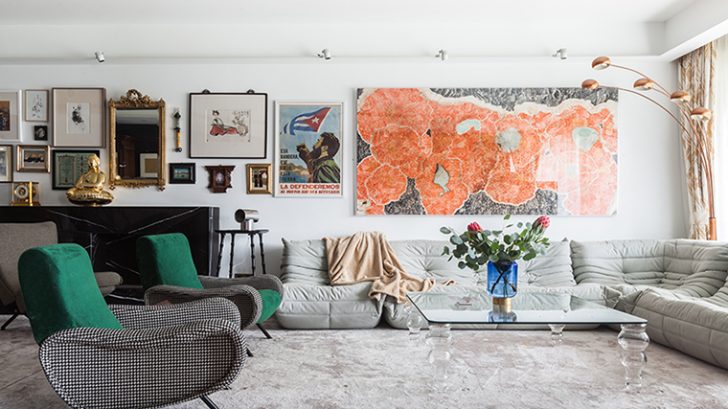 Project Name: Shanghai Waterfront Designer's Home
Chef designer: Chasing Wang
Completion year: 2019.1
Area : 187 sqm
Address: West Guangfu rd, Shanghai
Photographer Chasing Wang
Client: Private
Construction Team: Shanghai Taoyi Construction & Decoration Engineering Co.,Ltd
Main materials:Calacatte Gold Marble, Statuario, Caronica Grey, Tea rose, Bespoke Houndstooth Wood floor, Wood Veneer, Brass, Crystal glass, Antique mirror, Stainless steel, Formica veneer, Artistic glass, Hand-craft rug, Bespoke fabric covering, bespoke wallpaper, Bespoke curtain.
Furniture brands:Poliform, Ligne Roset, Glass Italia, Anglepoise, Cassina, Tom Dixon, Osvaldo Borsani, Catellani& Smith, Agapecasa, Shang xia, Flos, Ginger & Jagger