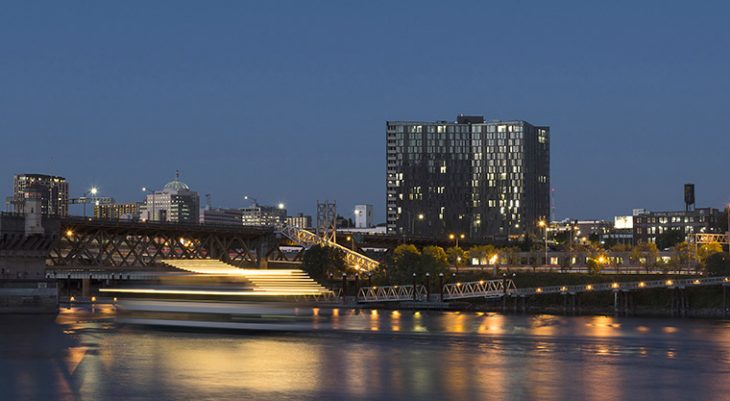 Portland-based studio Skylab Architecture recently completed the YARD – a mixed-use 21-story tower on the eastern shore of the Willamette River in Portland, Oregon. In addition to the YARD, the firm also designed Knot Springs, a boutique spa which is located on the 4th and 5th floors of the complex. Discover more after the jump.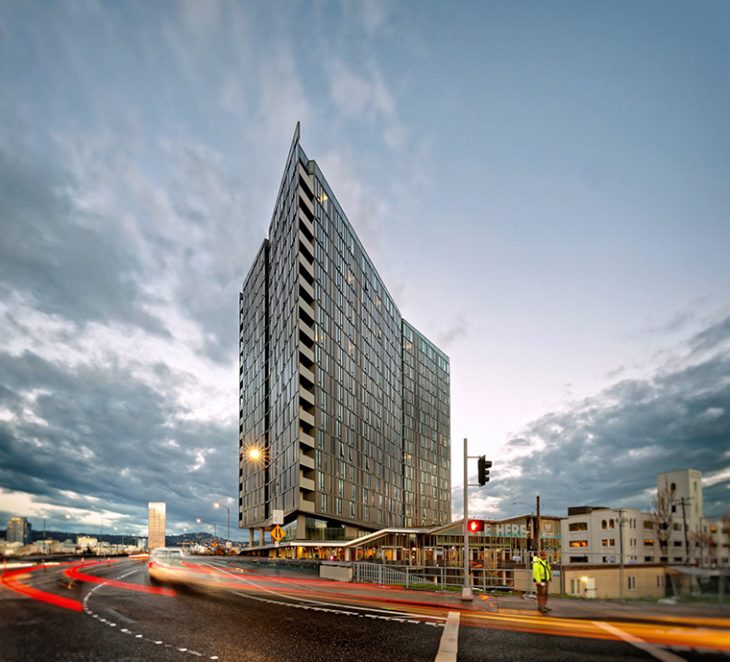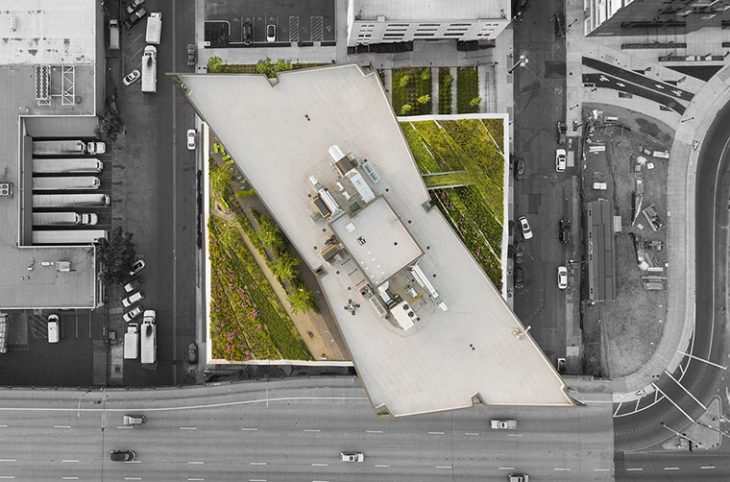 From the architects: Located across the Willamette River from downtown Portland, the YARD is a 21-story, 343,100-square-foot mixed-use apartment building that rises above the famous Burnside Bridge. The roof of the podium elevates a native planted landscape to the level of the bridge to create a shared community landscape environment, while its folded roof shape abstractly recalls the natural slope of the waterfront site. The landscape is both open to the public and tenants offering spa, fitness and co-work amenities that take advantage of the unrivaled views of Portland downtown across the river. The building's 284 residential units—20 percent reserved for residents making 60 percent or less of the the local media income—constitute a mix of studios, one- and two-bedroom apartments.
The site was not without challenges: a full 40 percent of the site was limited to construction of no more than five or six stories. To resolve the site constraints and grade change, the tower was shifted off-axis and bracketed between halves of the podium. The exterior mass of the building is defined through it's chocolate-brown anodized bronze metal facade, set in contrast to the reflective glass windows. Together, the cladding and the window system embody the spirit of the project which explores how simple moves and commodity products can be elevated through simple modifications. Inside, an easy-going, Pacific Northwest aesthetic defines the building's communal spaces. Apartments amenities include black-glass ranges and granite countertops to smart-home technology (in some units) and electric car–charging stations. Communal co-working and lounge areas encourage a sociable atmosphere, especially on shared indoor and outdoor portions of its landscaped podium.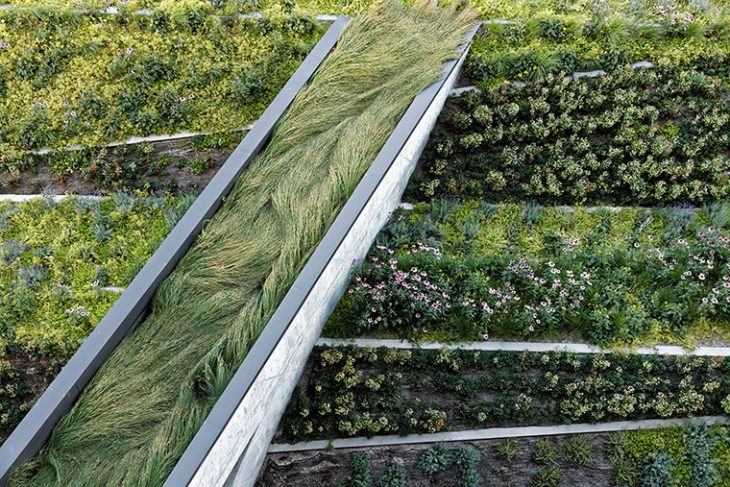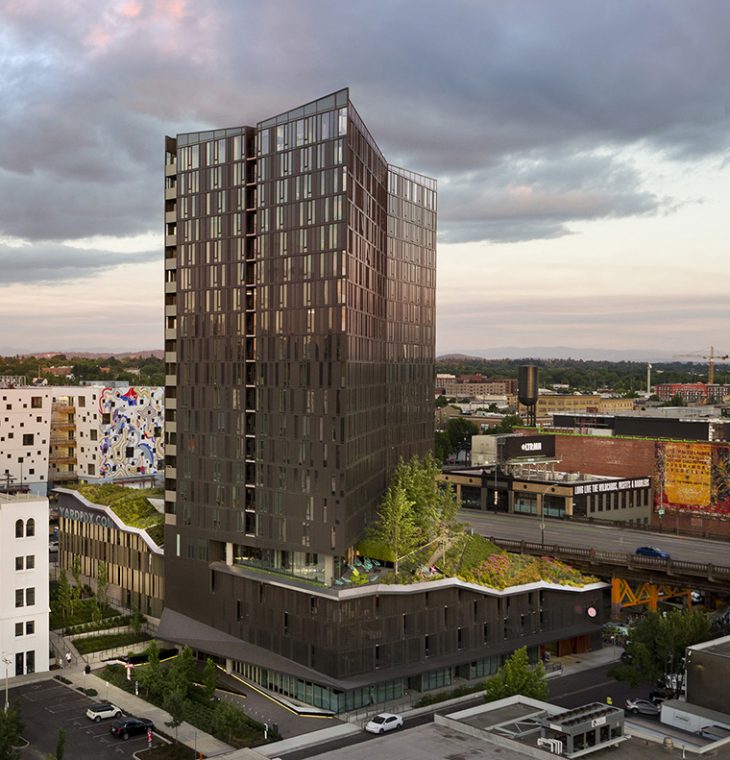 Knot Springs, a popular spa is located on the 4th and 5th floors (skylab was also responsible for the design of this space). The design is inspired by the hot springs of the Alvord Desert and is essentially a social club centered on health, wellness, and community. The elevated YARD landscape and concrete structure undulate throughout the baths and gym recalling the native river embankment. The spa opens up to the landscape, allowing flow through an open air hallway to respective destinations in a wellness journey. The Knot Springs palette draws inspiration from primal materials to heighten the pools of water using wood, glass, steel and concrete in sustainably effective applications. The environmental graphics, macrame plant ceiling, and small details engage guests by embedding messaging and communication systems cast in the concrete and heat branded wood to further refine and use materials holistically.
The tower, the porosity of the podium and expansive outdoor spaces—each in their own way—combine to knit the building into the urban scape. "It's inviting the street and the public into the building," Skylab founder Jeff Kovel explains. "We're in an age where buildings have become almost like gated communities, and we really set out to create the antithesis of that. I think that's a big part of why people like to live there. They feel like it's a social hub and connects them—to other people and to creative life in the city."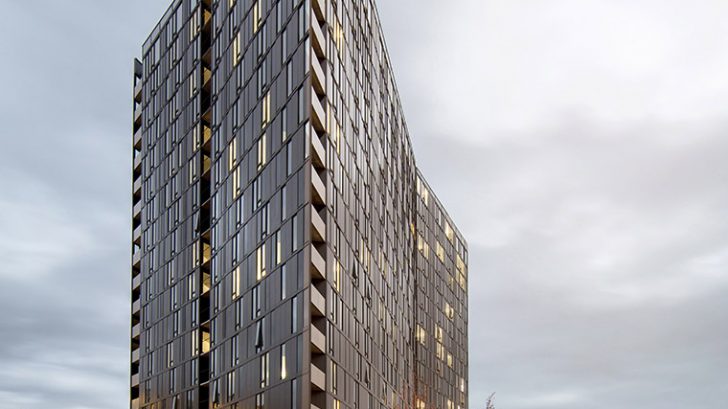 Skylab design team
Jeff Kovel, Creative Director / Principal Architect
Brent Grubb, Principal
Susan Barnes, Project Lead
Nathan Cox, Project Architect
Jill Asselineau Project Architect
Josh Ashcroft, Designer
Ben Porto, Designer
Stephen Miller, Visualization
Amy DeVall, Interior Designer
Mark Nye, Project Lead
Jim Henry, Project Architect
Jon DeLeonardo, Architect
Marian Jones, Architect
Katy Krider, Lead Interior Designer
Hiroki Abe, Designer
Project team
Architecture and Interior Design: Skylab
Client name: Key Development Corporation
Contractor: Andersen Construction
Civil Engineer: Harper Houf Peterson Righellis – Inc.
Structural Engineer: KPFF Consulting Engineers
Mechanical, Electrical, Plumbing Engineering: PAE Consulting Engineers
Geotechnical Engineer: GeoDesign Inc.
Landscape: 2.ink Studio
Lighting: LUMA Lighting Design
Acoustical Engineer: SSA Acoustics, LLP
Geotechnical Engineer: GeoDesign Inc.
Surveyor: Blue Dot Group
Building Envelope Consultant: The Façade Group, LLC
Environmental Graphics: Open Studio Collective.
Photography by Maria Lamb, Stephen Miller, and Brian Walker Lee
Selected Materials
1. 9Wood / Ceilings and panels
2. Lapchi Carpets / Rugs
3. Stephen Kenn Loft / Couch
4. Arcadia Curtain Wall and Storefront
5. Guardian Glass