Estudio Montevideo has recently completed work on the Mixo Cordiez Supermarket projects in Córdoba, Argentina. The designers wanted to create a completely new look for the company that would be both modern and timeless.
We were hired in this new adventure to completely change the image of this well known place. We not only worked on the interior design and the façade, but also did a complete rebranding, name, logo and graphic design.
They made an effort to develop an image that is closely tied to the modern day, including client loyalty, agility in customer care, and online service. separating the preparation and withdrawal of the online purchase from the conventional in-store transaction. Its aesthetic aims for professionalism, freshness, and customer service. The gondolas and its facade all work together to show this personality. It was decided to use shapes, colors, and textures that would work well together to create a striking visual effect. The routes always feature metals and complementary hues.
The lighting was used as a way to interact with the public in a playful way. In the heights appear wooden textures with mutable forms crowning the space with warmth.
The design was heavily influenced by the sectorization of goods and services offered in the area. We advance gondola by gondola beginning with a cold wall that completes one of the sides of the location. We next make our way to the big window that views out into the street. We have the services of a bakery, butcher, and fishmonger on one end, and checkout counters—both physical and virtual—on the other. Connecting with the staff's internal flows and buying preferences is crucial.
Designing a supermarket is always a great responsibility because they are very large spaces that affect a large number of people every day and it is an important investment for our customers. It is necessary to think about all aspects of the project in order to achieve efficiency on multiple levels. To recognize the brand, to remain in force over time, but above all, it generates a strong impact in the area where it is located.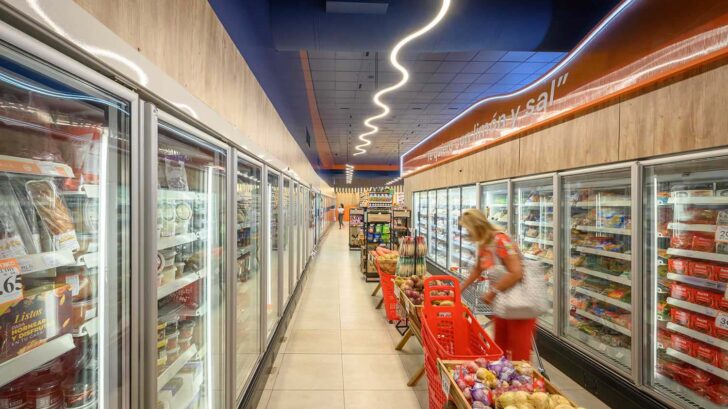 Project information
Project Name: Mixo Cordiez Supermarket
Architecture Office: ESTUDIO MONTEVIDEO – www.estudiomontevideo.com
Country of Office: Argentina
400 m2
media provider
Photography Credits: Gonzalo Viramonte
Technical direction Leandro Giraudo (Gipe architecture)
Branding: @unbarco.estudio
Construction administration: @gipe.arq
Construction completion year: 2022
Builded surface:
Location: Cordoba Capital
Architects in Charge: Arch. Ramiro Veiga, Arch. Marco Ferrari, Arch. Gabriela Jagodnik
Designer Team:
Astoric Juliet
DanielaFrancisco
Simon Fassi