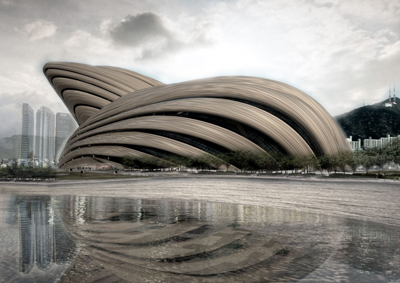 Project: Busan Opera House
Designed by OODA Office
Architects: Diogo Brito, Rodrigo Vilas-Boas, Francisco Lencastre, Francisco Rugeroni, Ezhil Vigneswaran, Francisca Lopes dos Santos
Client: The Busan International Architectural Culture Festival Organizing Committee
Location: Busan, South Korea
Website: www.ooda.eu
With the projects coming in selecting the new Busan Opera House design will be no easy task, the latest to see the light of day is the one coming from the talented creatives at OODA Office.
From the Architects:
The scheme engages with the natural topography, articulating a multi levelled building and integrating the different cultural activities and program seamlessly. The dominant flow circulation, flexibility and concept strategy enables full accessibility.
The design concept creates spaces that blur the difference between building and landscape, intensifying the fluidity between interior and exterior spaces, indoor and outdoor venues. The formal approach is driven from the natural proportion of the program merged with inspirational themes (like sea shells -music- and butterfly typical pacific fish) that allows the building assume its own unique charm and identity. The formal image with its vibrant and meaningful presence helps to create a brand new-age landmark for South Korea as a strong symbolic voice to the world.
Like an iconic shell sound towards the sea.
The Opera Auditorium has a pioneering and innovative design concept, it is as flexible and efficient as it is elegantly sculpted. The center area can rotate around itself so in the same space it is possible to have an Opera with all its requirements, but also some more intimate concert and a centered stage venue allowing to have audience all around.
The Multi Purpose Theatre has its own identity and articulation. According the design concept it could be used form multiple perspective and programmatic needs.
The auxiliary facilities (high level restaurants, cafe/bars, shopping, convention center, exhibition space banquet hall, event room, etc) flows all along the both main structures creating a perfect bind between all.
The building envelope is devised as a continuous skin that is embedded with multiple levels of program. Natural light , cross ventilation, access and views become the key operators of the transition between interior and exterior.
The organic morphology blends perfectly with the landscape and it's designed to become landscape and to symbolize the new Busan Spirit and identity.