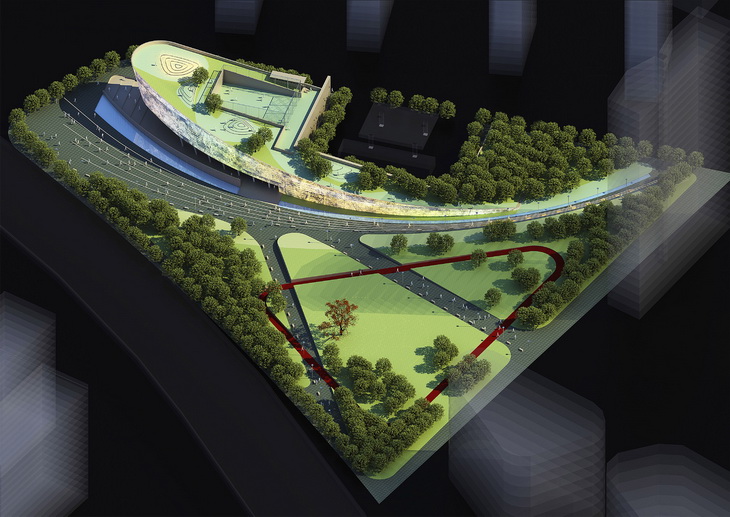 Studio's 7 creatives share with us their splendid design for the Community Center located in Xuhui District, Shanghai South Railway Station North. For closer look, continue after the jump.
From the Architects:
The project is located in Xuhui District, Shanghai South Railway Station North, at the junction of 3 major traffic and subway axes and also in the immediate vicinity of a gas station. This led to some special constraints regarding the landscape treatment, circulations and access points. The soft lines of the building are the response to the tension created by this major infrastructure axes enclosing the site and shows the way public architecture can develop within this limits. A new cohesive public space is gained by creating a diverse activities platform, the usage of new technologies and interactive facades, extending the green areas as much as possible and innovative landscape design.
Both north and west of the site there are large residential areas and to the south there is a business and mixed use developing area.
The design purpose is to create a local landmark with a feeling of high tech and at the same time a center for diverse public activities and happenings. The site should be the green lung of the area, surrounded by high elevated roads and high rise buildings. Looking down from the air, the architecture is totally hidden in the park, becoming one with the land. The contrast will be provided by the pavement and landscape elements.
Project: Community Center XuHui, Shanghai
Designed by Studio 7 of Urban Architecture China
Director: Chen Lei
Project Manager: Zhou Jungang, Yin Shun, Wu Yi can, Vlad Dodan
Total Ground Area: 22,672 m2
Built Area: 2661 m2
Floor Area: 1587 m2
Playground Area: 1861 m2 outdoor
Max Height: 19,25 m
Estimated design life: 50 years
Location: XuHui, Shanghai, China
Website: www.uachina.com.cn