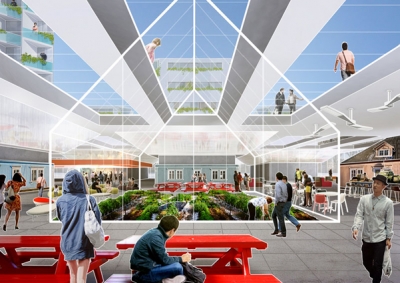 Project: Osiedle Przyjaź University Campus
Designed by BudCud
Team: Mateusz Adamczyk, Agata Wozniczka, Marcelina Kolasinska
Client: Municipality of District Bemowo
Area: 320 000m2
Location: Warsaw, Poland
Website: budcud.org/projects
Project for University Campus in Polish capital coming from BudCud studio, the new campus design is created for a location in the center of Bemowo district in Warsaw.
From the Architects:
University campus is a crucial factor for city development. It is an element, which significantly affects the attractiveness of a district or even a whole city. Osiedle Przyjaźń 2.0 is an innovative university campus located in the center of Bemowo district in Warsaw. It was founded in 1950s as a habitat of small wooden houses, filled with lots of green areas. Redesigned estate remains its cameral, small-scale character. New urban arrangement is clearly divided into function zones. Each zone works as a separate unit of a bigger network – sustainable, modern and pro-social estate. New campus consists of housing estate with many different housing typologies, educational and commercial buildings and one multifunctional building being 'a year-round agora'. The in-between space is a set of differentiated public spaces. The estate is car-free zone: cars are parked in underground car park below main public strip.
New Student Dormitory is a vast platform, supplemented with additional vertical volumes. Revitalized wooden houses and new academic buildings fit inside the plateau. New volumes, serving as student housing, extend the ground floor height and overlook the public roof of the plateau. The arrangement of buildings on ground floor level repeats existing urban arrangement. It creates matrix of interiors and squares, which are filled with functions appropriate for academic life and district center. There is enough space for an eco canteen, a library, slightly submerged gym, common learning center, conference rooms and commercial space for rent. Multi-storey housing blocks, that overlook the plateau, provide space for 600 students in 1 or 2- person units. Each unit is equipped with a small kitchen, bathroom and a small balcony. Common spaces on each floor of a new student dormitory integrate students. Rooftop of the plateau is also a public space – lifted above the ground sequence of squares, arranged along the walking paths. It is an amazing viewing platform, oasis from city noise, place where people meet, talk and inspire each other. New academic campus in Bemowo could become Warsaw hotspot! Its localization, proximity to public transport lines (metro), expanded infrastructure of bike lanes, green and recreation areas, its commercial background and sustainable architecture can make Osiedle Przyjaźń 2.0 innovative and sustainable center for life, work and education.