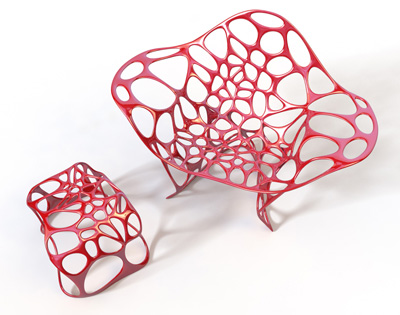 Project: Batoidea Chair
Designed by Peter Donders
Materials: Aluminum
Dimensions: Chair/ h 78cm x w 107cm x d 61,6cm Footstool/ h 38,5cm x w 34,4cm x d 51cm
Weight: Chair +/- 10kg Footstool +/- 4,5kg
Colors: Red, Other Colors Possible
Website: peterdonders.com
Batoidea is remarkably shaped chair design created by Peter Donders. For more info and work in progress images continue after the jump:
About Chair:
Aptly named for the genus of fish which includes the elegant stingray, Batoidea is an extraordinary example of design and technology. Fluid and airy the chair defies practical conventions.
The technique for the 3d printed sand mold is the same one used to produce the internal core of the Ferrari engine. The finish resembles the Ferrari as well, Batoidea is painted using the same method and quality control as the famous sports car. Once again Peter Donders has stretched the possibilities of design with his technical expertise, and created a timeless piece of furniture.
Source OutDoorZGallery. *