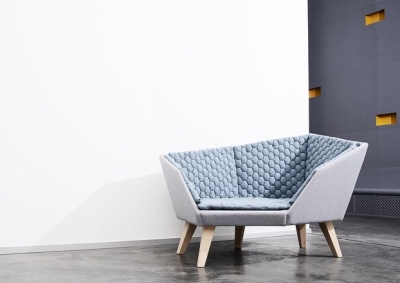 Project: Frigg Sofa
Designed by Marianne Kleis Jensen
Website: kleisdesign.dk
The eye-catching Frigg Sofa design coming from drawing board of designer Marianne Kleis Jensen. Discover more of the project after the jump:
From the Designer:
Frigg is a piece of furniture designed for only one or two people. Here you can withdraw from the world, be yourself, feel safe, rest and recharge. The shape that embraces the user creates a little cave which you can crawl into, take your feet up and snuggle. Frigg is a fully upholstered sofa consisting of a shell with cushions. The cushions are quilted which provides a 3D effect and creates a good contrast to the smooth surfaces of the shell.