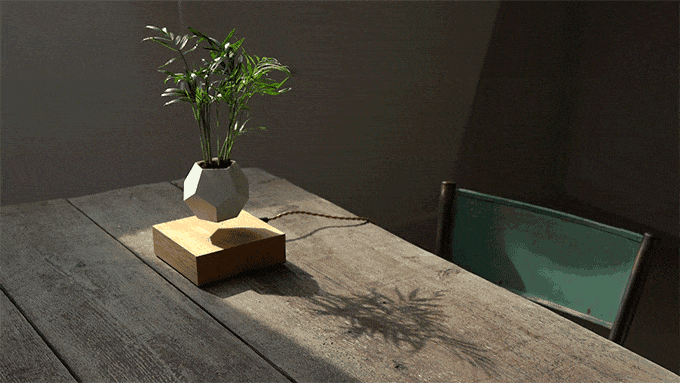 LYFE is another example of how creative actually benefits on it's own, the project of creating levitating plant pots came to fruition thanks to it's kickstarter page (now well over it's initial limit). It is easy to guess the trick is in magnetism, and indeed it is. Creators of the design said the following:
LYFE is a zero-gravity growing system allowing you to cultivate your favorite plants in the air. LYFE consists of a planter that hovers over an oak base via magnetic levitation. Designed to gently rotate during suspension, LYFE nourishes life with 360 degrees of sunlight exposure, 365 days a year. With LYFE, we've set your plants free.
By simply plugging the pot you are ready to enjoy your flora levitating, the rotation also allows the plant insolation from every side. Each of the pots design is twelve sided and made out of silicon. In addition the design is shaped with a drainage system which just like every pot allows you not to over-water the opplant. What causes the levitation is the magnet in the base.
The creator behind this wonderful design is Simon Morris, an American scientist and designer currently based in Stockholm. Morris was inspired by the work of Carl Linneus, as well as his own father who was a botanist.
"They are living organisms, each with different needs. They are like pets and have a different set of requirements. I see a lot of similarities between today's technology and the natural world. I compare root systems in plants and fungi to nodes and communication architectures of the Internet. The world of technology seems to reflect the world of nature, and I wanted to bring these worlds closer together." – from Simon Morris
Simon is expected to produce the product in a bigger scaled than initially imagine, after a massive success on his Kickstarter page. Find more inspiring design ideas on Archiscene.