TEKTONN ARCHITECTS have recently completed their lastest project in the heart of Chengdu's LuxeLakes, the Cloud Kindergarten. This remarkable institution seamlessly integrates 16 kindergarten classrooms within its technologically advanced building volume, defying conventional design norms in pursuit of a holistic learning experience that transcends the ordinary.
"In addition to meeting the pedagogical necessities, we aimed to revolutionize kindergarten design," explained the architects at TEKTONN. "While the past decade has witnessed an exponential transformation in how we disseminate information and knowledge, the image of kindergartens remained fairly static – bright colors, neatly compartmentalized activity units, and the like. We envisioned an interior organization that mirrors a miniature city and society, where children can learn valuable life skills through interaction with public spaces, fostering friendship, respect, and a keen sense of scale and material aesthetics."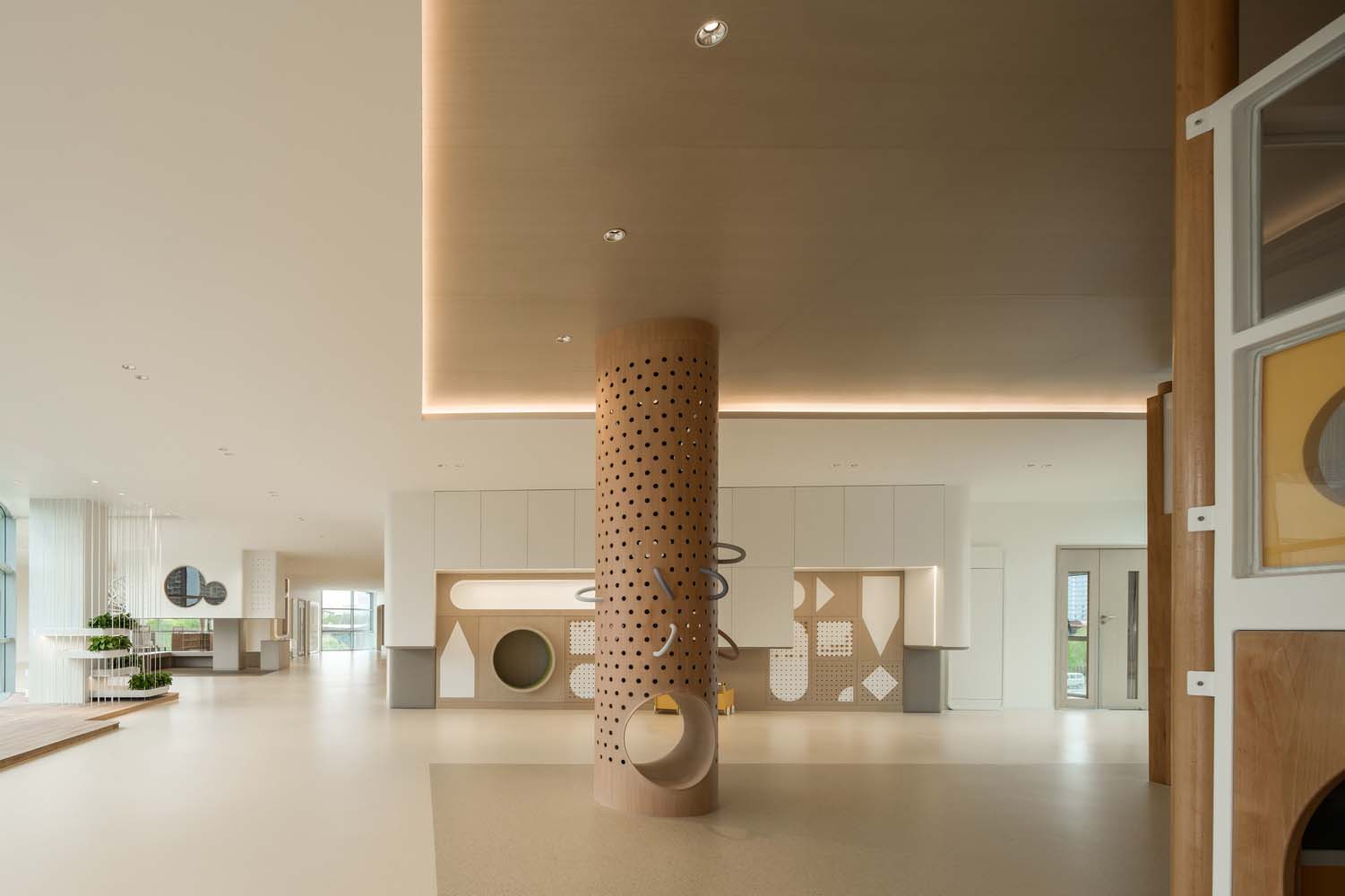 A bold departure from the conventional entrance hall, the Cloud Kindergarten welcomes visitors with an awe-inspiring sense of ritual and spatial hierarchy, as if entering an otherworldly park. The architects introduced a science-fiction dome that segments the entrance into multiple functions, accommodating art installations, returning to the scale of children, and adding layers of spatial depth. The transition from public space to classrooms is not merely a walkway but also a sanctuary for open and enclosed spaces. These spaces, thoughtfully designed and dimly lit, connect experiential zones, such as a baking barn, a space farm, a construction site, a stockpile warehouse, and a vertical forest. These innovative design choices intentionally blur the boundaries between play and learning, inviting children to explore, expand, and learn through their experiences.
The classrooms themselves have been transformed into inviting "homes" that defy the traditional separation of activity rooms and group bedrooms. Emulating elements of a cozy household, the classrooms feature warm-colored bathrooms, furniture with distinctive lines, and windows that offer glimpses of freely arranged activity spaces. This design not only allows each class to express its unique personality but also imbues a sense of belonging and comfort for the children.
Project information
Architects: TEKTONN ARCHITECTS – www.tektonn.com
Area: 10236 m²
Year: 2023
Photographs: MMCM Studio, HereSpace
Manufacturers: Co.Work, Dianyue, Nora
Lead Architects: Xiang Wang, Wenmu Tian
Collaborators: Ran Qi, Wentao Zhu, Qian Li, Xuebo Yang, Zhe Tang, Hui Li, Xueping Jiang, Jinshan Gan
Clients: Chengdu Wanxiang Mengtai Education Management Group Co. Decoration Centre of Chengdu Wanhua New City Development Co.
Client Team: zhen Song、Taoyu Wang、Xijun Liu、Xiaoxu Fu、Lidan Luo
Country: China