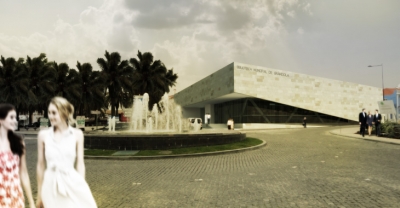 Project: Grândola Library
Designed by ER Studio
Location: Grândola, Portugal
Website: www.er-studio.net
ER Studio designs a contemporary library building for Portuguese town of Grândola, shaped in a manner to represent both the past and the future of the region.
From the Architects:
The building of the Municipal Library and Archives of Grândola should be a timeless reference, an icon that represents not only the past and present of the town of Grândola, but also their future ambitions. Therefore is born the idea of the Monolith, a block of stone that symbolizes the best possible way the link between past and present. As a monolith that reminds us of the past buildings that have withstood the time, a library and an archive are nothing more than a large repository of knowledge that makes the bridge between past and present.
The fusion between the idea of Monolith and the Reservoir, translates into a solid element, compact, which takes its nobility with sobriety, and relates directly to the population because it rises over a cross-structure, allowing the occasional glimpse of the population inside, without totally revealing what goes on their content, arousing curiosity and desire to enter.
The proposal is developed exclusively on the given lot to the deployment of the building, in a program divided into three floors: the underground floor (designed for car parking and technical areas), ground floor (public program and distribution of the building) and the first floor (public program, storage areas and administrative / technical).
The lighting of interior spaces became part of the concept for the development of the whole project. If the building's exterior takes on a volumetric solid as a large block of stone, the interior spaces should be wide and with a great natural lighting, thus avoiding large energy costs with artificial lighting.