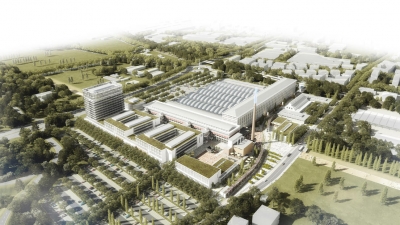 Project: Technology Center
Designed by von Gerkan, Marg and Partners Architects
Design: Volkwin Marg with Robert Friedrichs
Team Members: Stephanie Joebsch, Alessia Spezzano, Alexander Kittel, Bernd Kottsieper, Claudia Schultze, Andre Wegmann, Peter Radomski
Client: Società Finanziaria Bologna Metropolitana SpA
Location: Bologna, Italy
Website: www.gmp-architekten.com
gmp Architekten studio wins the first prize for the design of Technology Center in Italian city of Bologna, former factory facilities designed by the famous Italian engineer and architect Pier Luigi Nervi are carefully morphed into a modern technology park. For more images as well as architects description continue after the jump:
From the Architects:
The design by architects von Gerkan, Marg and Partners (gmp), which was honoured with first prize in an international competition, converts a former industrial heritage building to the north of Bologna into a modern technology park. The factory facilities of the former tobacco monopoly, designed by the famous Italian engineer and architect Pier Luigi Nervi are carefully modernised and converted to accommodate new functions. The additional new buildings carry the signature of the listed historic buildings dating from the 1940s, albeit in modern form.
The technology center, with its area of about 110,000 square meters, will comprise an exhibition hall, laboratories, offices, a seedbed center for research affiliated with the university, and teaching facilities such as lecture halls and university institutes. In addition, there will be conference facilities, including hotel and service areas such as shops, a day nursery, restaurants and refectories to be established in the former power station.
From the motorway exit to the city, the complex will be easily recognisable by its landmark, the re-designed chimney which blends perfectly with the urban environment. On the inside, the building complex is laid out around a central square at the imposing former power station. This creates four access avenues which can be flexibly designed in different construction phases. The existing buildings are upgraded for improved energy conservation and earthquake resistance and are restored in profile and color scheme to their former architectural aesthetics. The color scheme will be continued at the new buildings, contrasted by the power station with its high chimney in red Bolognese brickwork.