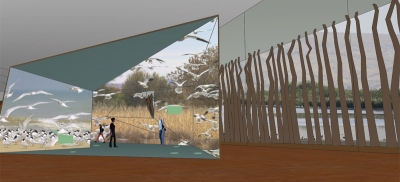 Project: Hula Visitors' Centre
Designed by Golany Architects
Architects: Yaron Golany and Galit Golany
Interior Area: 4000 sqm
Location: Hula Lake Reserve (Agamon Hula), Israel
Website: www.golanyarchitects.com
Golany Architects share with us their design for Hula Visitors' Centre designed for a famed bird watching site in Northern Israel.
From the Architects:
Golany Architects have designed Hula visitors' centre for a world-renowned bird watching site in northern Israel, along the Jordan River, near the Sea of Galilee. During the migration season thousands of cranes, pelicans, storks and other birds stop there along their migration route to build up strength for the last leg of a trip that takes them thousands of kilometers and over three continents every year.
The building is modest in its appearance, blending in with the valley and echoing the mountain ranges. The viewing tower is designed as a landmark, easily spotted in the flat plain. The building is positioned right on the water canal system to provide the best experience of the landscape, before entering the reserve.
The design aims to become part of the unique surrounding landscape, its history and its cultural significance. The long elevations lie between the two mountain ranges to the east and west, and are open to the magnificent views.
The local fauna and flora are exhibited by using projected presentations and movies, that are shown inside presentation bubbles, dominating the interior space. The floor plane 'folds' to form the bubbles, creating an undulating internal 'landscape'.
The visitors' centre was designed with a strong emphasis on sustainability, spaces that can be naturally lit and ventilated, and eastern and western light filtered by the specially designed branch screens. The branches are harvested from planted eucalyptus trees as part of the routine maintenance works.
Systems for solar energy and recycling, were designed as an integral part of the architectural aesthetics.