Georgia
House of Justice by Jürgen Mayer H. Architects
By |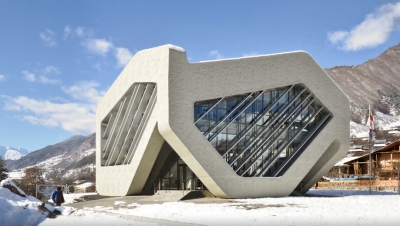 Project: House of Justice
Designed by Jürgen Mayer H. Architects
Project Team: Juergen Mayer H., Jesko M. Johnsson-Zahn, Danny te Kloese, Hugo Reis
Architect on Site: Ltd. "Alioni 99"
Client: Ministry of Justice of Georgia
Floor Space: 350m2
Location: Mestia, Georgia
Website: http://www.jmayerh.de/
Photographers: Beka Pkhakadze, Jesko M. Johnsson-Zahn
House of Justice project corresponding to the recently featured Police Station design is work of Jürgen Mayer H. Architects.
From the Architects:
The House of Justice serves as a two storey civic centre for the people of Mestia, a village with a strong cultural heritage. Its concrete structure frames the spectacular landscape of the Caucasian Mountains. The building is part of an ensemble of new public buildings around the main central public plaza.