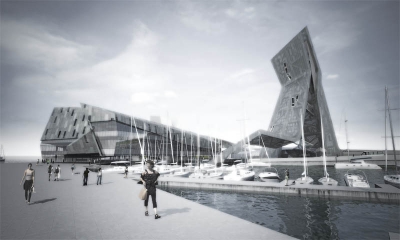 Project: World Sustainability Center
Designed by Studio SHIFT
Project Team: Mario Cipresso, Bryan Chavac, Garrett Helm, Irina Krusteva, Ken Matsui, Ryan Ramirez, Tanya Retherford
Renderings: Cocoon Studio, Tom Szymanski
Location: Afsluitdijk, Netherlands
Website: www.studioshift.com
Studio Shift has created an engaging design for World Sustainability Center in Afsluitdijk, Netherlands. This impressive building is of mixed use character featuring programs such as gift shops, exhibition space as well as a hotel and public space created as a relaxation area.
More images and architects description of this project after the jump:
From the Architects:
In an almost central location along a 20-mile long dike, our proposal for the World Sustainability Centre in Afsluitdijk, Netherlands acknowledges its physical disconnection from local population centers and reaches out to forge new relationships with educational institutions and professional research-based organizations both locally and globally. The centre is envisioned as a mixing-pot for educational, corporate and institutional interests where common goals can be achieved through collaboration and mutual investment.
The success of the Centre however hinges on its ability to engage and educate the general public. This requires that it operate on a somewhat iconographic level, capturing the imaginations of passersby, offering a unique educational experience and perspective on local ecologies. To this end the Centre presents an exhilarating and progressive investigation into emerging technologies, integrating the experience of a large-scale park setting through a series of floating piers constructed in the Wadden Sea. Here temporary exhibitions themed around emerging sustainable strategies and technologies are made possible and their integration into the natural landscape carefully considered.
The campus includes a state-of-the-art research facility arranged in clusters but maintained in an open space, fostering collaboration and discussion. The observation tower provides a 360-degree, bird's eye view of the larger region, the only such vantage point available anywhere within the larger area. Ascending by elevator, you descend a carefully orchestrated stair that alternates between framed views of the Wadden Sea and Lake Ijssel. Beneath the tower sits a theater, a gift shop and exhibition space geared towards the general public. A 40-room hotel accommodates visiting researchers, guests and tourists.
A publicly accessible marina and a research landscape area for investigating food production techniques frame the site along with a waterfront amphitheater partially immersed into the lake for one-to-one experience with the water.
The metal-panel system that clads the research building is composed of solar panels (solid), screen panels (perforated) and void panels (unrestricted glass) and proliferates based on solar exposures. The vertical cladding adorning the observation tower has the added potential of being investigated as an armature for growing various forms of energy producing plants such as algae. Rainwater collection and re-use has been emphasized within the site and bulding strategies to capitalize on the plentiful rainfall while the lake doubles as a cooling tower for the mechanical systems.