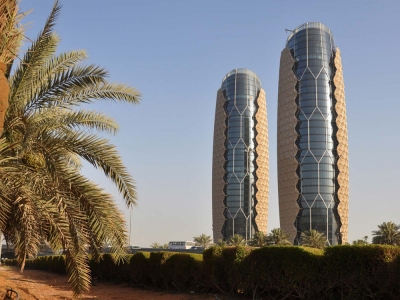 Project: Al Bahar Towers
Designed by Aedas
Location: Abu Dhabi, UAE
Website: www.aedas.com
Al Bahar Towers are work of the world famed architecture practice AEDAS, the groundbreaking innovation comes with the facade design. Dark glass panels are replaced with the specially designed sun-block installation. Opening and closing according to sun's position, without the use of photo-gray glass, people in the office towers will have a much clearer view of the incredible Abu Dhabi.
From the Architects:
Aedas was appointed to design the new Abu Dhabi Investment Council Headquarters following an invited international competition. The 25-storey twin office towers in the United Arab Emirates will each accommodate between 1 000 and 1 100 employees. The design concept is both culturally and environmentally appropriate and complies with the aspirations of the recently published 2030 Abu Dhabi Development Plan.
The south facing roofs of each tower incorporate photo-voltaic cells, generating approximately five percent of the total required energy from renewable energy sources.
The cocoon-like buildings are based on a pre-rationalised geometric form, fine-tuned via parametric design tools to achieve optimal wall to floor area ratio. A solar-responsive dynamic shading screen further decreases solar gain. This 'Mashrabiya' acts as a secondary skin that mediates daylight and reduces glare. The system is driven by renewable energy derived from the photo voltaic panels.
The Masharabiya shading system, based on a traditional Arabic shading lattice-work, is one of the main concepts of the winning competition entry for the ADIC headquarters towers in Abu-Dhabi.
Developed by the Computational Design team, our work consisted in finding a parametric description for the geometry of the actuated facade panels and simulating their operation in response to sun exposure and changing incidence angles during the different days of the year.