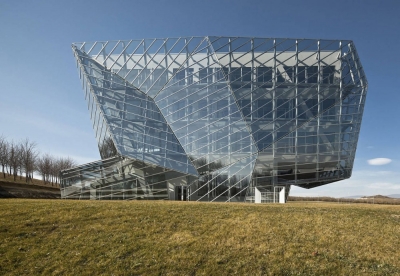 Project: E8 Building
Designed by Coll-Barreu Arquitectos
Project Area: 12 174 sqm
Location: Vitoria, Spain
Website: www.coll-barreu-arquitectos.com
Shaped in a sculptural form E8 Building is designed by Coll-Barreu Arquitectos for a location in Vitoria.
From the Architects:
Built | 2007 | Vitoria | The lot must define the most significant western visual boundary. Also, it is the natural background of the boulevard's urban axis, the green space that unifies the whole of the Álava Technology Park, since its beginning. The buildings are linked in a special way with their natural surroundings. Their geometry frames the views towards the hillside. In the North building this opening is achieved through an open entrance atrium, which enhances the presence of the hillside forest, with the use of a frontal overhang that liberates the main façade. In the South building, the landscape views are achieved through the overhangs on its sides.

In both buildings the fragments of glass have been sculpted by the air. They reflect the sky, the trees and the hills that surround the area in a privileged way. Thus, this action becomes an obvious tribute to the natural environment that surrounds the buildings.

The double façade provides the buildings with an air mattress that increases the thermal insulation by reducing losses in winter and producing air circulation in the summer. Thus the air conditioning requirements are minimized and save great amounts of energy.