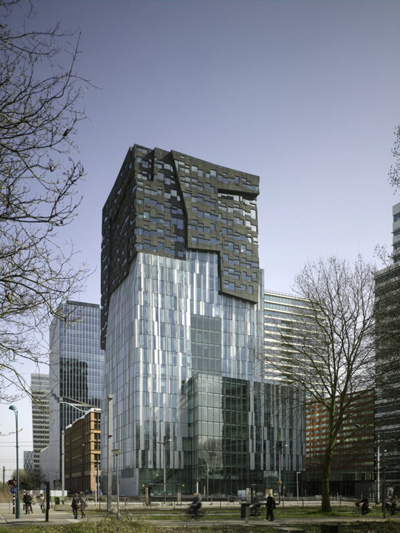 Project: Mahler4 Office Building
Designed by Erick van Egeraat
Client: Mahler 4 VOF
Project Area: 33,500 sqm
Location: Amsterdam, Netherlands
Website: www.erickvanegeraat.com
Mahler4 office building designed by Erick van Egeraat is quickly becoming a new landmark of the redeveloping South Amsterdam. View more of the project and architects description after the jump:
From the Architects:
The Mahler4 office tower is part of an expressive "High-Rise" urban development south of Amsterdam, named Zuid-As. Located in the proximity of the city centre and with direct access to the urban network of public transport and highways, the project incorporates the potential of this unique location. The ambitious programming of a lively, high-density mixture of offices, housing, retail and public space, designed by nine international architects, all contribute to an exceptional development of metropolitan scale. The urban concept for this location as developed by the Architecten Cie is based on a vertical layering structure with the anatomical analogy of legs, torso and head. The Mahler4 office tower challenges this masterplan further and proposes to create an explicit tactile and emotional experience out of the stacked block structure. Both an innovative composition of shifted volumes and a transformation from a light to heavy materialisation, it creates an expressive landmark which appears different from every angle. Each of the three sections of the building reveals its own character and material expression and offers space suited to potentially different tenant requirements. The lower part is transparent to allow light deep into the building and stimulate interaction with the direct surroundings. The upper part is characterised by natural stone layers composed in a facade pattern which creates a variety of openings and panoramic views. Both parts are connected by a combination of transparent and printed glass elements and aluminium panels, forming a subtle transition between the two.
Source ArchDaily. *