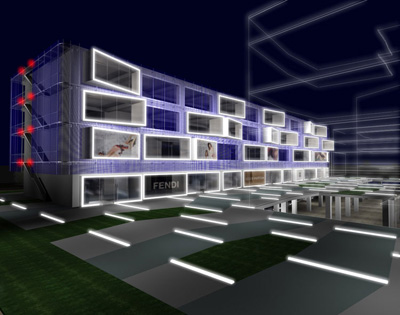 Project: Sanlitun North
Designed by Lot-ek
Client: Swire Priperties
Location: Beijing, China
Interaction Master arch.: Kengo Kuma
Website: www.lot-ek.com
Sanlitun North is a Beijing project completed in 2007 by the design of noted architecture practice Lot-ek, housing both office and retail space on more than 100, 000 square feet.
For more images and architects description continue after the jump:
From the Architects:
New mixed used development, with master plan by Kengo Kuma, is organized around a central piazza and is located in Sanlitun, one of central Beijling busiest neighborhoods undergoing very fast and radical transformation. The piazza is surrounded by four mixed use retail-and-office buildings that are to be very open towards the inner piazza and very closed on the outside.
Each of the four architects hired to design one of the four buildings is given a predetermined massing and a basic concrete structure with an allowance for a possible 3-meter expansion of the building towards both the front and the back.
Thinking of this structure as an unfinished building, LOT-EK wraps it with a blue mesh referencing a building under construction. Offset 3 meters from the building, the mesh performs as a second skin buffering the city noise level, filtering direct sunlight to conserve energy and creating privacy for the apartments.
The mesh is then perforated and penetrated by dust-like metal extrusions with glazed fronts that extend the interior spaces of the building towards the piazza, functioning as entrance and display windows for the hi-end retail stores at the lower floors and as large bay windows for the offices located on the upper floors.
Along the back side, the stretched mesh covers long open metal-grating walkways that connect all means of egress located along this side at each level, while on the ground floor the duct-like extrusions serve as private lobbies to the offices on the upper floors.