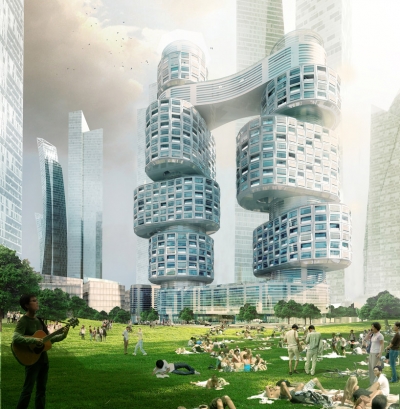 Project: Velo Towers – Yongsan International Business District
Designed by Asymptote Architecture
Client: Yongsan Development CO., LTD.
Location: Seoul, South Korea
Website: www.asymptote.net
Another showstopping proposal ready to take part in the massive Yongsan International Business District comes int he form of Velo Towers designed by Asymptote Architecture.
From the Architects:
The Velo Towers are composed as a dynamic arrangement of stacked and rotated volumes that are a formal and programmatic counterpoint to the conventional extrusion of massing that exemplifies the supertall as a building type. By breaking down the scale and massing of the two distinct towers into interconnected circular and oblong volumes, the Velo project proposes an alternative architectural and urbanistic response to the repetitive and monolithic austerity of conventional tower design. The recombination of the typical tower form into a new horizontal and vertical configuration enables the formation of a socially engaging and dynamic environmental response, as well as the creation of a discreet yet compelling architectural landmark for the Yongsan district. The Towers' eight distinct residential components are rotated and positioned within a carefully choreographed massing arrangement, calibrating the orientation and views of each residential volume and taking full advantage of the Towers' position adjacent to the Yongsan Park overlooking the Han River in the distance.

With a collection of roof gardens, shared amenities and internal circulation around light filled open atrium spaces, the vertically distributed massing elements create unique 6 to 8 storey residential communities on the skyline. The towers are joined by two bridge structures that house shared public amenities, and act as neighborhood scale 'connectors' for the towers' residents. The building's raised plinth hovers above the communal landscape surrounding the base of the Towers while the Skybridge floats 30 storeys above; housing fitness and recreations centers, lounges, pools, spas and cafes along with a sky garden providing spectacular views over the entire Yongsan site.

While the overall massing of the Velo Towers is comprised of a dynamic arrangement of rotated and stacked components, the architecture of the towers is further articulated volumetrically and materially at the scale of the facades. The unique faceted façades of the Velo Towers are comprised of large prefabricated components consisting of glass within custom molded composite shells finished in pearlescent automotive paint. The 500 individual luxury units that vary in size from 45 m2 to 82 m2 are also designed for compatibility with custom prefabricated plug-in interior components. Asymptote's design of the Velo Towers exploits the latest advances in design, materials and digital fabrication that are now prevalent in present day automotive, aerospace and marine industries. The merging of these with the latest technological advancements in architecture and the ways in which components can be fabricated and buildings assembled, is enabling Asymptote's vision for the Velo Towers to be realized.

Source Desigboom. *