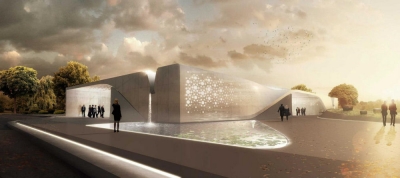 Project: Beukenhof Auditorium and Crematorium
Designed by Asymptote Architecture
Architects: Hani Rashid, Lise Anne Couture
Design Team: Josh Dannenberg, Duho Choi, Brian Deluna, Oliver Dibrova, Ryan Macyauski, John Hsu, Susan Kim, Penghan Wu, Shi Yun
Structural Engineering Consultant: Knippers Helbig
Client: Beukenhof Foundation
Size: 4 150 m2
Location: Schiedam, the Netherlands
Website: www.asymptote.net
New York based practice Asymptote Architecture has won a 2013 Progressive Architecture Award for the Beukenhof Auditorium and Crematorium in Schiedam, the Netherlands. The award was presented at the 60th annual Progressive Architecture Award's dinner at the Museum of Modern Art (MoMA). The crematorium is supported by space for musical performances, art exhibitions, poetry readings and other cultural events. For more about this rewarded project read after the break: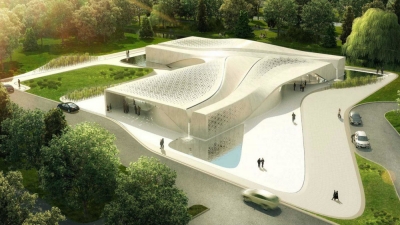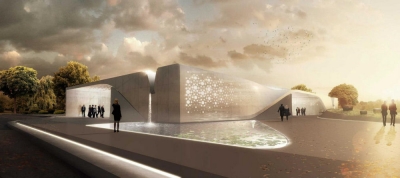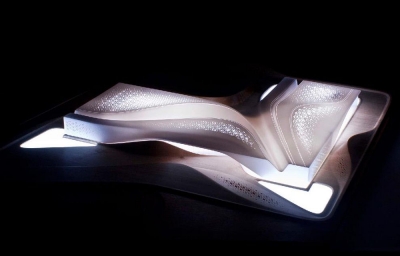 From the Architects:
Comprising an undulating, seamed copper roof and double-curved enclosure, Asymptote's design for the Beukenhof Auditorium and Crematorium in Schiedam, The Netherlands exploits the country's rich tradition of brick architecture through a thoroughly contemporary formal expression. The building's interior spaces are imbued with a subtly transforming quality of light that works in concert with the shifting architectural form. On the exterior, the architecture is another landscape element that bridges over the adjacent canal.
Source WorldArchitectureNews. *