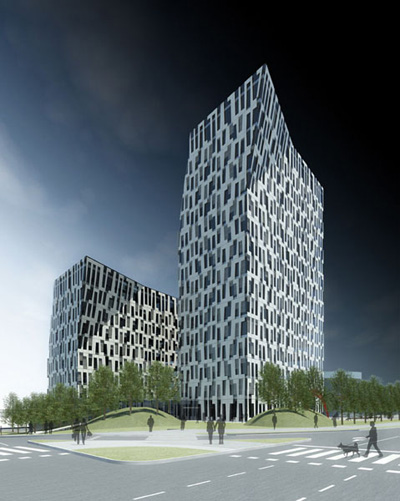 Project: West Gate Office Building
Designed by Studio Kalamar
Location: Ljubljana, Slovenia
Area: 35.000 m2
Client: Gruda Jurmes d.o.o.
Website: www.kalamar.si
Slovenia based practice Studio Kalamar designs two connected office towers in Ljubjana one 8 and other 14 storeys high taking on a scope of over 35,000 square meters. For more images and architects description continue after the jump:
From the Architects:
Located on a corner site at the western entrance to the city, the composition is defined by two office towers. Southern tower rises over the intersection, accentuating the direction towards the city with its sharp projecting corner. Lower northern wing serves as a background to the principal motive, its composition approaching the dynamic of railway traffic behind it. Both wings are oriented towards the west, accentuating the openness of city. Vertical cores are located on the eastern sides and provide the option of connection to the future extension of adjacent building.
Office programs are organized in the two wings, one with 8, the other with 14 floors. Ground floor comprises supporting public programs and the entrance lobby. Different wing lengths proved various floor divisions and office size options.
Panel facade system is supplemented by a white fixed shading element attached in four different directions, thus providing a dynamic facade effect. Green areas serve a barrier against the intense traffic with dense tree formations and two hillocks facing the intersection, thus forming a sheltered public space in front of the building.
Buildings are built for people, and their well-being is crucial to productivity. So, users are encouraged to stay in contact with their surroundings, their working environment should achieve its good climate with little burdening of technology. Low-temperature heating and cooling system fuelled by heat pumps, provide the best option. All technological systems are connected to a central control system, ensuring optimal energy use.