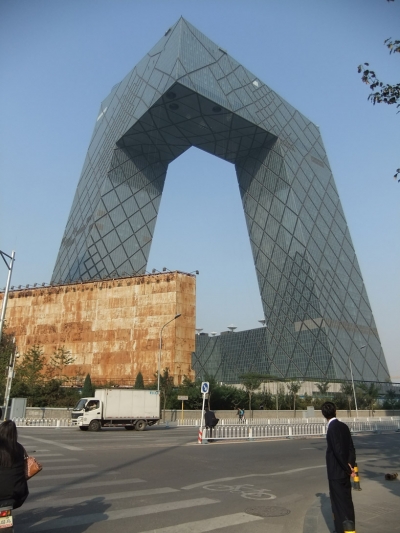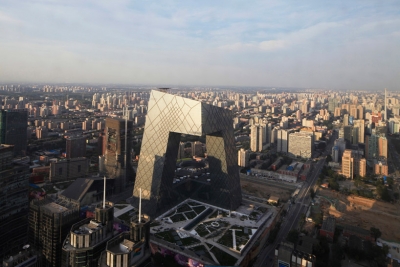 Project: CCTV Headquarters
Designed by Office for Metropolitan Architecture OMA
Project Team: Chris van Duijn, Hiromasa Shirai, Steven Smith, Gabriela Bojalil, Joao Bravo Da Costa, Catarina Canas, Holly Chacon, Dan Cheong, Keren Engelman, Gaspard Estourgie, Kam Fai Tai, Fang Tieying, Feng Pei, Sarah Gibson, Chris James, Michel van der Kar, Paul Kroese, Peter Lee, Liu Xiaodong, Stuard Maddox, Joseph Monteleone, Christina Murphy, Shiro Ogata, Roberto Otero, Daan Ooievaar, Torsten Schroeder, Shi Wenchian, Faustina Tsai, Jasmine Tsoi, Wang Xinyuan, Victoria Willocks, Wu You, Xu Tian Tian, Dirk Zschunke
Partners in charge: Rem Koolhaas and Ole Scheeren (until 2010), in collaboration with partners David Gianotten, Shohei Shigematsu, Ellen van Loon and Victor van der Chijs.
Project Manager: Yao Dongmei
Project Architects: Anu Leinonen, Charles Berman, Adrianne Fisher
Client: China Central Television
Location: Beijing, China
Website: oma.eu
Although one of Beijing's key landmarks for a couple of years now the new CCTV Headquarters building project by OMA has recently seen its completion, the building combines the complete process of TV-Making. To date this is the largest project ever created by Office for Metropolitan Architecture. Along with more images see the detailed floor plan and facade solutions after the jump:
From the Architects:
The new headquarters for China Central Television, OMA's largest project to date, combines the entire process of TV-making – administration, production, broadcasting – into a single loop of interconnected activity. Rising from a common platform accommodating production facilities, two towers – one dedicated to broadcasting, one to services, research, and education – lean towards each other and eventually merge in a 75-metre cantilever.
CCTV's distinctive loop aims to offer an alternative to the exhausted typology of the skyscraper. In spite of their potential to incubate new cultures, programs, and ways of life, most skyscrapers accommodate merely routine activity, arranged according to predictable patterns. Formally, their expressions of verticality have proven to stunt the imagination: as verticality soars, creativity crashes.
Instead of competing in the hopeless race for ultimate height and style within a traditional two-dimensional tower 'soaring' skyward, CCTV proposes a truly three-dimensional experience, culminating in a canopy that symbolically embraces the entire city. CCTV consolidates all its operations in a continuous flow, allowing each worker to be permanently aware of her colleagues – a chain of interdependence that promotes solidarity rather than isolation, collaboration instead of opposition.
The loop also facilitates an unprecedented degree of public access to the production of China's media: visitors will be admitted to a dedicated path circulating through the building, connecting all elements of the program and offering spectacular views from the multiple facades towards the CBD, the Forbidden City, and the rest of Beijing.