Here is another proposal for the New Penn Station and the Next Madison Square Garden and this one comes from prolific team of Skidmore, Owings & Merrill LLP architects.
From the Architects:
On morning (May 29,2013, NY), Skidmore, Owings & Merrill LLP (SOM), the renowned architecture, engineering, interiors and urban-planning firm, revealed its plan for a re-conceptualized Penn Station and Madison Square Garden. This vision plan is the result of a design challenge, issued by the Municipal Art Society of New York (MAS), to re-imagine Penn Station – the busiest train station in North America – and the Garden, which sits directly on top of the station. SOM was invited to contribute because of its long history of working in Manhattan, its wide-ranging expertise on extraordinarily complicated sites, and its renown as a progressive design firm; SOM also presented its vision for the future of Grand Central station, another MAS initiative, last year.
"Nearly 640,000 passengers use Penn Station every day, and yet it does not act as a dignified gateway to one of the world's greatest cities," states Roger Duffy, FAIA, Design Partner behind SOM's vision. "What we propose creates a civic heart for Midtown West – one that is truly public and open to all – while allowing New York City to maintain its position as a global center of commerce, industry and culture."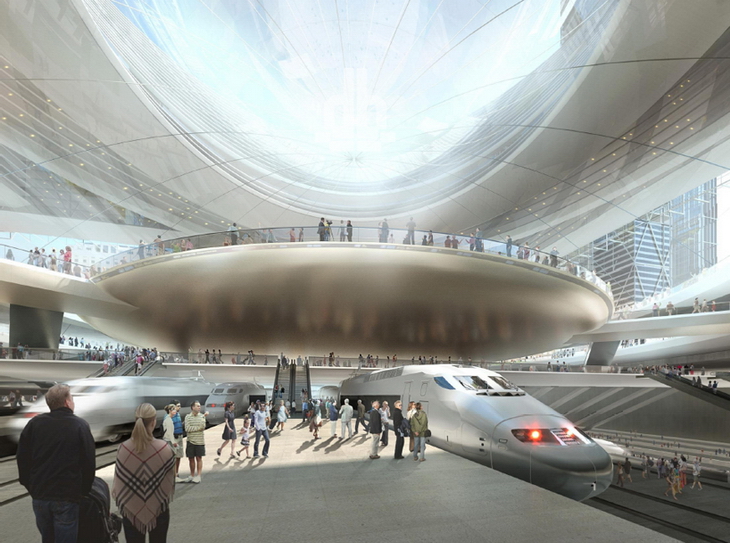 SOM's vision plan dramatically expands the transit capacity at Penn Station to create a capstone to every major piece of transportation infrastructure serving New York City. The plan calls for the expansion of Penn Station's footprint by two additional blocks to accommodate high-speed rail lines for the Northeast Corridor, expanded commuter rail service for the entire tri-state area, and direct rail connections to JFK, LaGuardia and Newark Airports. This last connection would allow a passenger to go straight from the curb of 7th Avenue, through security at Penn Station, onto a train, and directly to the airport gate.
The plan for the station itself is open and intuitive. A central, transparent Ticketing Hall is placed at the center of the site, with dedicated vehicular drop-off and radial, pedestrian connections to the city surrounding it. Below, two concourses running north-south seamlessly enable passengers to move from ground level to below grade. Retail lines these circulation spaces, integrating the station into the surrounding streetscape. At the lowest levels are the expanded platforms, where visitors arriving from an overnight flight from Hong Kong rub elbows with a commuter on her way to Morristown. With all of these networks intersecting at Penn Station, its central hall would become the iconic gateway for nearly every visitor around the world.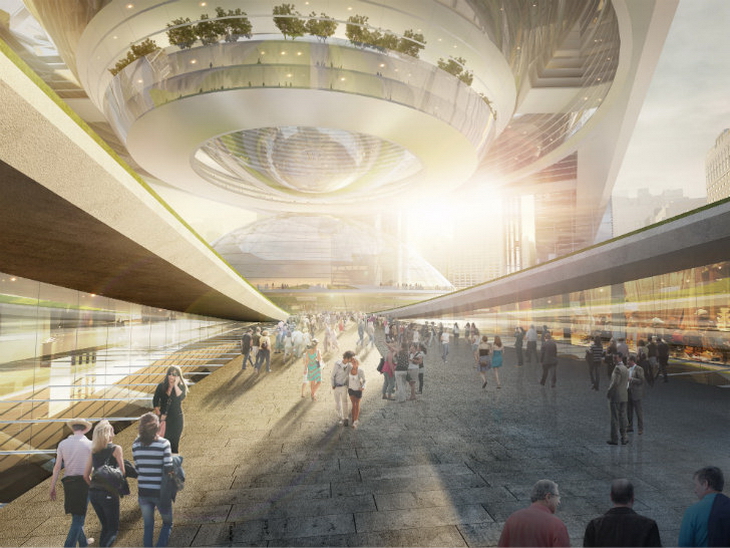 For the site to reach its unrealized potential, it must be the civic heart of Midtown West. Around Penn Station, private development in Midtown West will continue to grow. In addition to creating one of the largest multi-modal stations in the world, SOM also proposes to build a public park four times the size of Bryant Park, a commercial development the size of Rockefeller Center, a city of Culture larger than Lincoln Center, and a residential neighborhood the size of Tudor City. The design will fully exhaust its potential air rights but preserve the full four block ground-plane exclusively for Public use. The natural location for Madison Square Garden would be adjacent to, but not on top of, the major transit hub.
Project: New Penn Station and the Next Madison Square Garden
Designed by Skidmore, Owings & Merrill LLP (SOM)
Location: New York City, NY, USA
Website: www.som.com