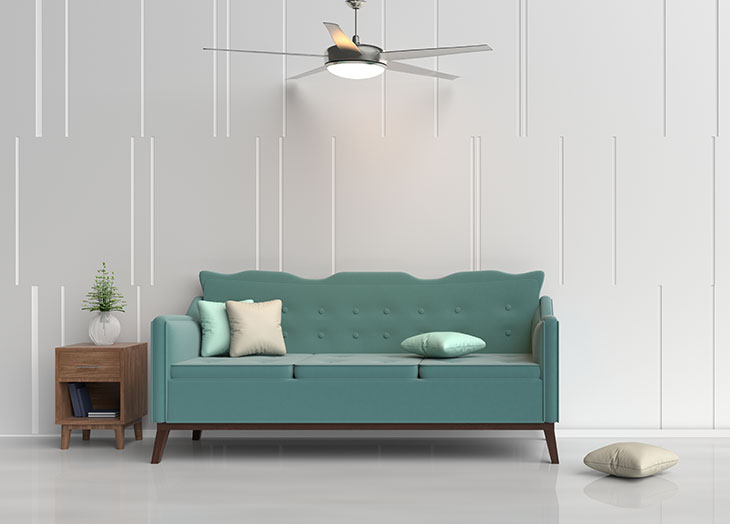 A ceiling fan is a great addition to any home. Whether you're replacing an old, outdated fan or installing one where no fan was before, you need to know how to choose the right size, type, and style of fan for your space. That way, you'll be sure to get a fan that can stand up to the conditions in your space, move air effectively, and work with your decor. Follow these five steps to your perfect ceiling fan.
Read more after the jump: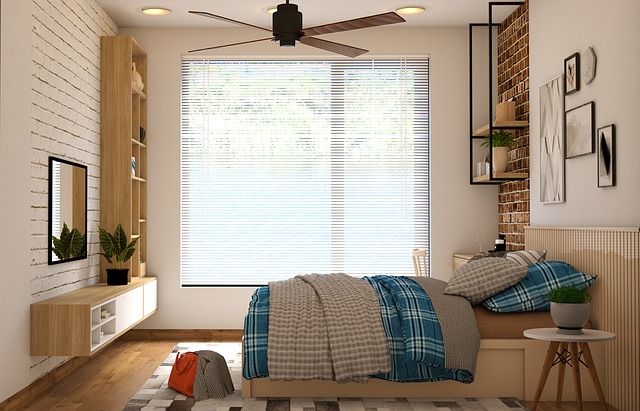 1. Measure the Room
You'll need to know how big the room in question is so you can buy the right size ceiling fan for it. Ceiling fans are measured in the number of inches across, from the tip of one blade, through the middle of the fan, to the tip of the corresponding blade — or, for fans with an odd number of blades, double the distance from the tip of one blade to the middle of the fan. You can buy fans as small as 29 inches across, up to as large as 60 inches across or more.
If your room is smaller than 75 square feet, you'll want a fan smaller than 36 inches. Rooms sized 76 to 145 square feet require fans in the 36- to 42-inch range. Rooms 146 to 224 square feet require fans in the 44- to 50-inch range. Rooms 226 to 400 square feet require 50- to 54-inch fans. Rooms larger than that should be fitted with fans 60 inches or larger.
2. Consider Colors and Decor
Your grandma might have recommended choosing a new ceiling fan that blends in with the ceiling, but that's because the styles of fans she would have had to choose from probably weren't that attractive, so people weren't interested in calling attention to them. These days, though, there are tons of stylish ceiling fans available on the market. Choose a tropical fan for your laid-back beach house, or a sleek, contemporary style for your chic urban apartment.
Choose a fan with wood colors that match the wood colors already in your home. You can match your fan's wood color to your hardwood floors, molding and trim, doors, or furniture. Match the metal trim on your fan with your doorknobs, light switch plates, or other fixtures. A stainless steel ceiling fan could really offset your stainless kitchen appliances, for example.
3. Choose Fan Accessories
If you have high ceilings, you'll need a down rod to lower your fan to the appropriate height, about eight to nine feet off the floor. Even if you don't have particularly high ceilings, a short down rod might be necessary to make sure there's enough airflow around your fan's blades to allow it to move air effectively. You might also want a wall control or remote control for your fan and light fixture. You might want to swap out your fan's boring factory-installing pull chains with custom ones. And, if you live in a region with hot summers and cold winters, a fan with reversible blades can be used to push warm air down from the ceiling in the winter.

4. Check the CFM Rating
How powerful does your new ceiling fan need to be? Most fans have multiple settings, but you want to know that your fan can move some serious air before you go to the trouble of buying and installing it. Fan power is rated in cubic feet per minute (CFM). The higher the CFM number, the more powerful the fan on the highest setting, but don't let a slightly higher CFM rating sway you away from another fan you otherwise like more — small differences in CFM rating between fans translate as small perceived differences in fan effectiveness.
5. Check the Damp Rating
If you're going to hang your new fan anywhere where it might be exposed to moisture, such as outdoors or in a bathroom, you should make sure to get a damp-rated fan. Damp- and wet-rated fans are built to withstand the elements, with water-resistant blades and motor housings built to keep out water. Even in covered outdoor areas, fans can get enough exposure to the elements to need additional sealing and sturdier construction.
A ceiling fan can really set the tone for a room and make a big difference in its comfort level. Take your time choosing the right one, so you can focus on the cool breezes and cost savings it brings.