JANUS et Cie has presented a number of new collections for the spring 2023 season at Milan Design Week. The brand worked once again on a pavilion design with the talented Fabio Calvi and Paolo Brambilla.
The illustrious Calvi Brambilla has once again partnered with JANUS et Cie to create an extraordinary example of great design with lasting impact. "As always, we wanted to create a pavilion that could be perceived by visitors as its own architectural structure… this year, we designed a space for JANUS et Cie that is also open, welcoming, and bright," states Calvi Brambilla. The pavilion itself is a work of art, "inspired by lightness," while organically integrating architectural details from natural landscapes.
Ares, Mattone, Rondo, and Kanji are the four new lounge and dining collections that were prominently featured throughout the pavilion. With the intention of extending outdoor living into a year-round lifestyle, each elegant design is built to withstand the weather. The entire pavilion design of Calvi Brambilla was influenced by the fabrics and collections, which feature comfortable cushions, strong materials, and simple lines.
Mattone
The Mattone series from JANUS et Cie consists of ten fully upholstered modular sofa pieces. Mattone has deep, cozy cushions, broad proportions, and countless configuration options.
Mattone is produced with the meticulous attention to detail found in elegant interiors, engineered to wonderfully withstand outdoor elements, and designed to dry rapidly. It is intended to provide a location for meeting in outstanding comfort. Its products and environment can interact in a dynamic way thanks to Mattone's outstanding adaptability. Senda Niebla, a cozy, inviting, soft grey, and Senda Avena, a monochromatic, flaxen beige, are two classy, neutral colors that are offered in removable and replacement covers to complement and coordinate with a wide range of color schemes.
Ares
Ares is a comprehensive dining and lounge line from JANUS et Cie that elevates understated elegance using opulent, sophisticated materials while drawing inspiration from midcentury modern shapes.
The brand-new Ares line is very textured, combining deep cushions, beautifully sanded premium teak, and Carrara marble in a pleasing way. Ares is a collection of eleven pieces that comes in two traditionally neutral, monochromatic colorways: Fossil, a cold grey shade, and Cocoa, a deep, warm brown. Each colour is matched by hefty frames with a griege, Driftwood finish. The Ares dining tables are expertly built from quality, FSC-certified solid teak and come with a choice of inlaid tabletops made of teak or Carrara marble, while the Ares side and cocktail tables have Carrara marble tops. Strong polyvinyl mesh panels support the seats of the chairs and sofas.
While endlessly durable engineering and meticulous craftsmanship bring the sophistication of fine interior design outdoors where it will beautifully withstand the rigors of exterior settings, Ares transitions from contemporary to transitional aesthetics and beyond.
Rondo
The sumptuous new seating line Rondo was designed by JANUS et Cie using midcentury forms and traditional barrel-back chairs as inspiration. The Rondo collection debuts with five items: an armchair, an arm-topped barstool, an arm-topped counter stool, a lounge chair, and an ottoman.
Rondo's tapered, conical legs preserve clean, simple lines for a sensation of minimalism and lightness, while its curved backs cradle the body in supportive support. The open, geometric form of the handwoven seats and backs invites shadow and light play. The Rondo collection's taut panels of olefin rope are attached to strong, powder-coated aluminum frames for great durability.
Rondo, which comes in two finishes (Graphite/Shale and Talc/Fossil) and may be used with or without cushions, combines two ropes in complementary tones to add visual depth and textural richness.
Rondo features transitional, modern shapes and neutral hues that increase its adaptability and harmonize with a wide range of design approaches and color schemes. Numerous JANUS et Cie collections, such as Knot, Conic, and our powder coated aluminum dining tables, pair beautifully with Rondo. Rondo is highly suited to busy locations in commercial, residential, and hospitality contexts.
Matisse Teak
The Matisse Teak Armchair and Chaise Lounge are two brand-new designs that JANUS et Cie has added to its renowned lounge and modular seating range of Matisse Teak. The new armchair and chaise lounge are made of gorgeous, sustainably produced, premium teak and continue the Matisse collection's dramatic, geometric frames and clean, modern lines.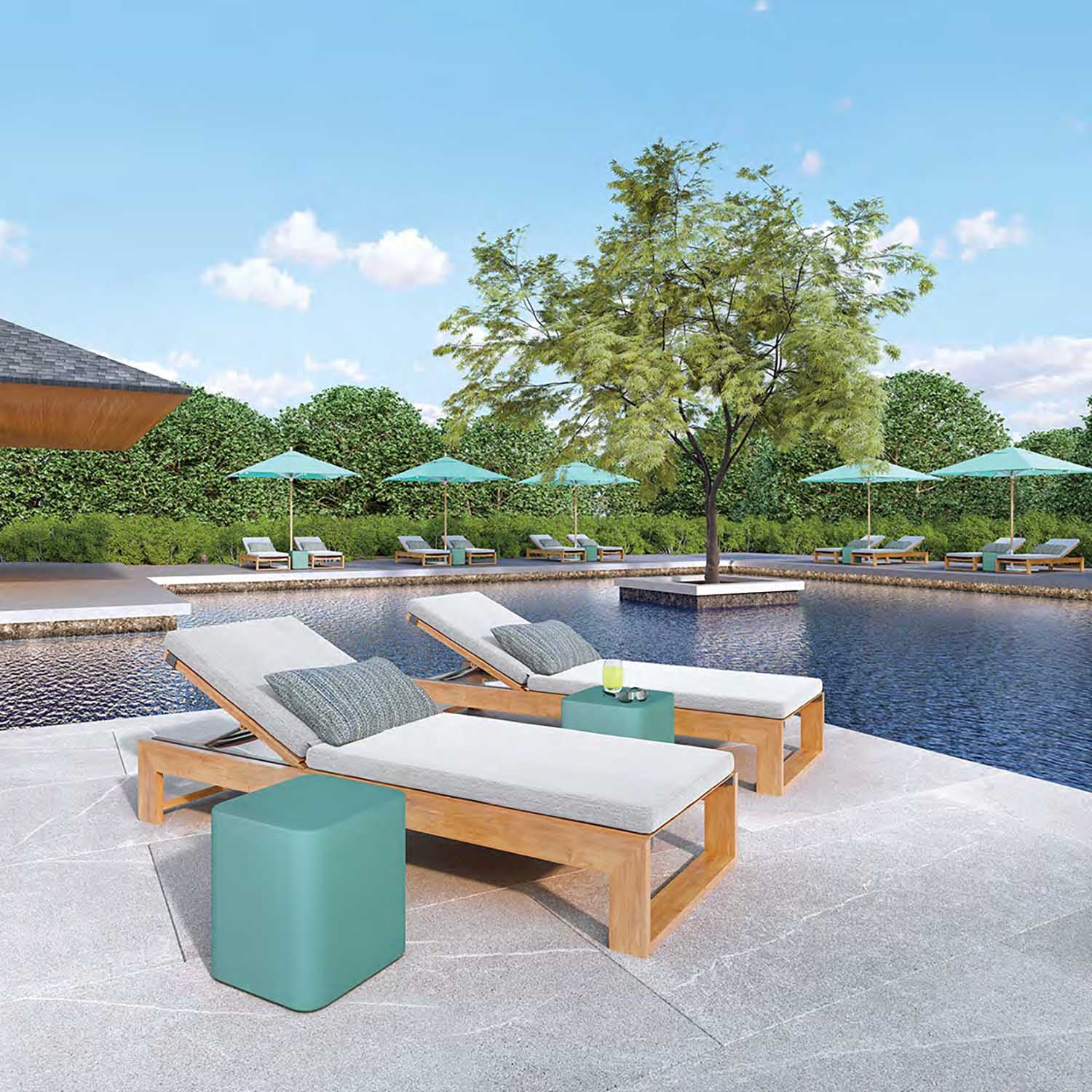 The inclusion of the armchair, the collection's first item created and proportioned for dining, fills a long-needed utilitarian need. The armchair flawlessly matches the Arbor and Relais dining table lines by JANUS et Cie.
The Matisse Teak Chaise Lounge adjusts to four positions, including flat, for individualized relaxation. It has intelligently integrated wheels for a seamless appearance and simple mobility.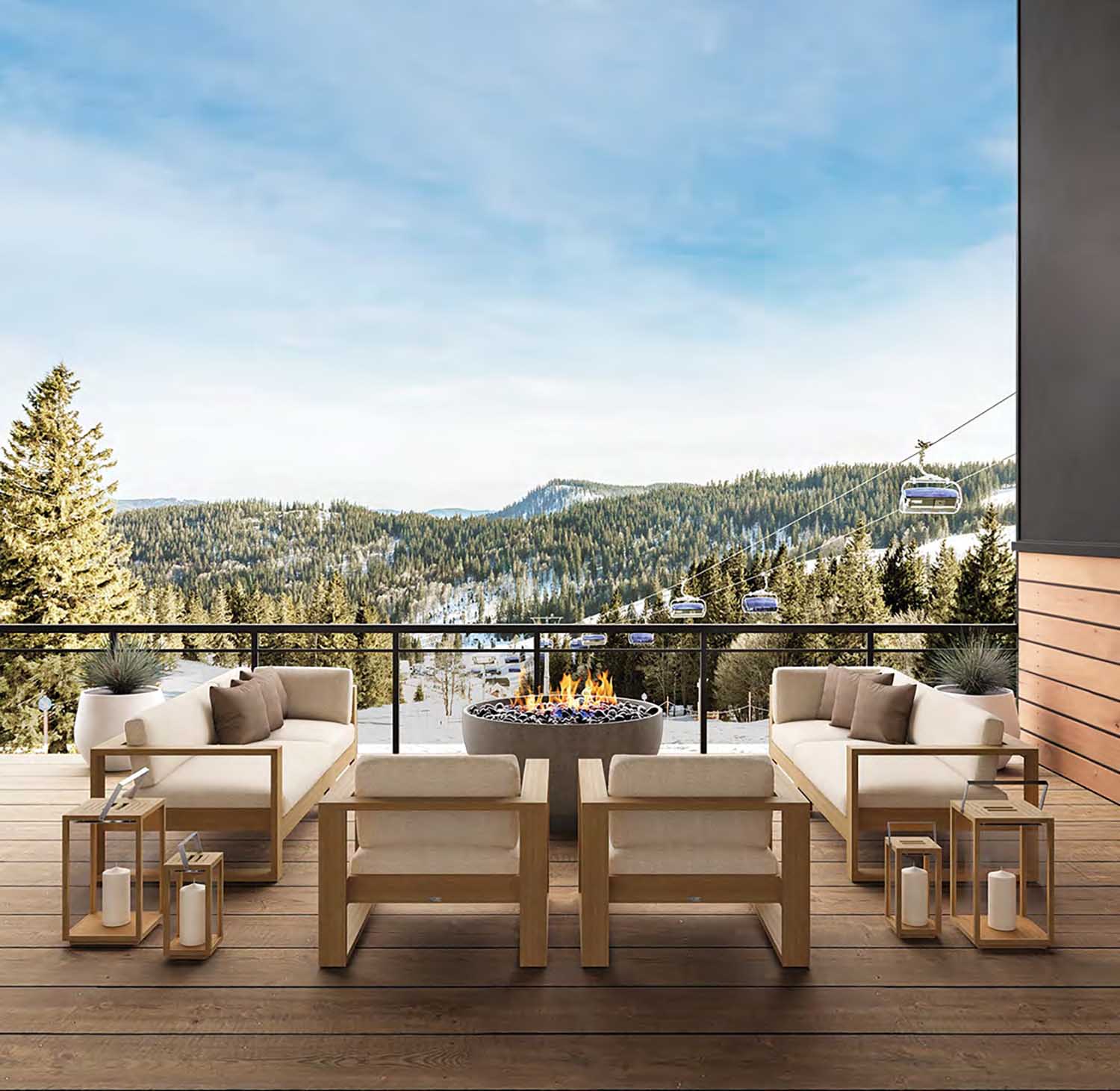 Each of the new Matisse Teak pieces features a finely grained teak finish with a warm, natural appearance that is enhanced with airy polyvinyl mesh panels with a deep, mocha color.
In residential, contract, and hospitality contexts, the Matisse Teak series has been praised for its elegant size, elegant simplicity, and amazing versatility. Matisse Teak offers outstanding longevity with remarkable water and decay resistance and will preserve its attractiveness for many years to come, making it perfect for poolside as well as corporate terraces and hotel rooftops.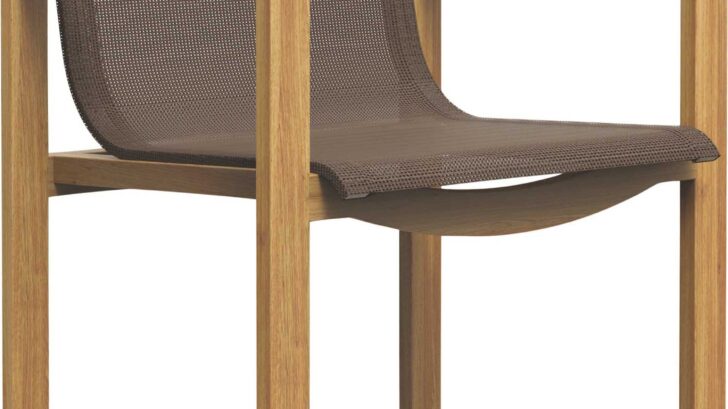 Kanji
Kanji, a multifunctional cocktail table by JANUS et Cie, is a beautifully crafted piece with an ovoid form and an organic orientation that exhibits subtle silhouette changes from every angle.
Kanji has a substantial profile and flawless, finely sanded surfaces. Its delicate shapes mimic the natural stone's intrinsic shadows and highlights.
The three natural-inspired, neutral finishes of the Kanji Cocktail Table—Honed Travertine, Matte White, and Urban Grey—are compatible with the Trapez collection from JANUS et Cie and the JANUSstoneTM planters, giving you more freedom to play with shape and texture within a single color scheme. JANUSstone is a novel material that is both more resilient and lighter than conventional concrete. It is a composite of concrete reinforced with glass fiber. JANUSstone is water-repellent, frost-proof, and rot- and pest-resistant and is made to gracefully survive the weather in all seasons with no upkeep.
Deauville II
A chaise lounge has been added to the renowned Deauville II lounge and seating line by JANUS et Cie. The now nine-piece collection's adaptability is increased with the addition of the new chaise lounge, which was previously part of a chaise with arms.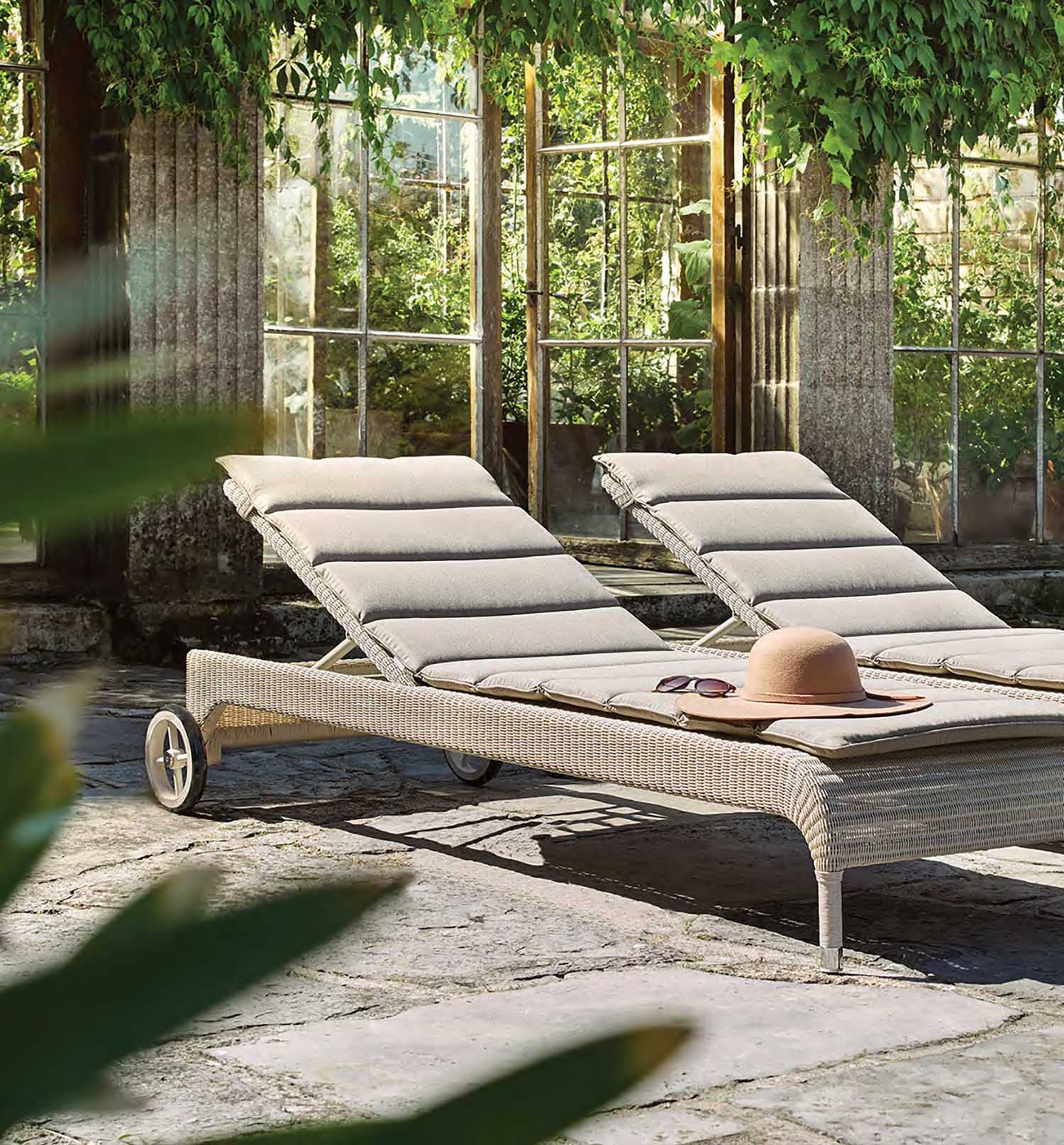 The Deauville II Chaise Lounge has two wheels for convenience while repositioning and can be adjusted from flat to four settings for tailored relaxation. The chaise is offered in Java, Maple, and Vellum finishes from the Deauville II line. There are available and individually marketed cushions.
Traditional and contemporary silhouettes are available in the Deauville II line, which is made of strong, powder-coated aluminum frames that are delicately woven in a fine Panama pattern. Deauville II chaise lounges are perfect for poolside as well as upscale verandas, terraces, and courtyards since they both have gracefully curved, waterfall-style fronts that evoke Victorian-era wicker and traditional English garden furniture.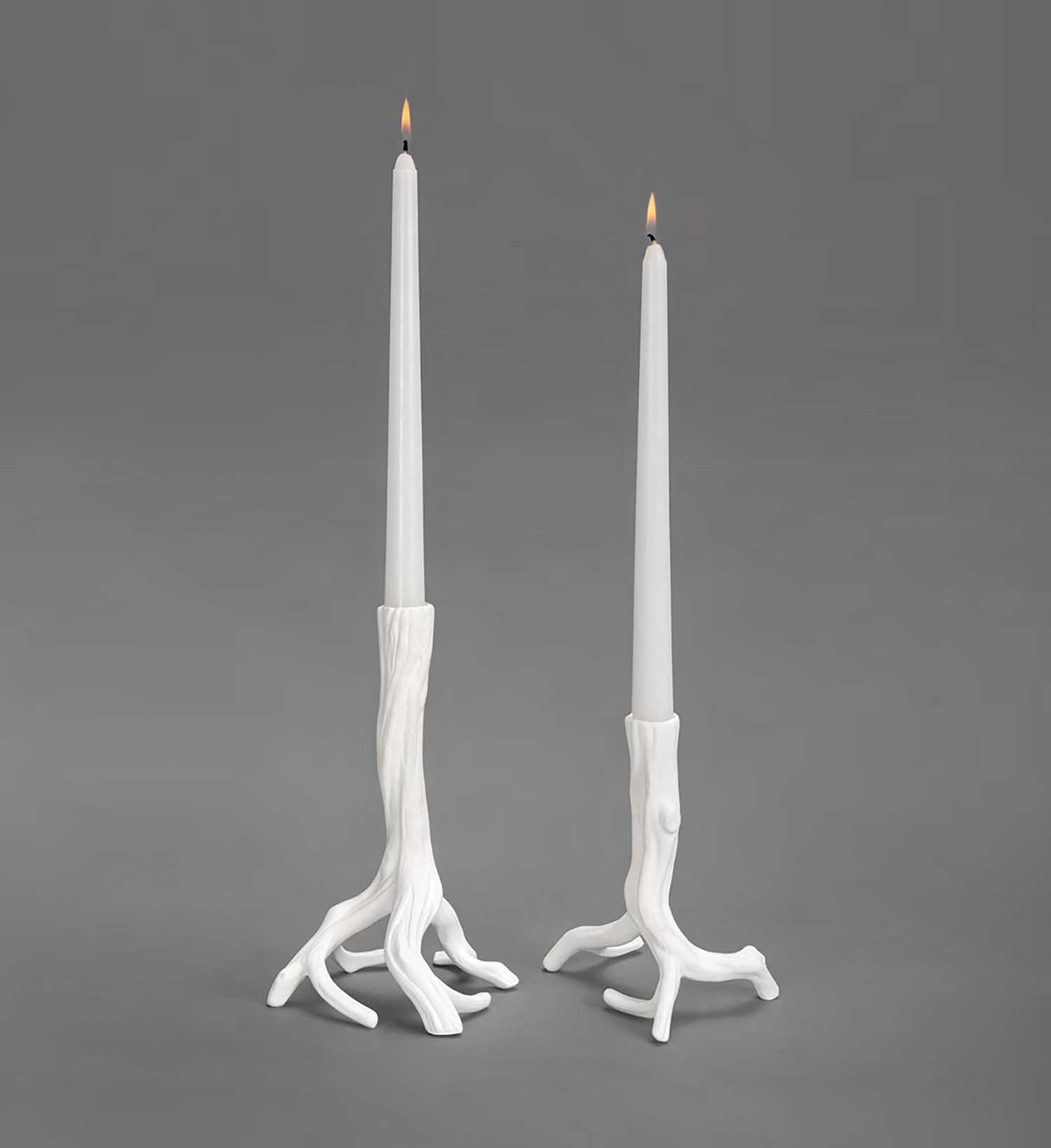 Monsoon
Two new pieces have been added to JANUS et Cie's Monsoon collection of tropical ornamental accents and vessels. The Liana Candleholder Small and Liana Candleholder Large accurately capture the trailing plant's beautifully undulating, sinuous elegance. They were inspired by the sculptural, serpentine liana vines native to rainforests.
Discover the complete collection on www.janusetcie.com