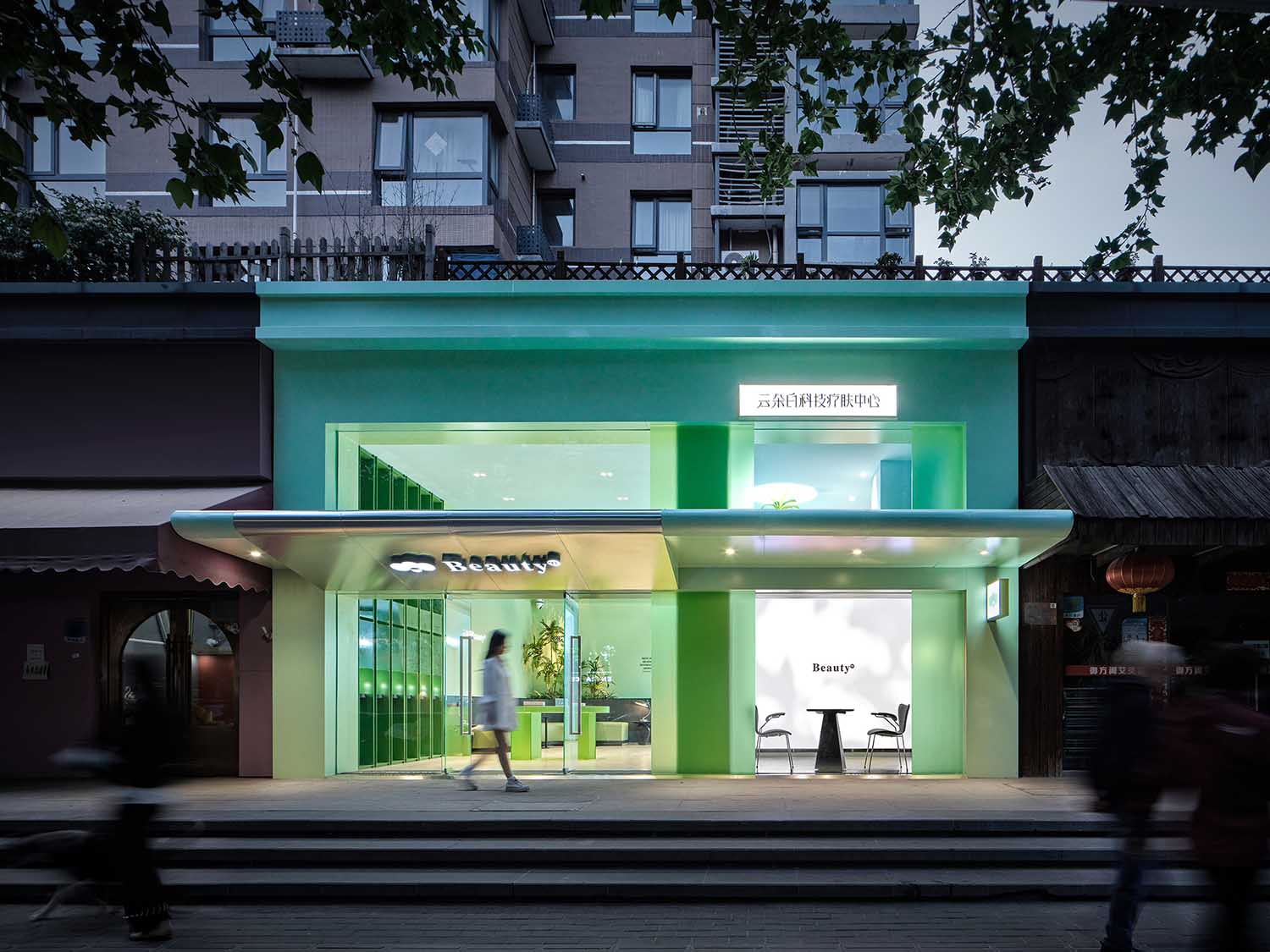 ISENSE DESIGN has recenlty completed work on its latest project in Beijing, China – Beauty π Technology Skin Care Center.Traditionally, beauty salons have embraced neutral colors such as beige, wood, and black and white, lacking bold spatial hues. Seizing the opportunity to become the trailblazer, Beauty π Cloud White fearlessly adopts its VI color, thus becoming the first color IP in the domestic beauty industry. The primary VI color adorns the exterior facade and smaller interior spaces, leaving an indelible impression that green signifies the brand. Blue, as the auxiliary color, extensively embellishes the indoor public areas, achieving a natural, refreshing, and tranquil ambiance.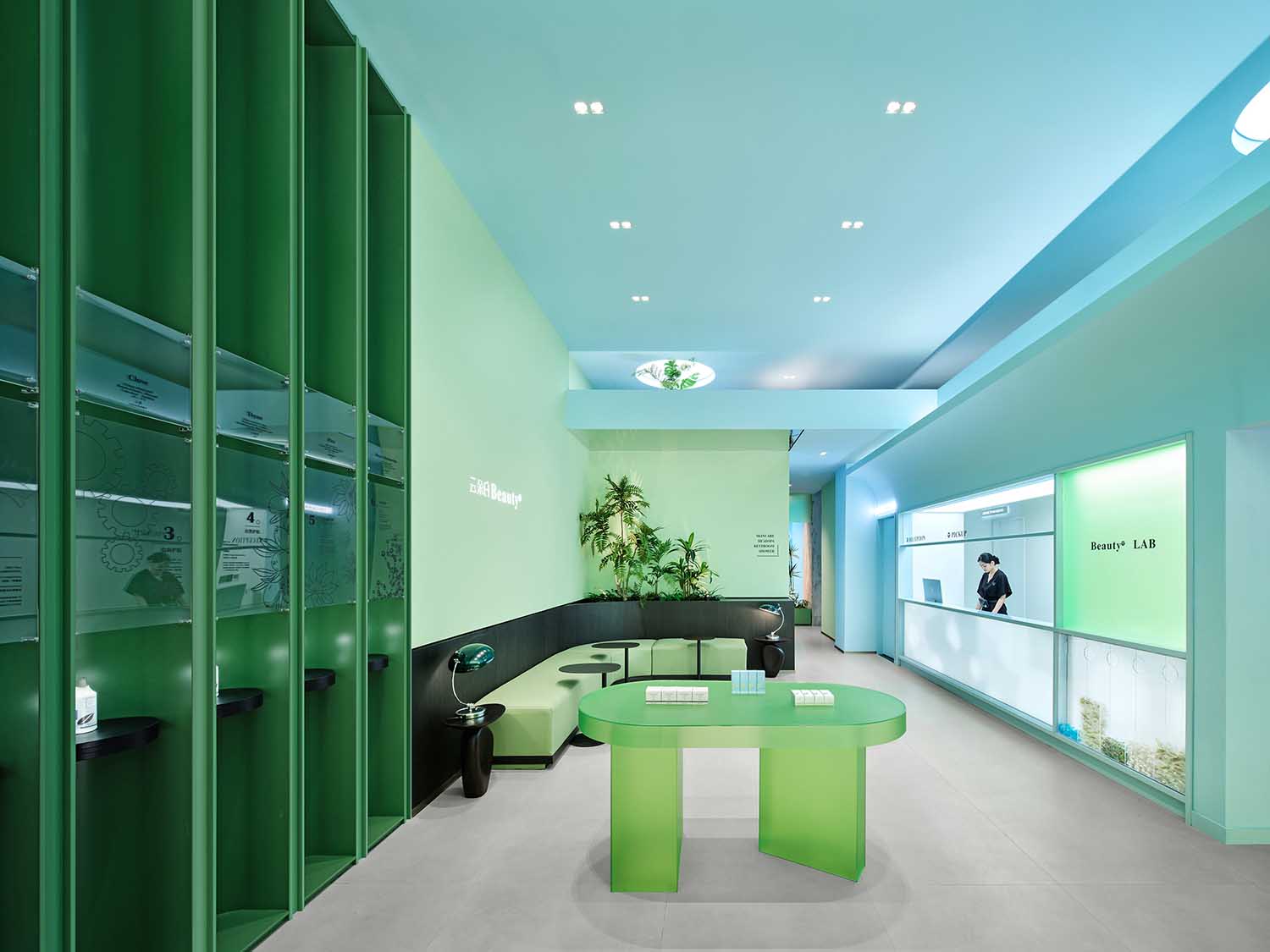 At the heart of the Beauty π Cloud White experience lies transparency and openness. Through ingenious spatial design, the front desk, cash register, and formulation room seamlessly merge with the logistics space, creating a laboratory-like atmosphere within the lobby. Customers can witness the entire process of skincare essence formulation through large windows, allowing them to take home unused essence or deposit empty bottles in the collection box at the bar counter after their beauty product experience. Dynamic lightboxes display captivating light and shadow images, mirroring the enchanting play of sunlight filtering through foliage, with the ability to change materials as desired.
Due to the height limitations of the original ceiling, a visually captivating faux second floor was created by intricately interweaving local blocks, enhancing the spatial hierarchy. This partially accessible area serves various purposes, including material storage and air conditioning duct maintenance. The entrance display area serves as a platform to showcase the brand's culture and select products.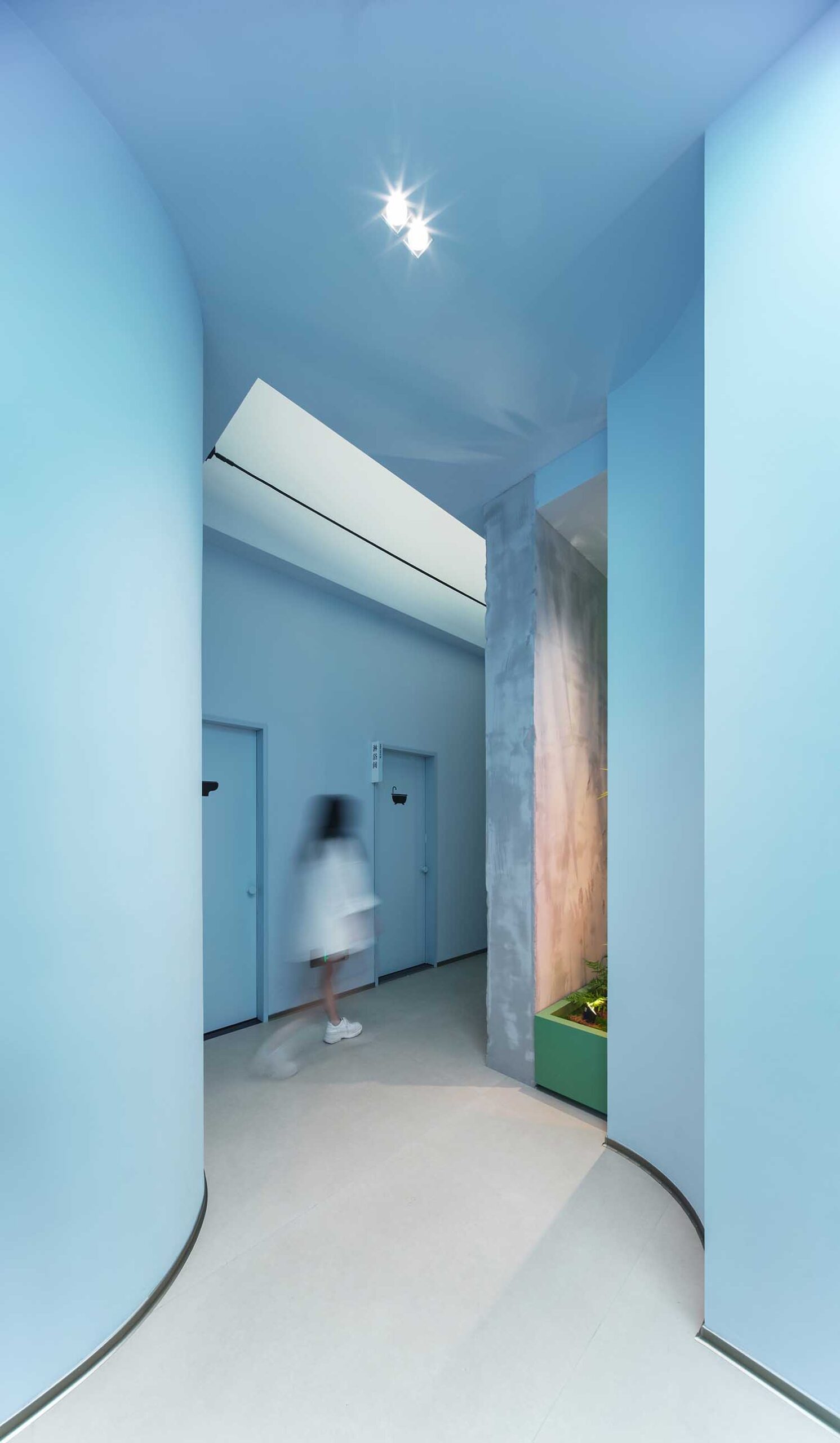 To optimize the business area, the corridor following the skincare room features a winding layout. Curved shapes have been employed to eliminate sharp corners, promoting a sense of spaciousness, further accentuated by soft lighting and mirrored surfaces. The original concrete structure is strategically incorporated to create captivating end views, where the interplay between ruggedness and delicacy is showcased. Soft furnishings and thoughtful details exude a retro industrial charm. Illuminated or closed signboards above each room indicate whether a customer is currently undergoing a service or not.
The headspa area boasts a starry sky ceiling, enveloping clients in a serene and comfortable atmosphere, perfectly suited for head care and makeup services.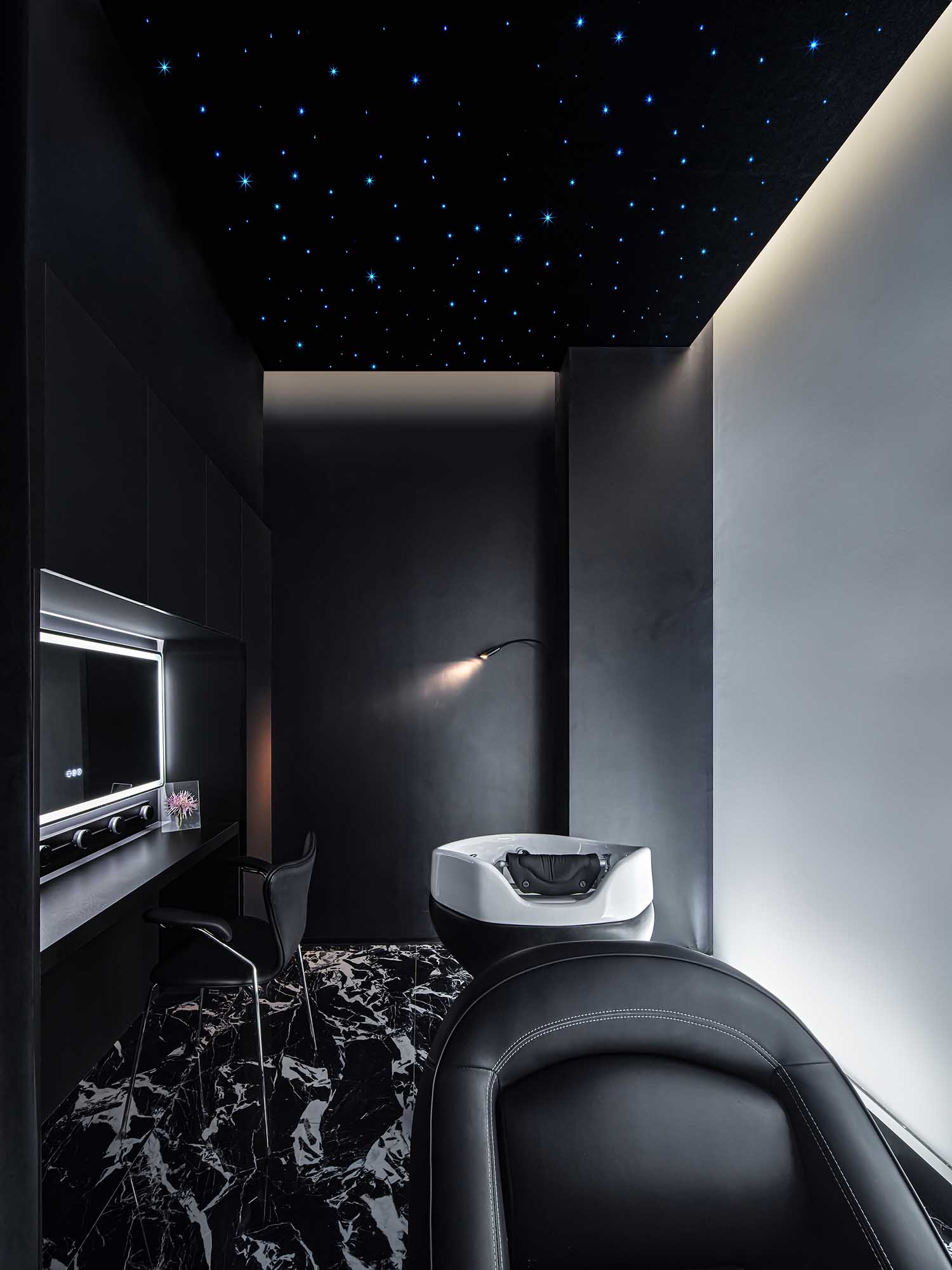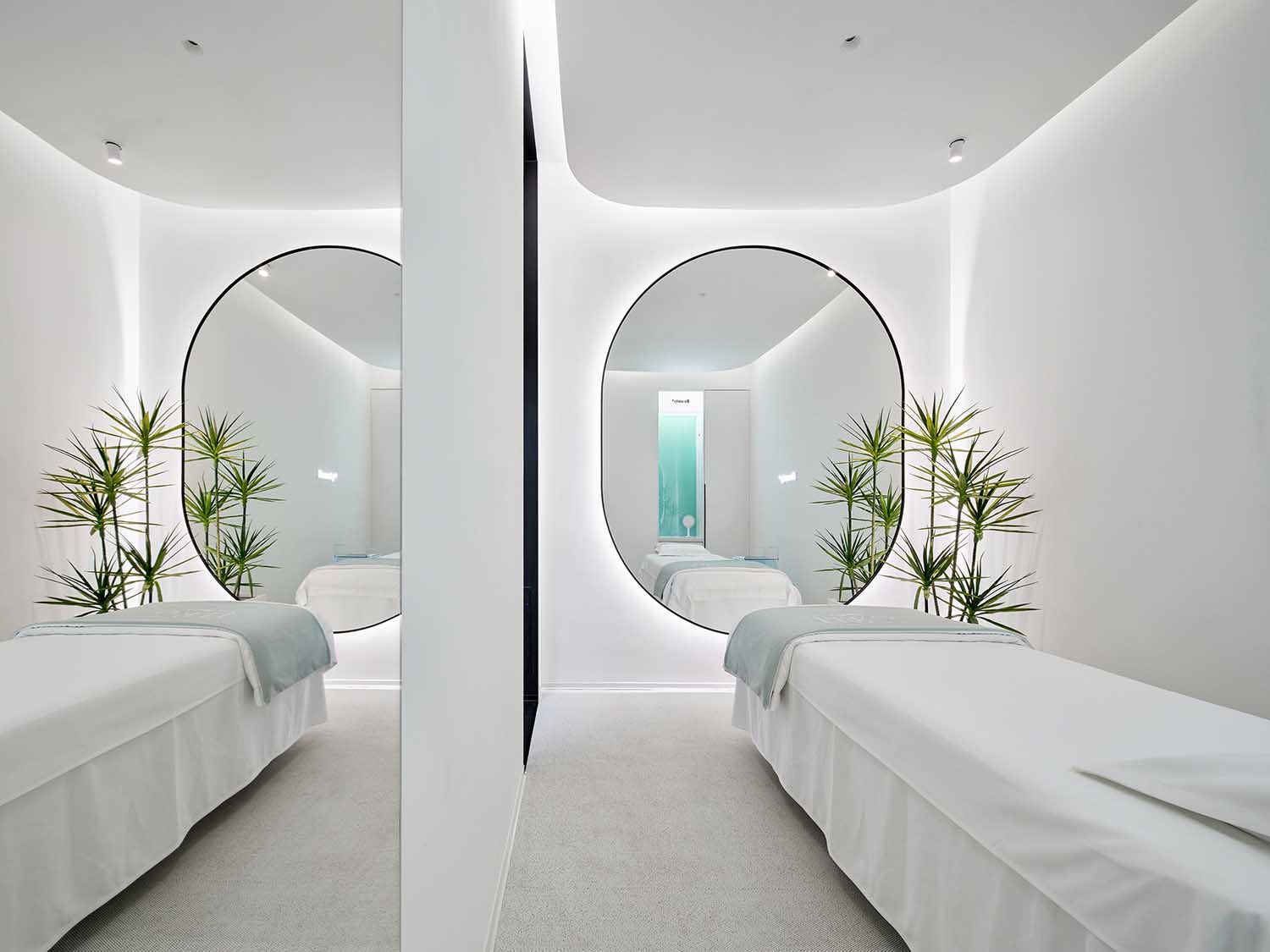 The single-person treatment rooms embrace a rectangular layout with softened corners. The purity of the space is enhanced by blue-green gradient glass, rendering a clean and transparent environment. Mirrors contribute to a visually enlarged space, while discreetly hidden aromatherapy devices emit fragrances through small openings in the wardrobes. The wardrobes and small dressing tables cater to customers' clothing storage needs and provide essential amenities such as combs and hair ties.
Integrating color and materials effectively, the designer reinforces functional zoning and visually enhances the room layout. An intelligent control module features various light brightness modes for different stages of the experience, from preparation to in-experience and post-experience, while also offering control over music, projections, air conditioning, and more.
Project information
Project: Beauty π technology skin care center
Brand: Cloud White
Project location: Beijing, Chaoyang distract, Shuangjing street
Design Firm: ISENSE DESIGN – www.isensedesign.cn
Chief designers: Sissi Bu, Chen Liang
Starting time: 2022.12
Completion time: 2023.4
Area: 155㎡
Photographer: Lv Bo