Multitude Of Sins has designed BigTop, an enchanting farm-to-table dining establishment that seamlessly blends elements of nostalgia and wanderlust, aptly named The Circus Canteen. The circus is perceived as a grand occasion, where performers meticulously craft a spectacle that transcends the ordinary.
BigTop has been conceptualized with a focus on embracing unconventionality throughout its design and development. Every meticulously chosen element, ranging from carefully selected surface finishes, bespoke lighting fixtures, and captivating art installations, to thoughtfully sourced furniture, has been thoughtfully curated from a city-wide waste donation drive. These treasures have been meticulously crafted from salvage markets and dumping yards, with an astonishingly low percentage of the materials being freshly sourced.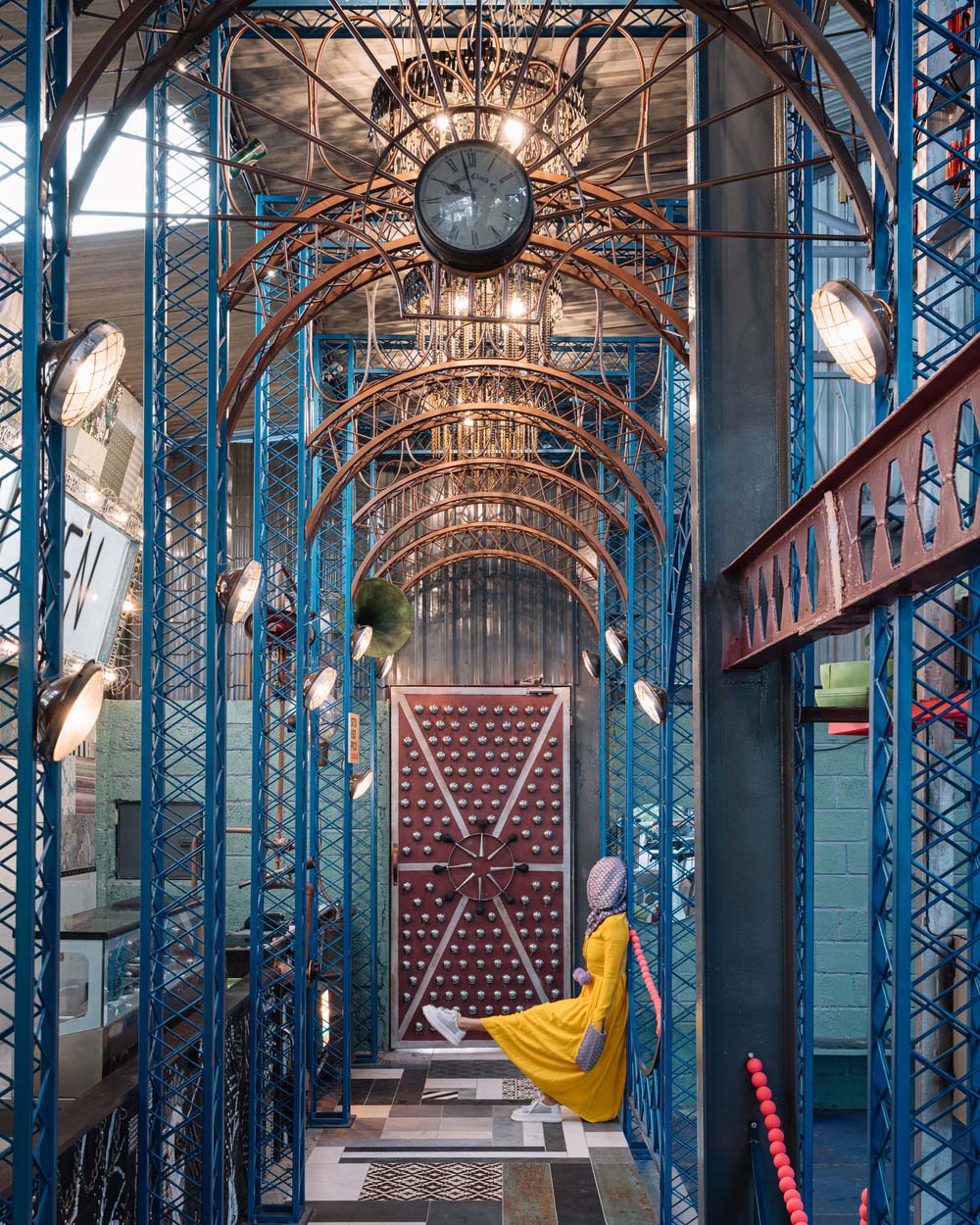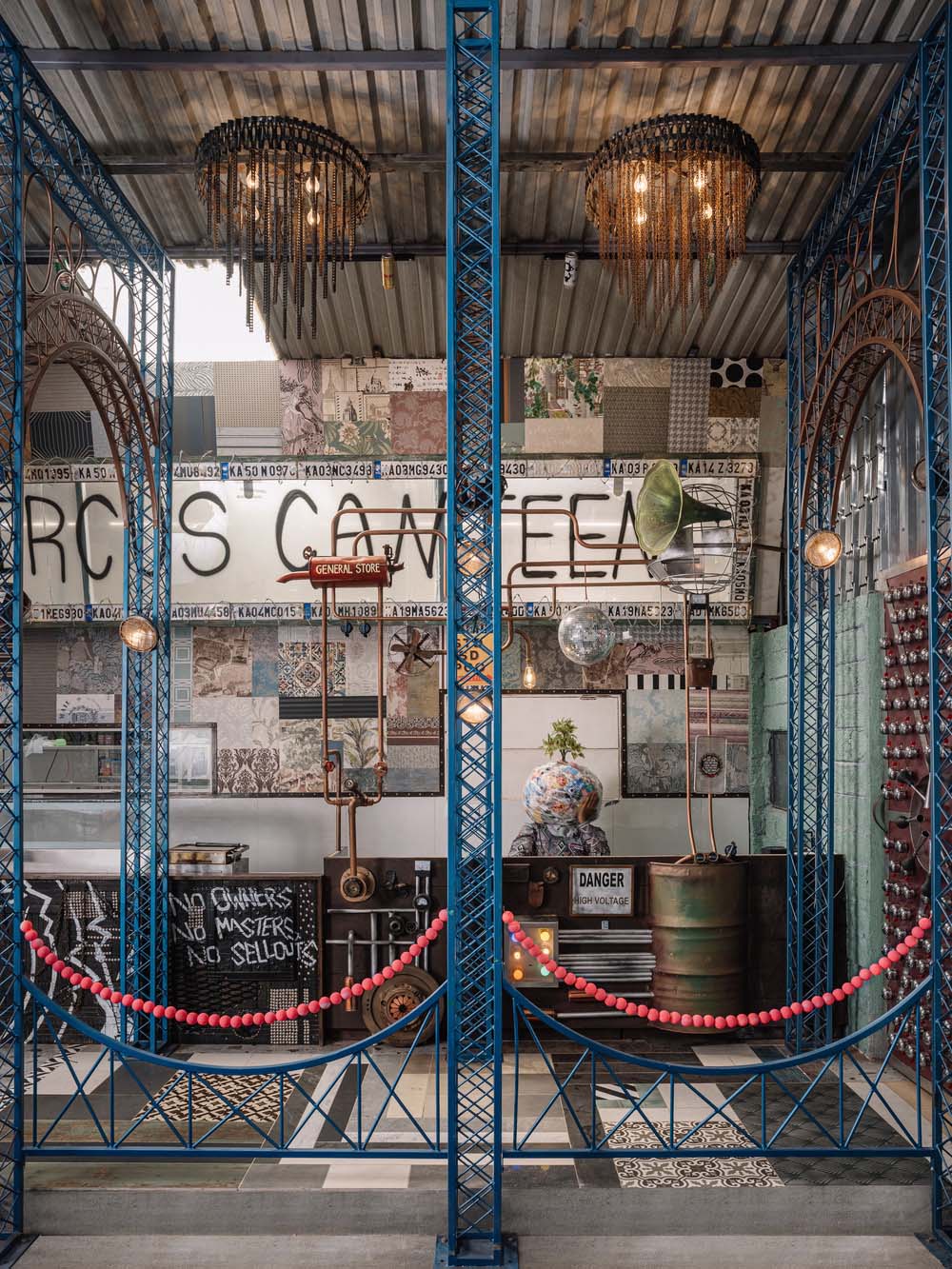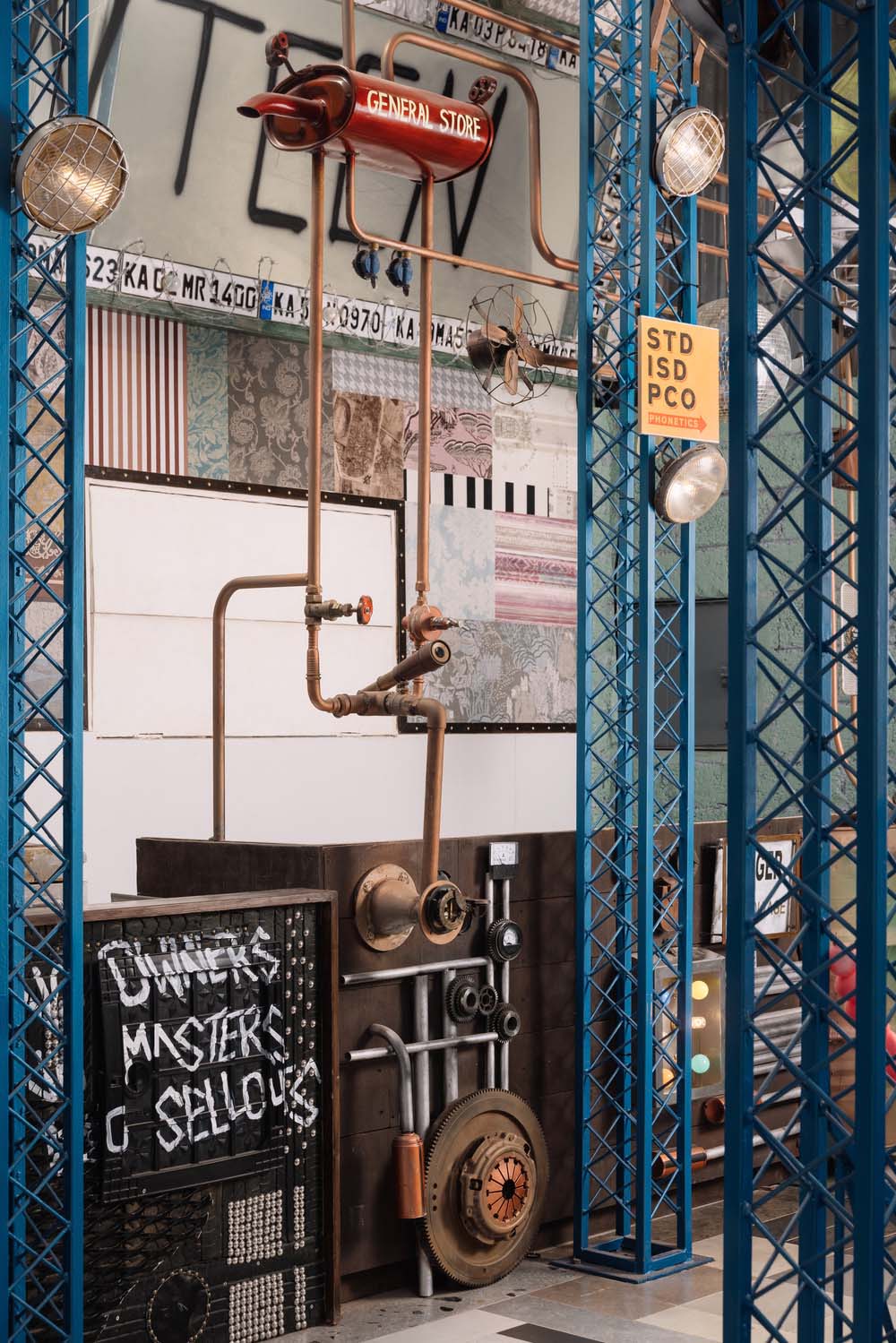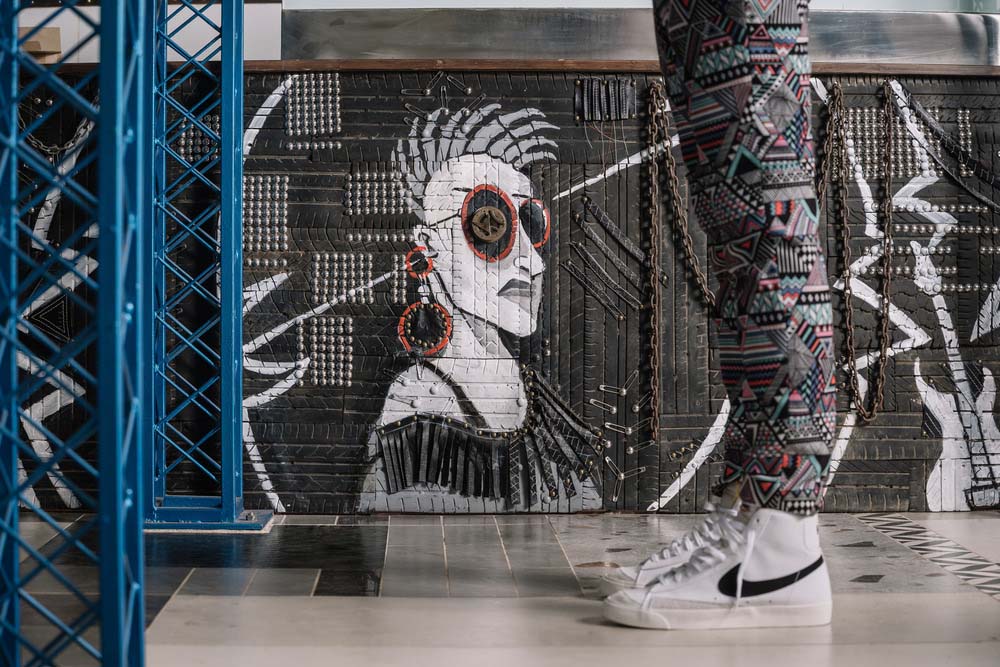 Located in the vibrant city of Bangalore, this venue is a true testament to the artistic community that surrounds it. The Bangalore Creative Circus has left its mark on this space, resulting in a captivating display of unbridled creative expression. The venue is adorned with a stunning array of colors, textures, and unique upcycled installations, each one carefully crafted to create a truly bespoke atmosphere. The tables embody a transformative encounter, where the discarded materials take on a renewed artistic form that seamlessly merges with functionality.
The entrance showcases a captivating composition of arches, meticulously crafted from repurposed scrap metal, which exudes a vibrant teal hue. The passageway axis is adorned with a series of avant-garde chandeliers, meticulously crafted from repurposed materials such as bike chains and metal filings. These unique fixtures exude a distinct grunge aesthetic, adding an edgy and unconventional touch to the space. Enhancing the overall ambiance, upcycled vehicle headlights have been ingeniously repurposed as luminaires, elegantly illuminating the passageway and further contributing to its distinctive character. The flooring composition showcases a captivating assemblage of repurposed display samples, meticulously arranged in a Tetris-inspired manner. The food counter is enhanced by a captivating backdrop composed of a diverse assortment of discarded wallpaper swatches, resulting in a visually stimulating interplay of vibrant colors and intricate patterns. The focal collage wall showcases a captivating assemblage of e-waste, sanitary fixtures, and discarded furniture, ingeniously arranged to create a whimsical and thought-provoking jigsaw of discarded materials.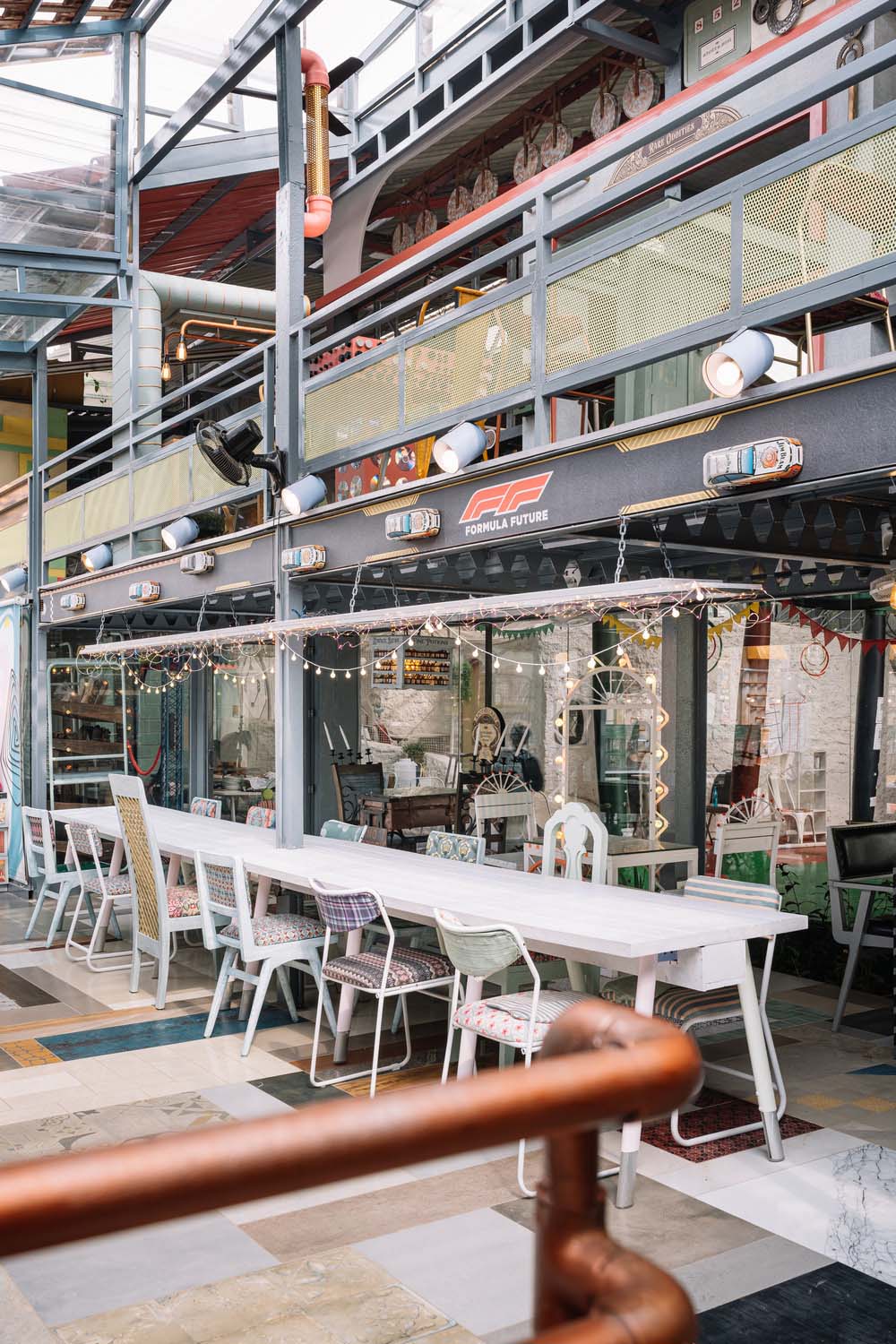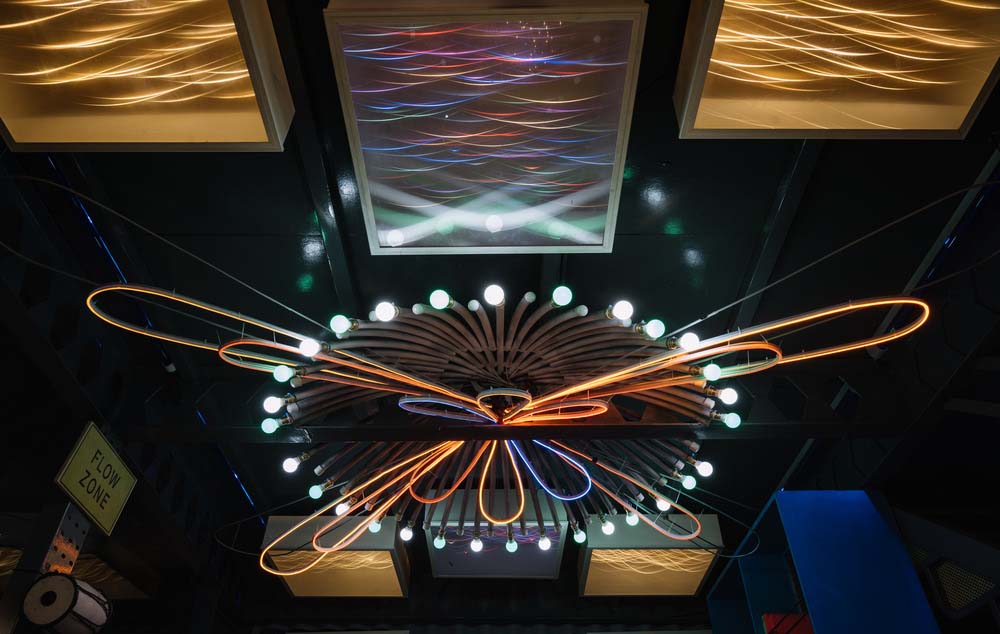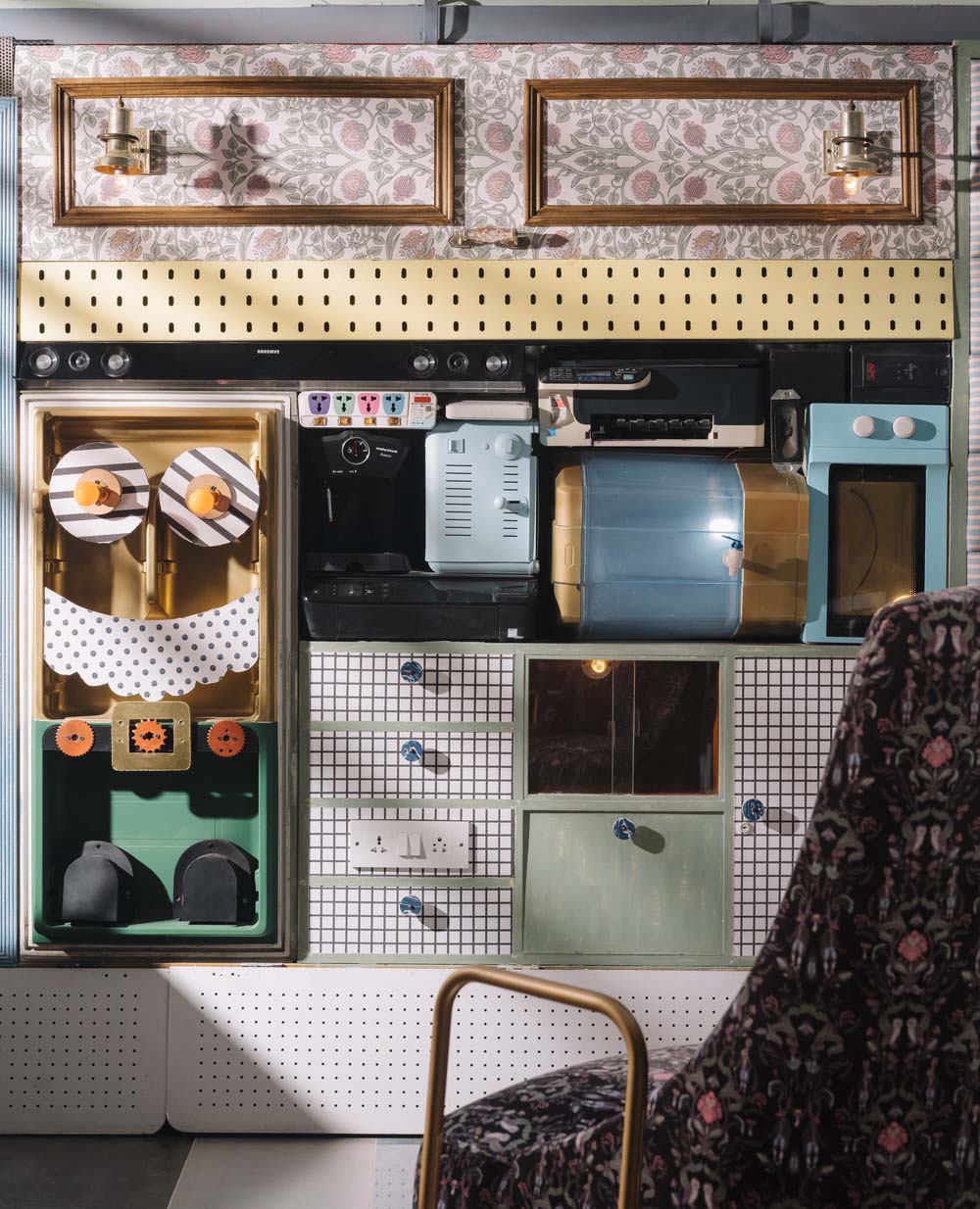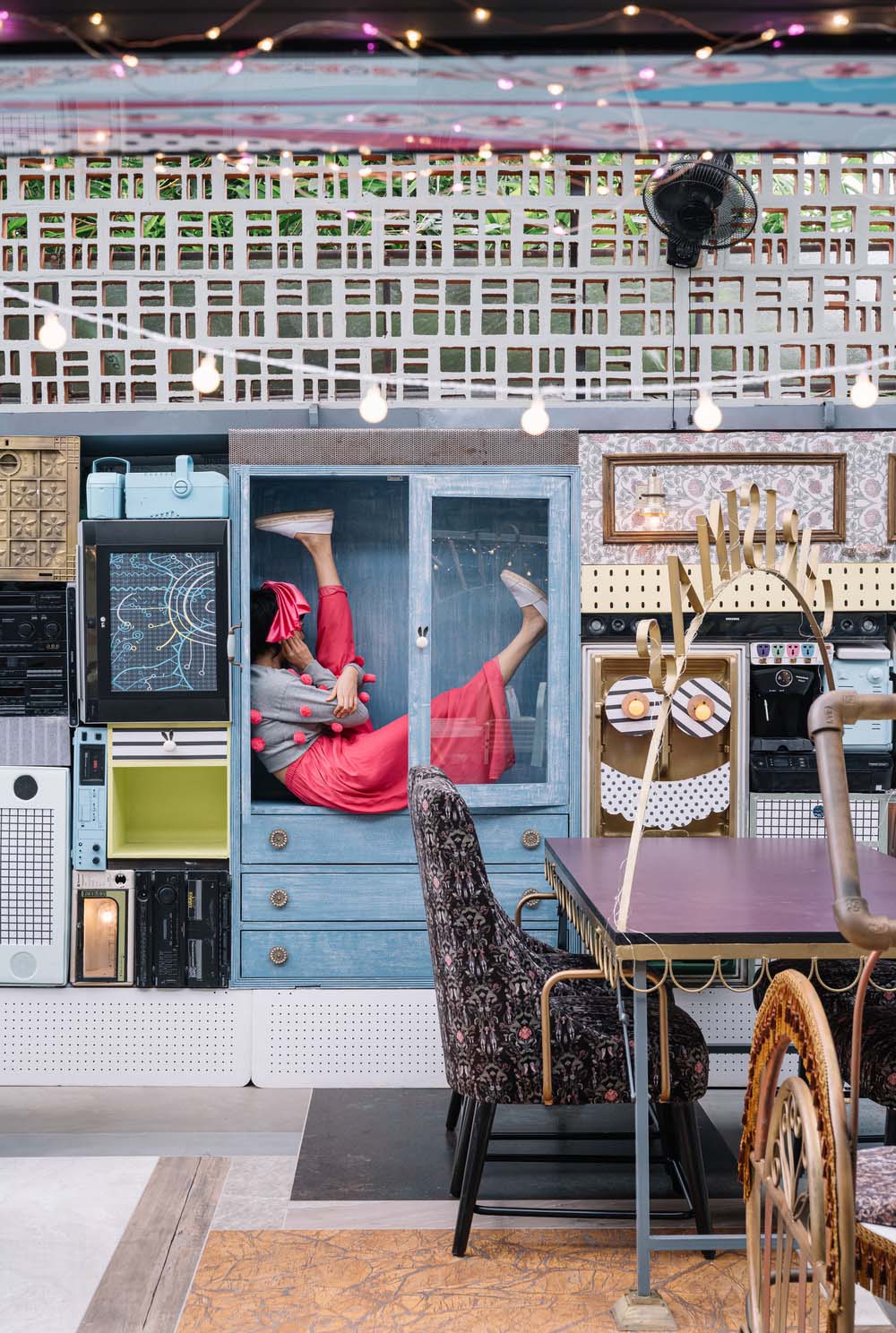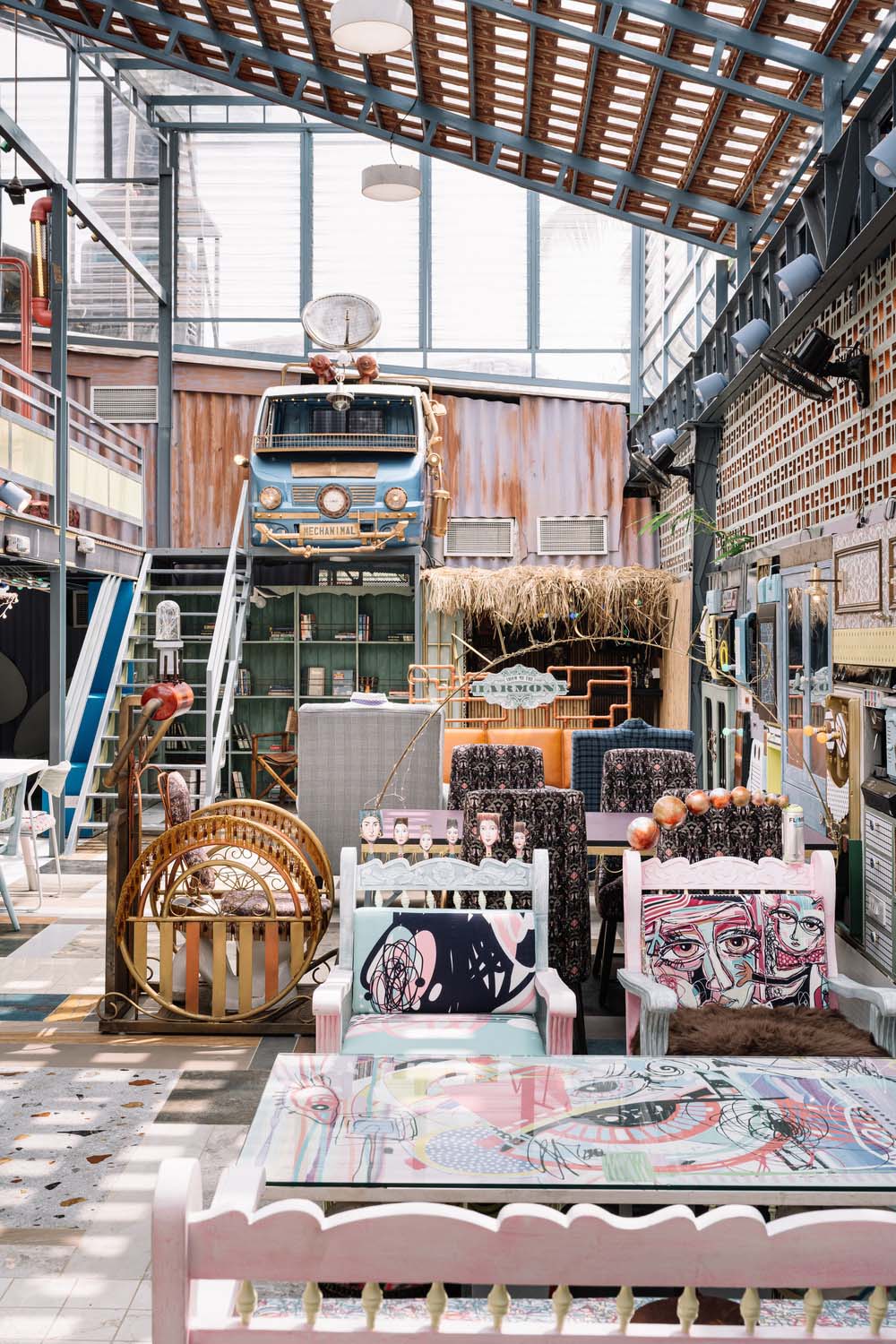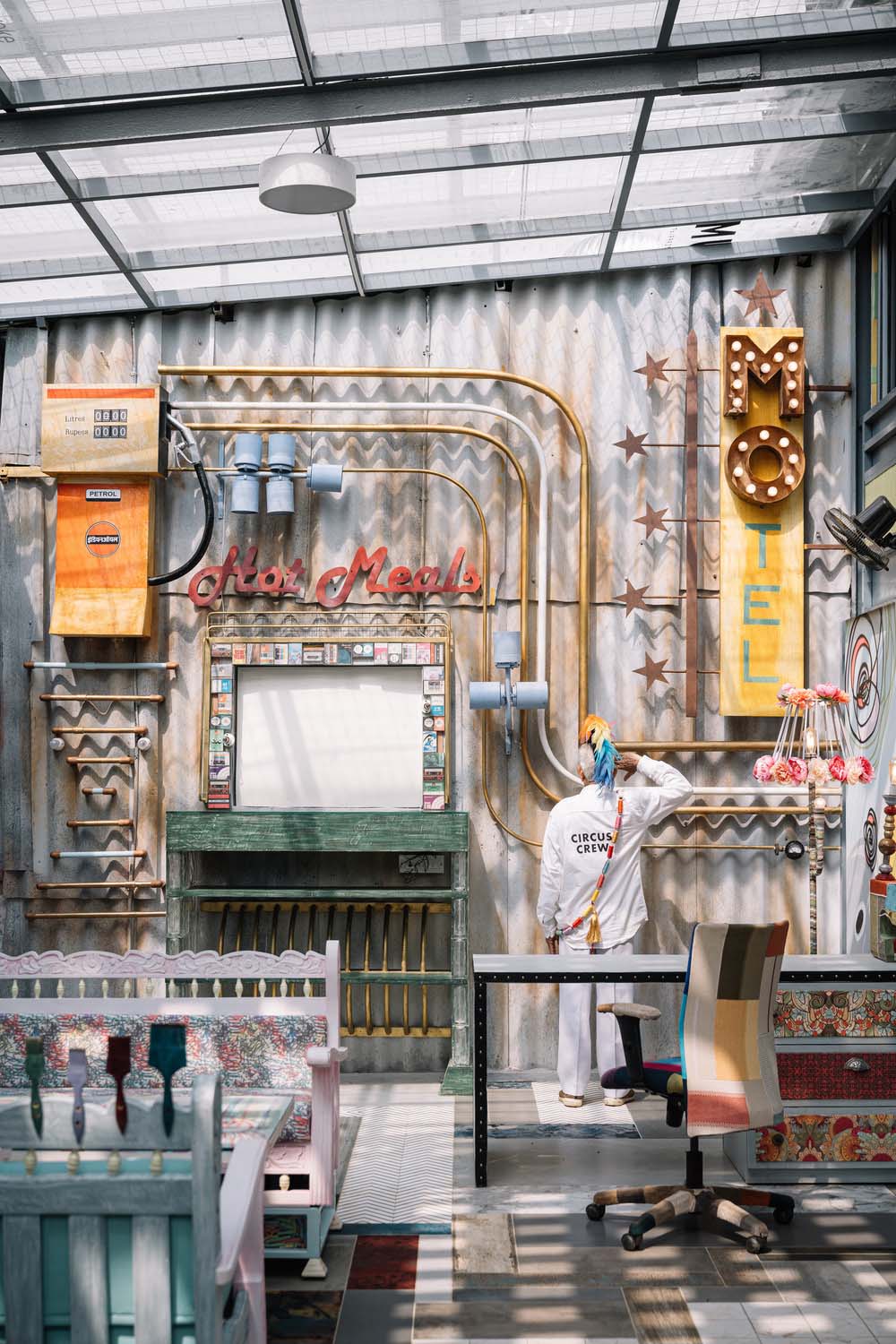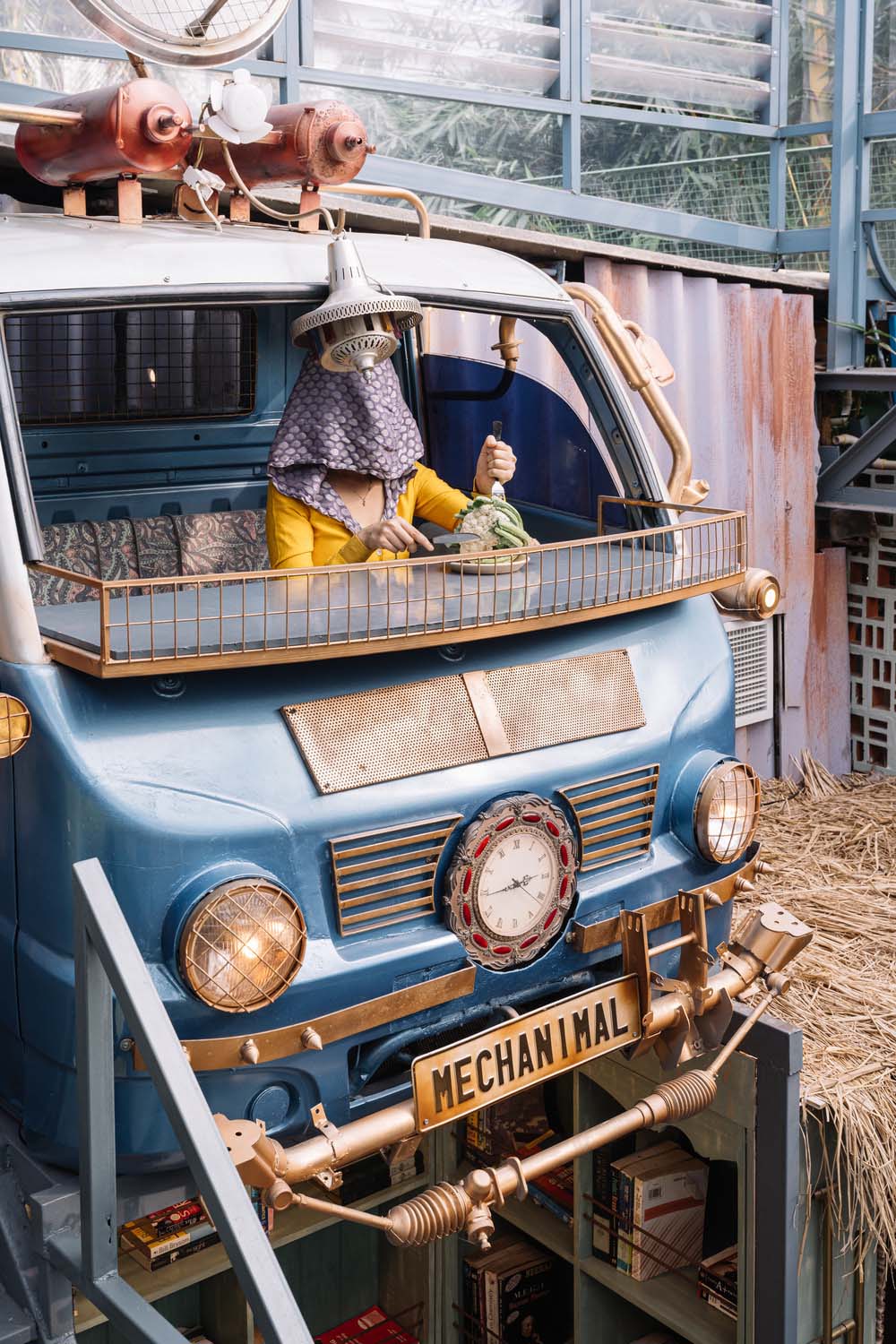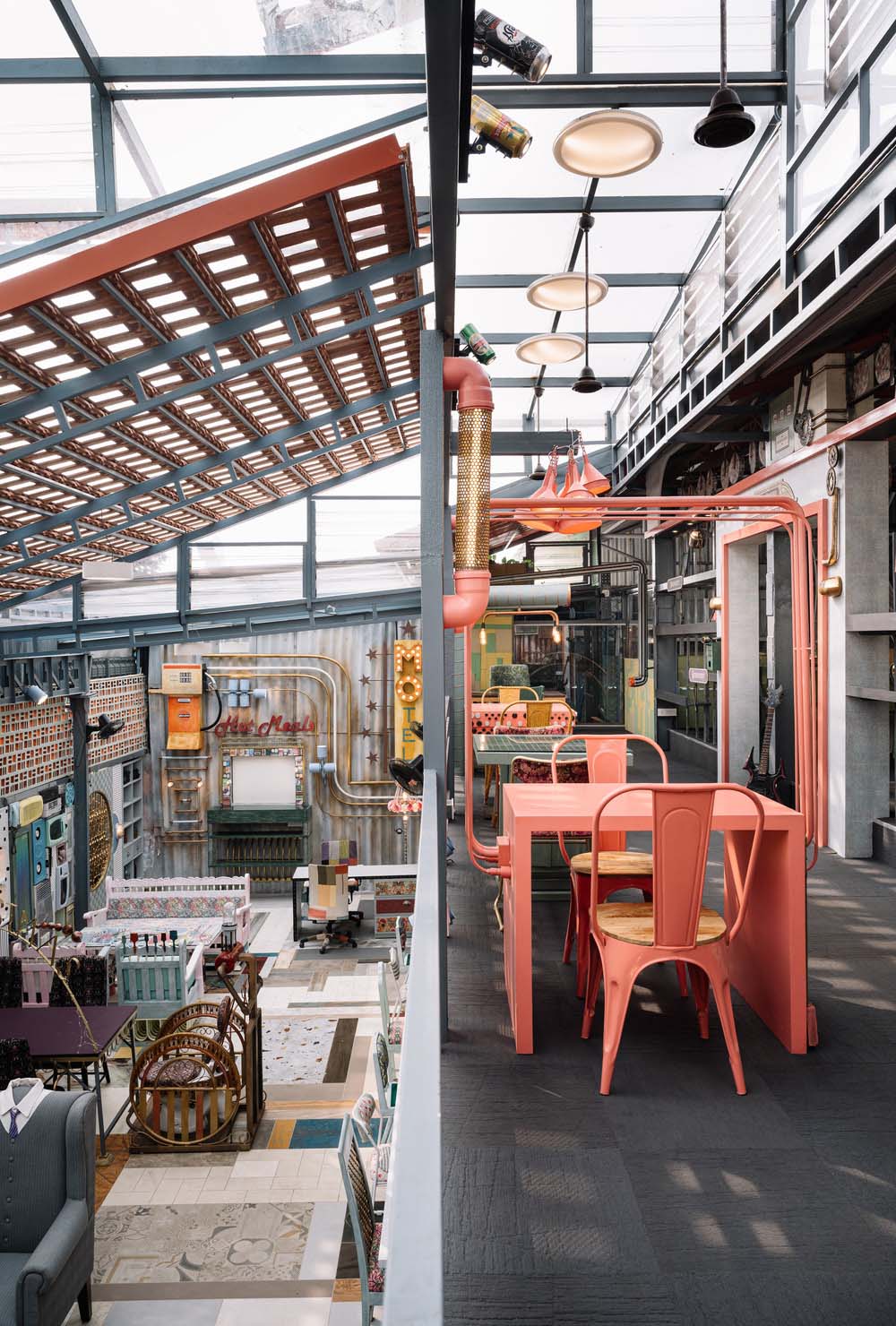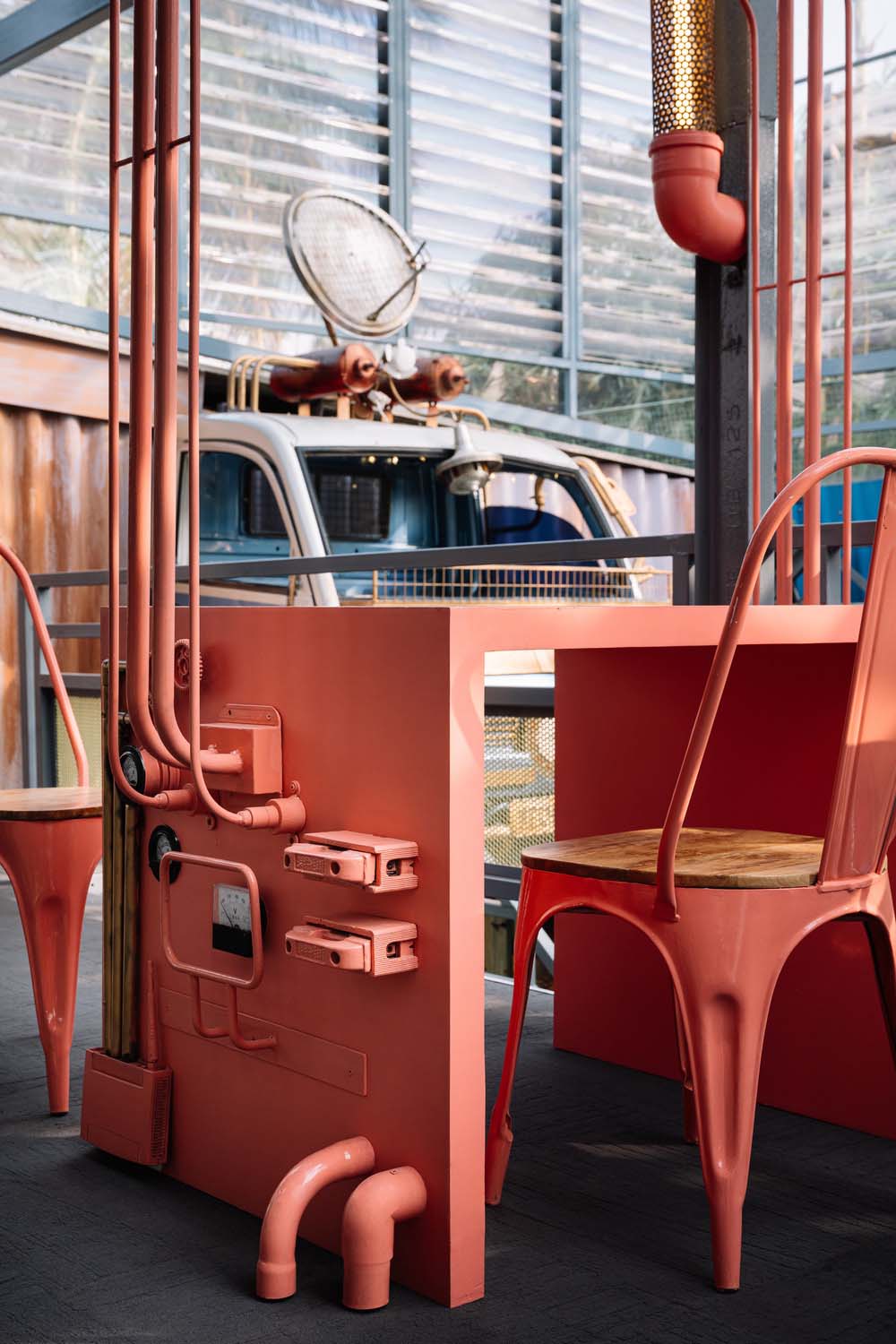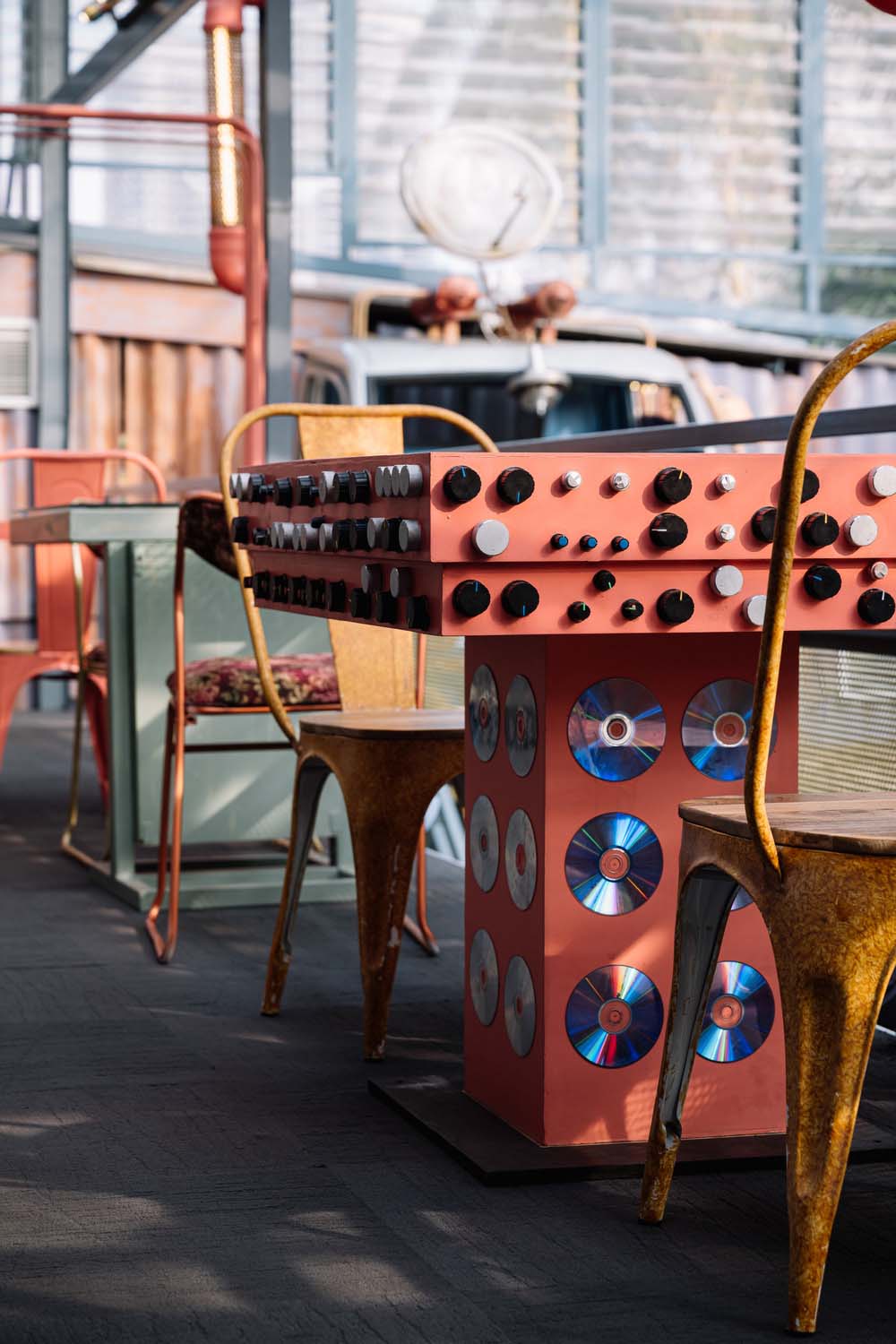 Project BigTop embodies a compelling environmental narrative, skillfully cloaked in an artistic guise, while simultaneously unveiling its true essence to its discerning users. This space embraces the unconventional, providing a haven for misfits where oddities find their serendipitous place.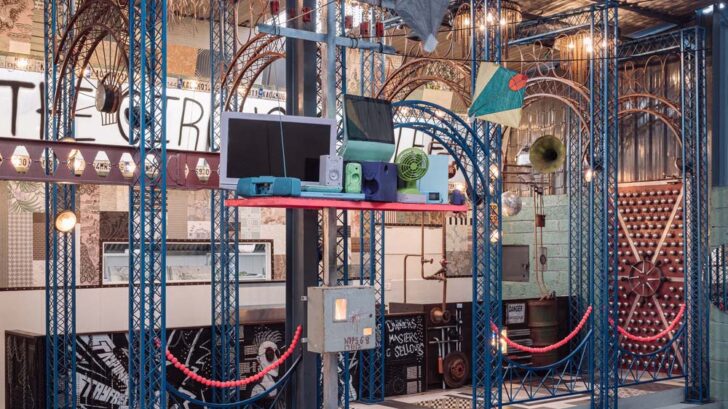 Project information
Official Project Name: Big Top
Size: 2,134 Square Feet
Location: Bangalore Creative Circus, Yeshwantpur, Bangalore, India
Client: Bangalore Creative Circus
Design Firm: Multitude Of Sins – multitudeofsins.in
Principal Designer: Smita Thomas
Collaborators:
Metal Art: Mechanimal, Rahul KP
Light and Tape art: Layer Tape, Nithin Sadhu
Graphic Artist: Rahul Chacko
Wall Art and Graffiti Artist: Shunnal Ligade
Furniture Art: Kamesh Bhagatji
Project Completion: January 2022
Photographer: Ishita Sitwala