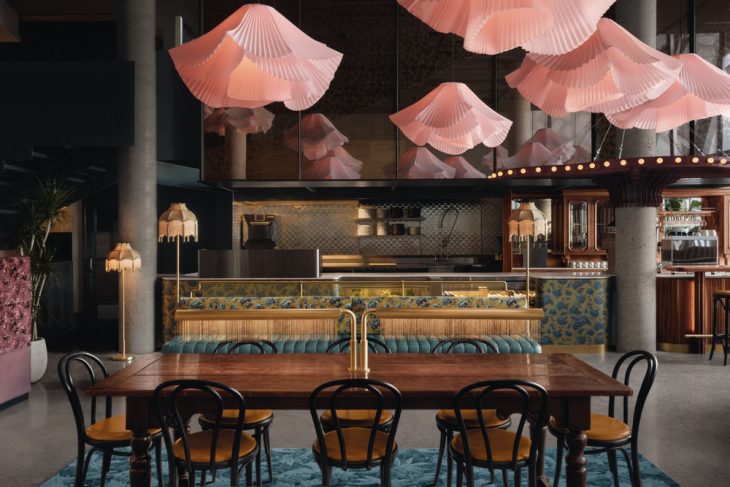 Atelier Zébulon Perron have recently completed their latest project in Montreal, Canada – Café Constance. The café honors Constance Pathy, a former leader of Les Grands Ballets, a Member of the Order of Canada, and a dedicated supporter of the arts. To create a spectacle the architects took a theatrical approach in designing the space. Discover the complete story after the jump.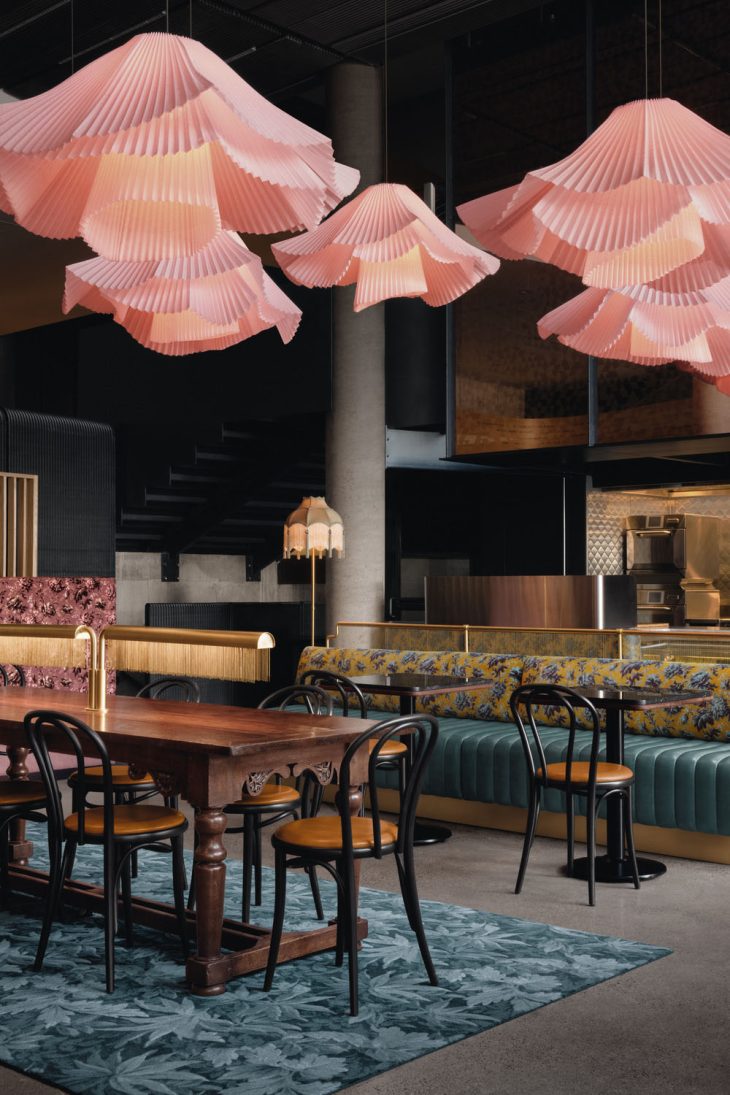 From the architects: Atelier Zébulon Perron, a firm renowned for its distinct hospitality interiors, is proud to introduce Café Constance, a fanciful 1400 sq. ft. social gathering space located in downtown Montreal's Wilder building, home of Les Grands Ballets Canadiens. Completed in February 2022, the café pays tribute to Constance Pathy, a Member of the Order of Canada, a generous patron of the arts, and former leader of Les Grands Ballets.
Located in the lobby area of the building, the space was primarily conceived as a meet and mingle locale for patrons attending the ballet's productions, as well as a trendy, more traditional café environment for employees of the building and the artists themselves. Maintaining apropos ambiances through the space's transitions from coffee shop by day, to more cocktail-oriented functions in the evening influenced Atelier Zébulon Perron's design philosophy, but the main focus was on creating something truly warm and whimsical in the heart of a contemporary institutional building.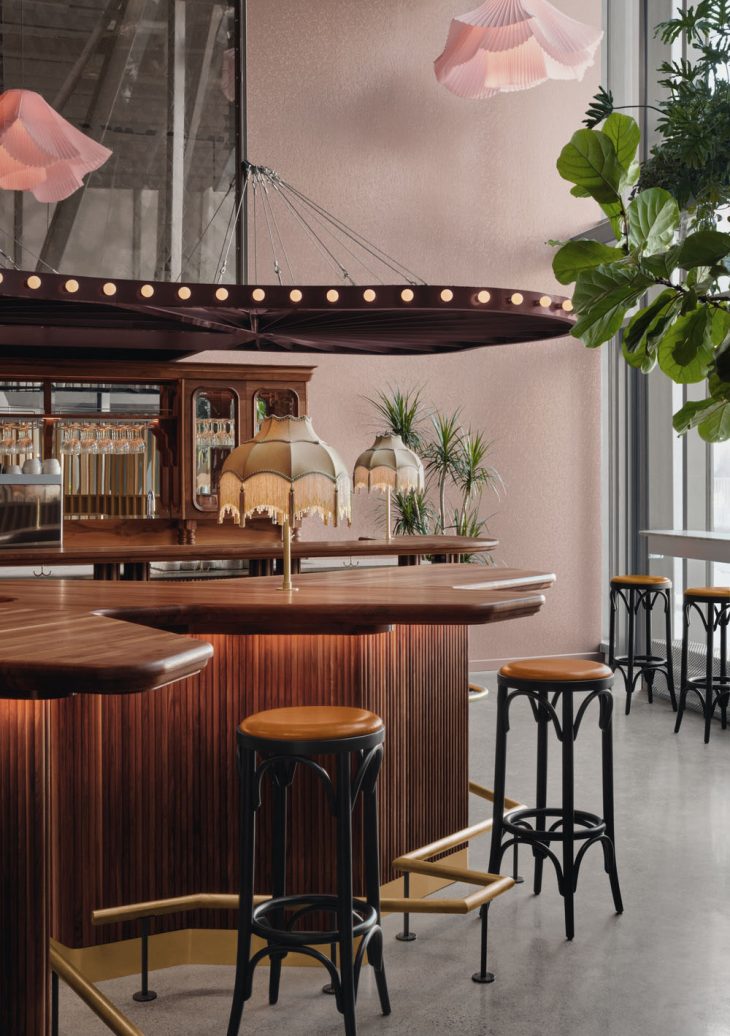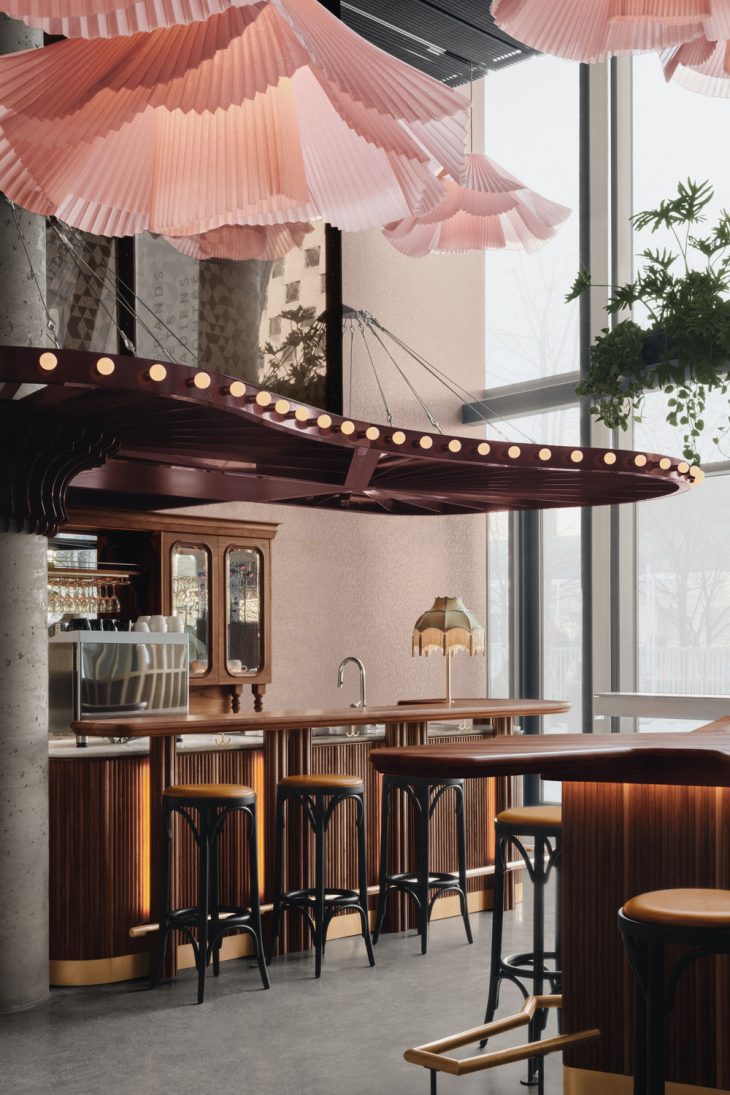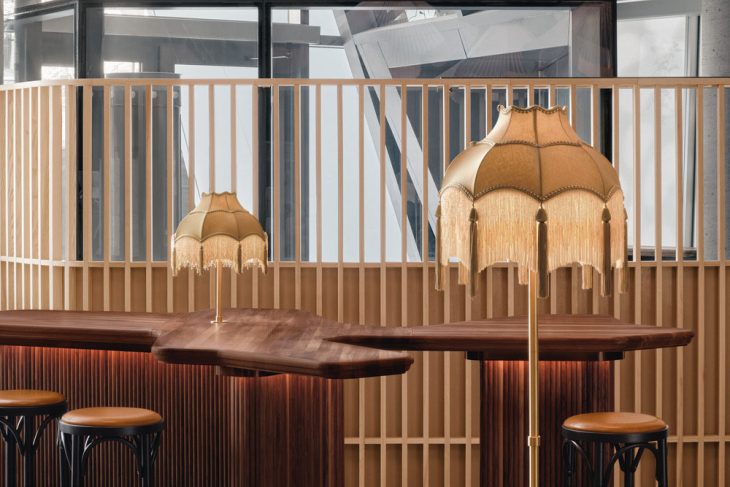 "We adopted a theatrical approach in order to build a sort of spectacle that is really quite literal," explains Zébulon Perron, founder and lead designer of the award-winning firm. "The idea was to create something that seems completely out of place, and that captivates the imagination in a strange and wonderful way."
Lowering the curtain to a human scale
The firm set out to create a space with a unique sense of place, infused with human scale elements within a whimsical setting that sits in beautiful contrast to the institutional context of the building that houses it. Therein lay one of the project's primary challenges: to design a fantastical sub-universe that would be stimulating, appealing, and embraced within an overlapping functional context.
The space's high ceilings were reduced to a more intimate and human scale through the insertion of a marquise above the bar area. The back bar's design elements include bevelled glass, mirrors, and backlighting reminiscent of a theatrical wardrobe setting, and its canopy completes a ground level vibe characterized by hints of a dollhouse-like atmosphere that beckons patrons of the café.
An adagio of fluid design
Inspired by the design principles behind Bar Luce, a Milanaise café located in the elegant Fondazione Prada arts centre, Cafe Constance was conceived as a gathering point for lovers of dance, with layers of opulence influenced by the ballet, theatre, and the arts in general.
"Café Constance channels elegance, grace, and movement through its tribute to the arts," explains Perron. "Collectively, all of its design elements interact in an eclectic atmosphere with unique character."
Taking inspiration from Muybridge's famous stop motion sequences, Café Constance features sequentially positioned, custom-designed tutu lamps that flow through the space and taper its expanse to a more intimate scale. Each of the blush-coloured, crinoline tutu shade is slightly different in shape, evoking a sense of ethereal movement. A high solid black walnut table with an eccentric form further contributes to a grounded sense of movement and playfulness, infusing a sort of 'social dance' into the essence of the space.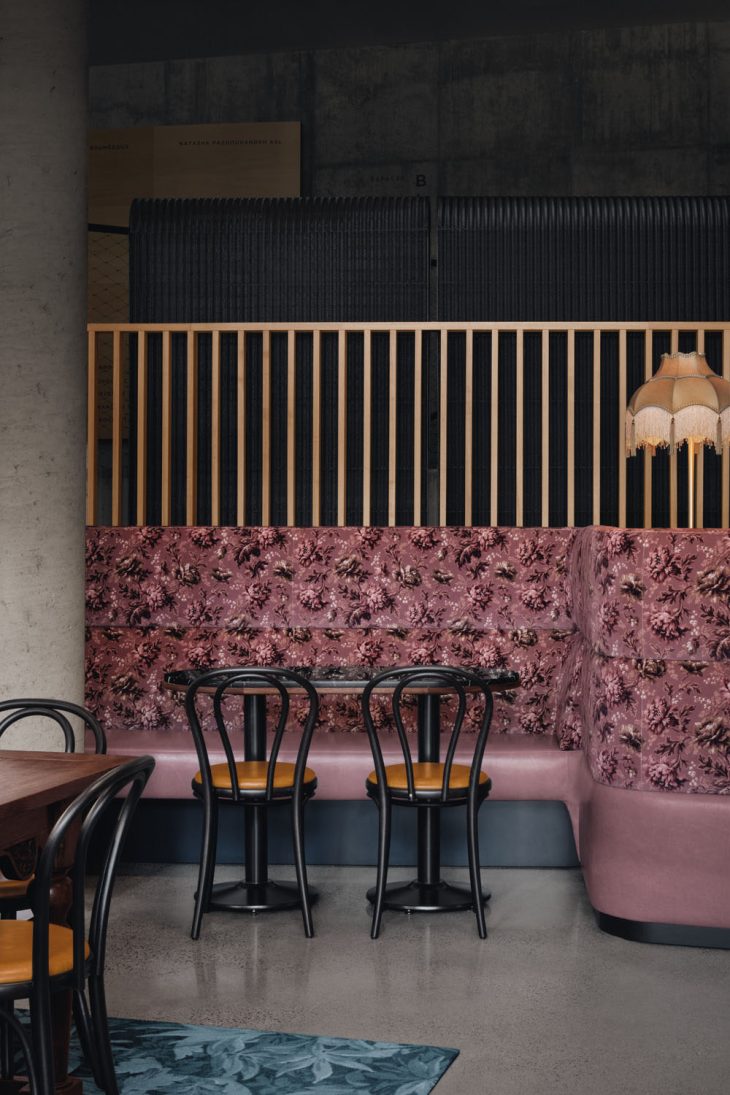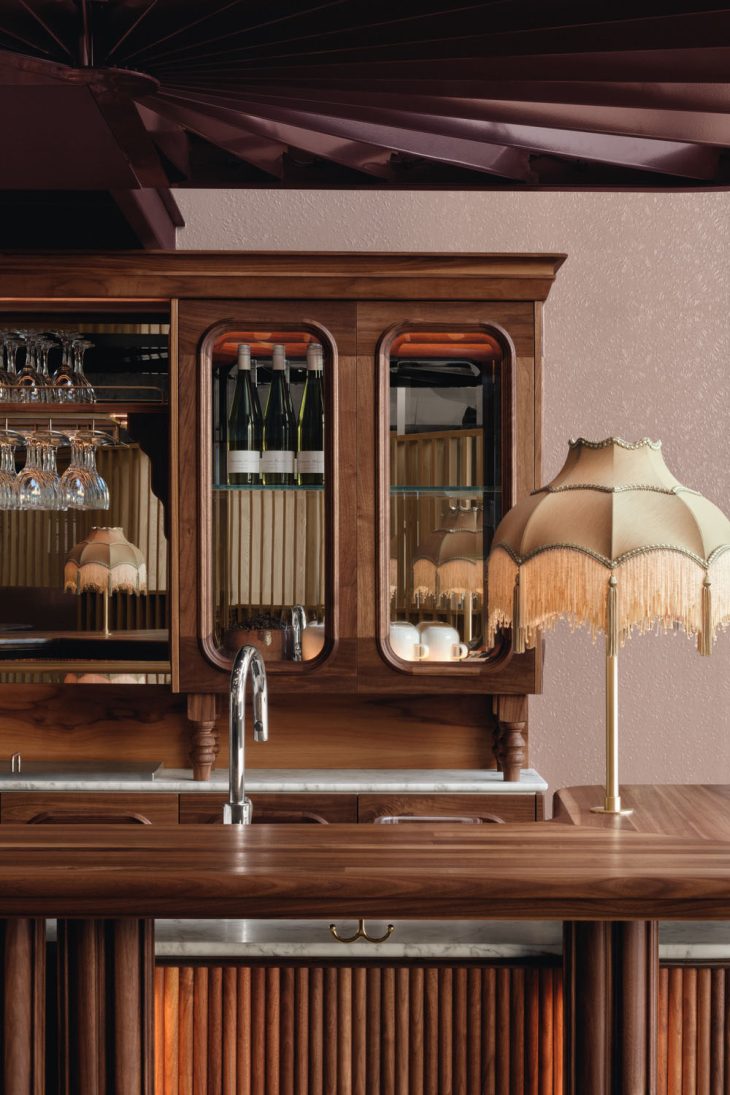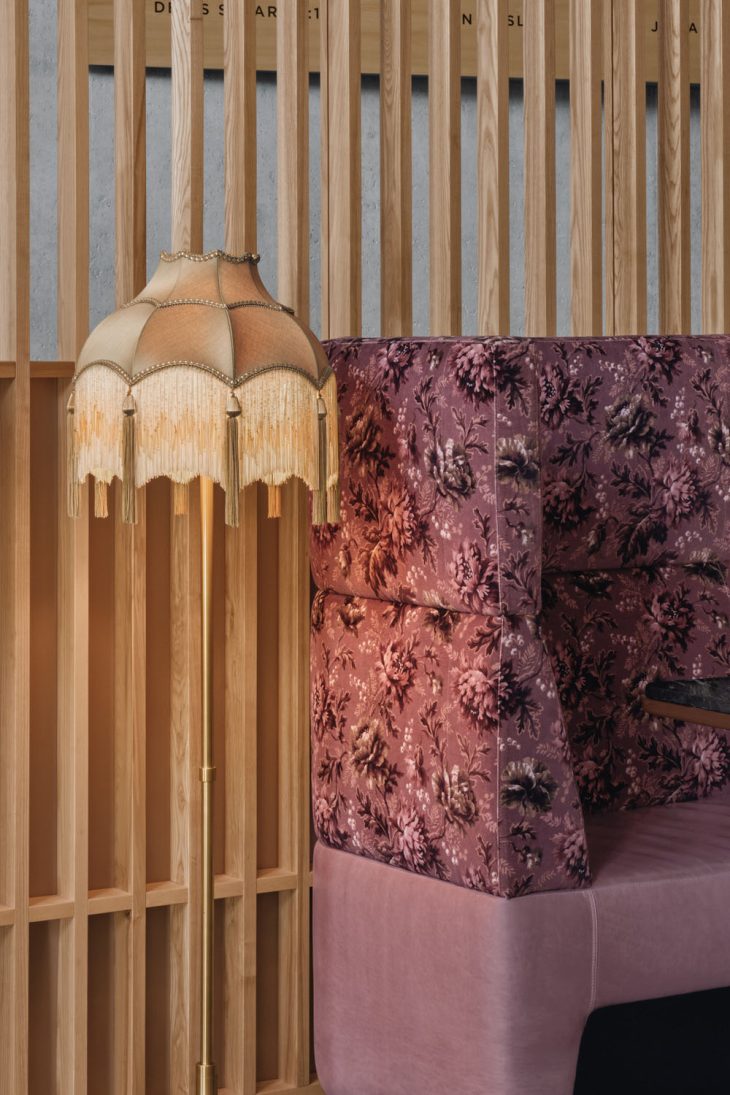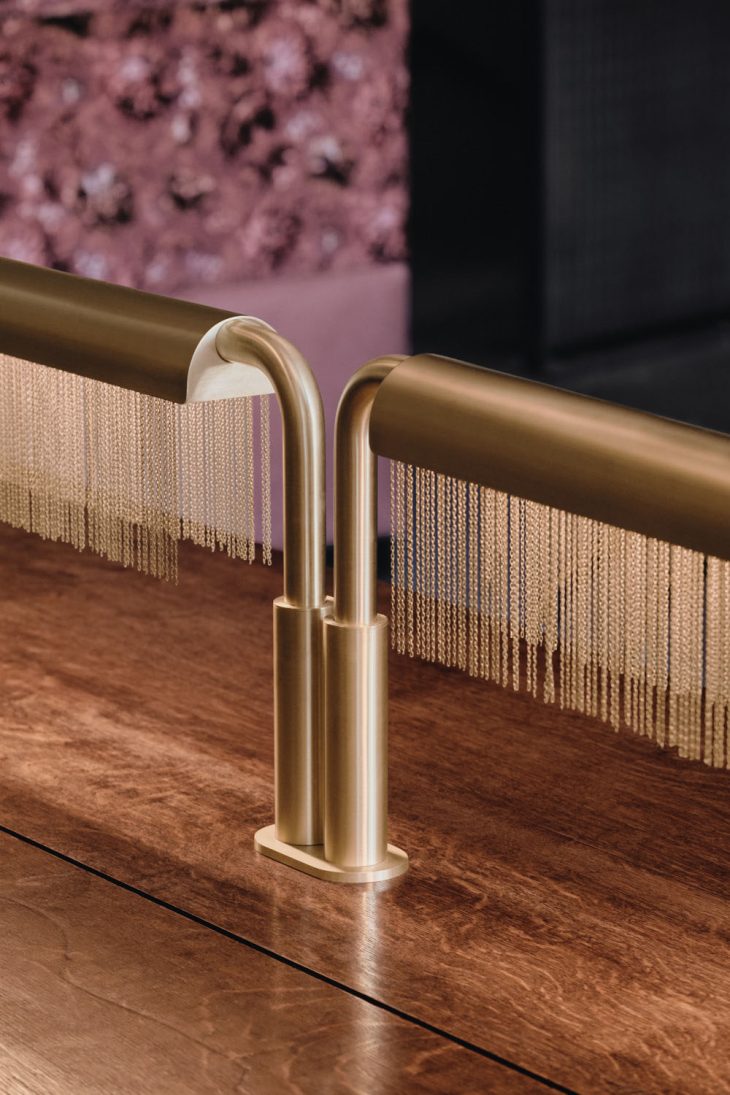 Contrasts and uniformity
Banquettes and stools upholstered in colourful leather, fringed "old lady" lampshades, and an antique communal table sourced from England, further contribute to the magical universe of Café Constance, wrapped in the warm embrace of vivid and lively floral fabrics and wallpaper patterns. Intentionally incongruous in its context, rich materials including walnut, velvet, brass, and natural greenery infuse touches of luxury and warmth into the bright and whimsical setting of a child-like fantasy.
"The tongue-in-cheek approach to Café Constance aimed at creating a fun and fantastical space within the more austere backdrop of the building's contemporary architecture," concludes Zébulon Perron. "That play on contrasts extends to the design within the space as well, with hints of Victorian elements and boudoir intimacy animated by intricate colours, patterns, and light fixtures."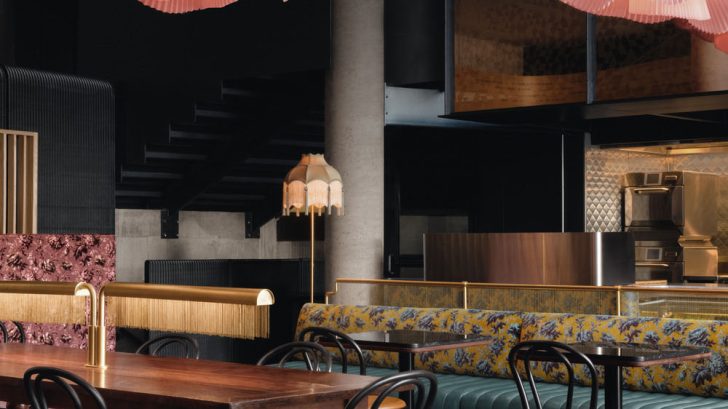 Project information
Materials: Walnut, leather, velour, brass, wallpaper, crinoline.
Project Name: Cafe Constance
Completion: February 2022
Project Site: 1435 De Bleury St, Montreal, QC H3A 2H7
Project type: Cafe/Restaurant
Surface area: 130 m2 (1,390 sq. ft.)
Construction: Archetype Construction
Design: Atelier Zébulon Perron – www.zebulonperron.com
Lead designer: Zébulon Perron
Team:
Christopher Barrie
Anik Mandalian
Mathieu Belen
Adréanne Guillemette
Adam Robinson
Photographer: Alex Lesage