Design studio Other Side designed London chophouse Blacklock's latest restaurant in a warehouse under the railway tracks at Canary Wharf. This will be Blacklock's largest restaurant yet, measuring 4,000 square feet and having 120 seats, and is tucked away in a solitary warehouse on the North Dock next to the water and just beneath the railroad tracks.
The interior features crittall-style windows, a palette of raw metals, exposed concrete finishes, and cozy wood paneling, was inspired by the speakeasy clubs and restaurants found beneath the bridges in New York City. The energy and lively ambiance of the café are complemented by the distant rumble of the trains overhead.
Gavin Mayaveram, Other Side founder, explained:
"We worked hard to produce a welcoming interior typical to Blacklock restaurants – a sense of discovering something new, yet familiar. We retained the building's original character with cement-coloured floors, dark concrete ceilings and stripped-back rendered walls painted in glossy, deep colours and combined it with timber panelling and reclaimed furniture to provide the typical Blacklock warmth and nostalgia."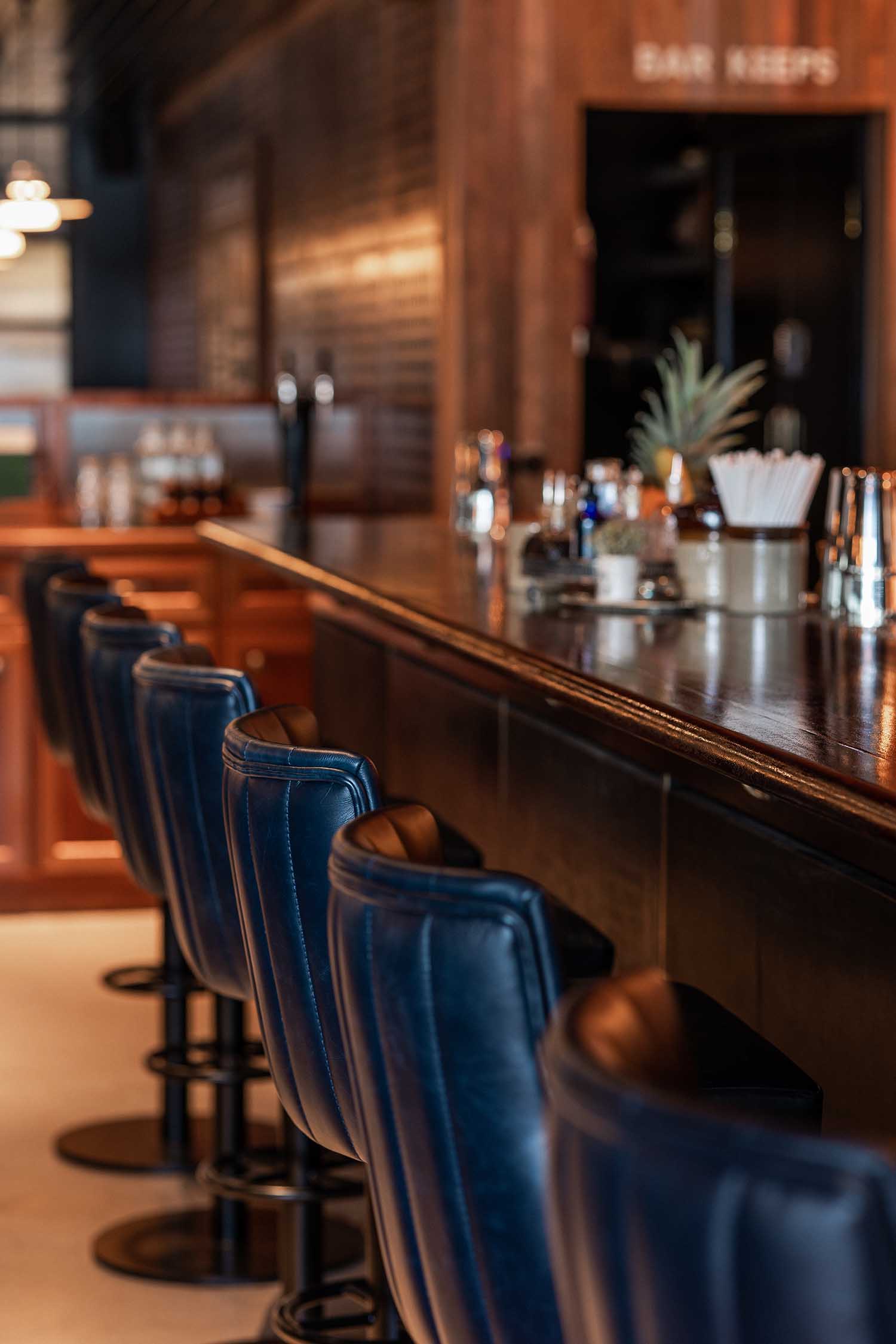 Gordon Ker, Blacklock founder, said:
"We've loved working with Other Side to bring Blacklock to Canary Wharf and to transform a unique disused warehouse under the tracks into a restaurant that feels like it's been there forever and instantly feels like home."
Materials from recycled sources were used to lend authenticity and vintage appeal. Parts of the ceilings have exposed floorboards and timber joists. Narrow strip floorboards that had been removed and reclaimed from a nearby school had been meticulously repaired to provide charm.
The logo that & Smith particularly created for the site was influenced by the restaurant's waterfront setting. The restaurant's decor features more subtle nods to the sea, such as salvaged woodwork, mirrors, and teak panels from the HMS Ark Royal, which formerly sailed by the location of the restaurant up the Thames.
An inviting atmosphere is aided by the mellow glow supplied by vintage nautical and industrial lights. Blue undertones in the tiles, paint finishes, and upholstery add to the room's sense of place.
Reclaimed furniture and objects, including ancient chairs that have been reupholstered and given new life, fill the room. Host and waiter stations are created using carefully acquired vintage furniture. For the cloak store and customer doors, reclaimed doors and ironmongery were utilized.
For customers entering the restaurant, the 10-meter-long bar with its old leather panels and sculpted iroko top is a remarkable highlight. The spectacular rear bar, which is covered in golden mirrors and has shelves made of timber and loaded with bottles, creates a backdrop that reflects warm light.
Visitors can observe the drama and activity of cooking over the hot coals via the glazed kitchen pass.
Blacklock's "under the bridge" is a nostalgic area that feels as if it has always been there thanks to the unusual findings that are stacked on surfaces and shelves and Blacklock's characteristic chalkboards.
For more information visit theblacklock.com
Find more interesting projects by Other Side: otherside.co.uk