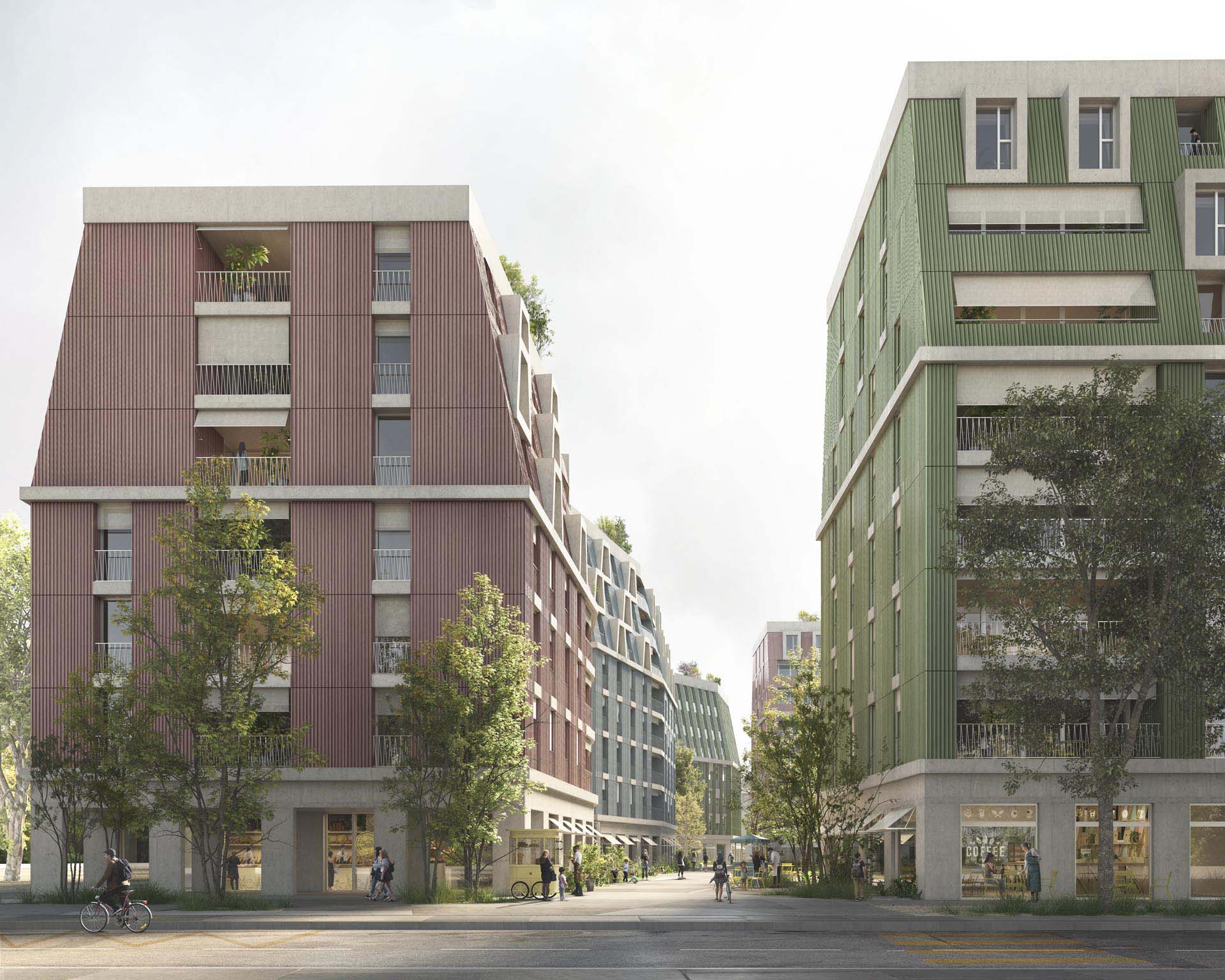 KCAP (urban planning and architecture), Studio Vulkan (landscape), and Raumanzug (sustainability) won the competition for a new residential neighborhood with 279 apartments in the Zurich area with their entry, "Quarter of the Dancing Couples." A rapidly expanding municipality, Wangen-Brüttisellen, intends to increase its density. The Erni-Areal, a former industrial area next to the train station, is one of the plots chosen for reconstruction. The goal was to develop a dense, livable neighborhood in an otherwise disparate, almost cacophonous environment.
Five teams were invited by Mobimo, one of the top real estate firms in Switzerland, to renovate the former Erni-Areal in Wangen-Brüttisellen. This largely constructed land will be developed into a high-density neighborhood containing homes, workplaces, shops, and restaurants. Small-scale homes, tiny apartment buildings, and a variety of businesses, including a Coca-Cola high-bay warehouse, surround the land. The corporation is currently growing its operations, which widens the scale disparities. Furthermore, because of its location next to a highway exit, alongside a busy street, and directly below the Zurich airport approach route, noise pollution has a significant impact on the site. A precise design solution was required for this difficult location.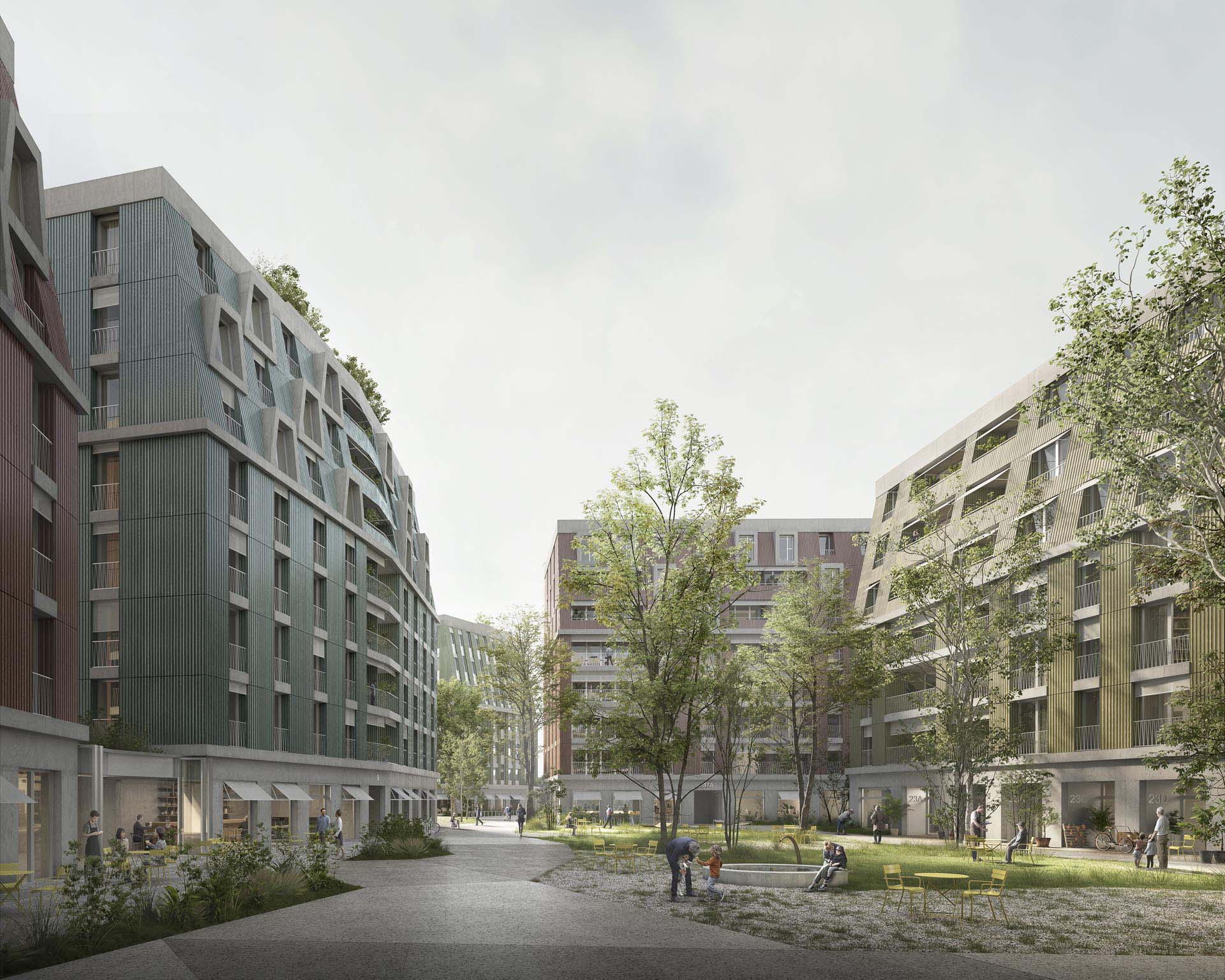 KCAP put forth a concept that takes a highly distinct position in response to the context's heterogeneity. It boldly challenges surrounding massive construction projects as the Ringstrassenquartier, the Coca-Cola high-bay warehouse, and Brüttiseller Tor. The quarter provides a contrast with compact, low-rise building rather than dramatic gestures and high points. Its high density allows for the creation of an interior world and various cozy, intimate spaces. A liveable, protected environment is created by a network of interconnected public places.
As a noise barrier, the staggered placement of the buildings does justice to the complex noise environment while maintaining an open character. Housing is mostly located in the more secure blocks, while buildings with flexible office space and penthouse apartments surround the busy road and highway exit. Erni-Areal is connected to its environment in a number of different ways, both physically and visually. A high degree of permeability is possible thanks to the hard edge's numerous small apertures and entrances.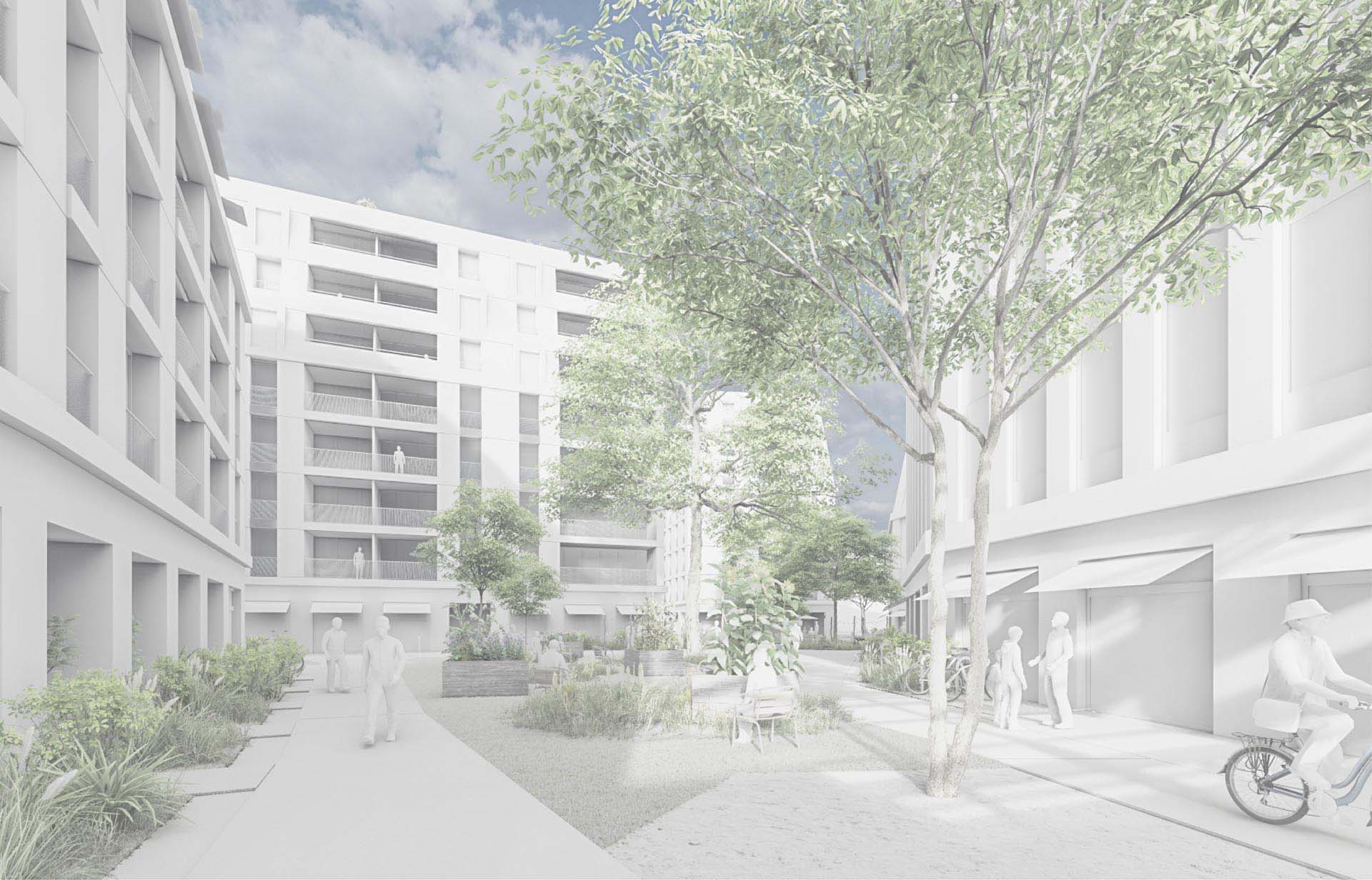 The atrium home, the linear house, the point house, and the twin house are four different typologies that distinguish the new quarter. Each typology is used twice, resulting in pairings that, because of how they are arranged and oriented inside the design, seem to be "dancing" with one another. Limiting the range of apartment and building types allowed for both coherence and optimization, striking a careful balance between repetition and variety. "We took the Waltz, a dance for two in a closed stance with quick turns and a fixed step pattern, as our inspiration," says Ute Schneider, partner at KCAP.
A sloping roof that includes the three top stories and creates an eave above the fourth or fifth story unites all four typologies. This establishes a human scale and guarantees that the public areas and apartments will have enough of natural light. The façades are visually divided into three layers: the ground floor, the body, and the slanted roof. This is in addition to the various materialization of the ground level.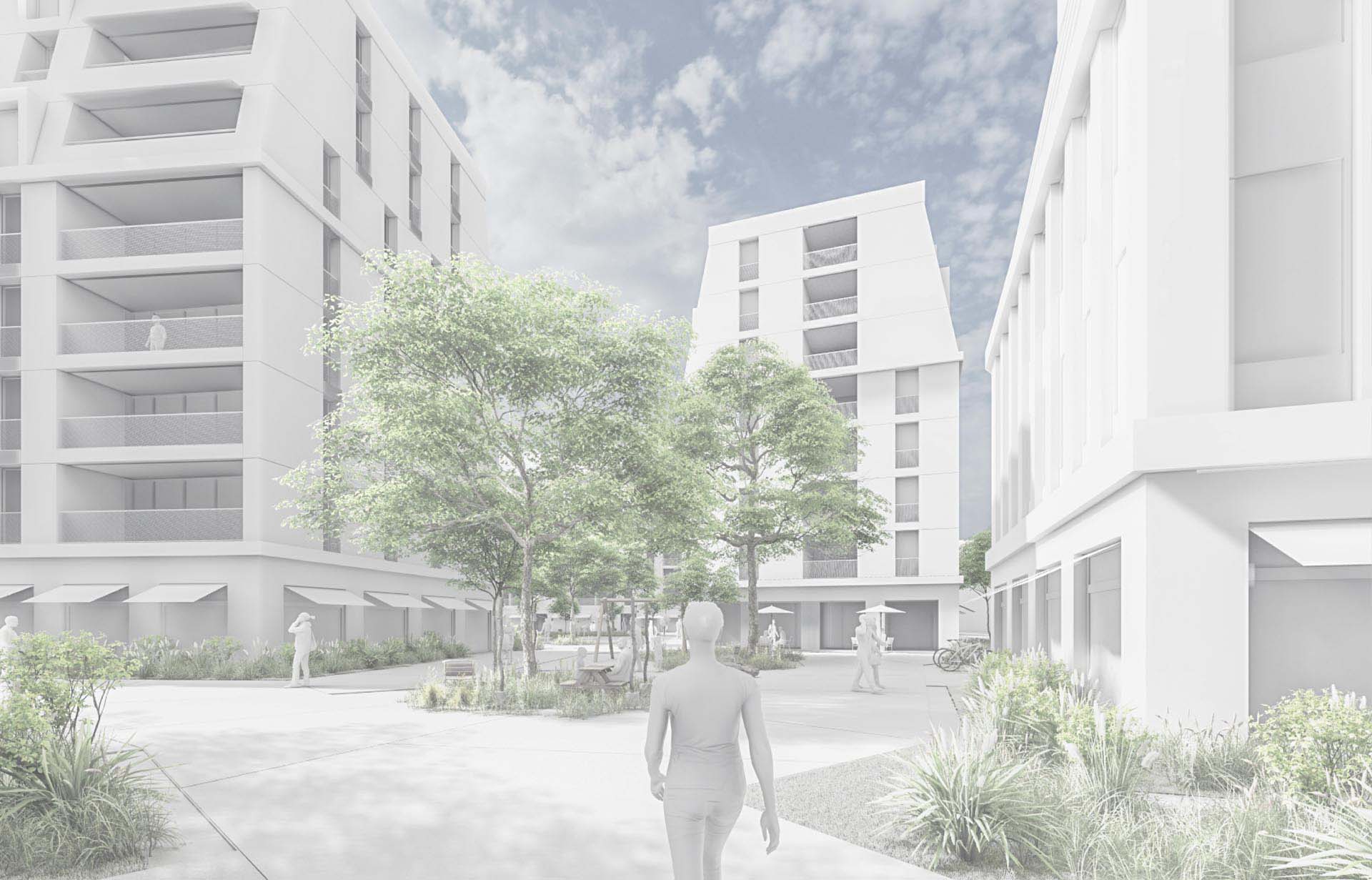 The four "dancing couples" were strategically placed by KCAP to create a series of open areas inside the neighborhood. Each of them is distinguished by unique characteristics: the innermost courtyards are densely treed, the spaces in front of the buildings serve as a barrier between the public and private spheres, and the car-free streets are easily identifiable as such. These areas also function as a retention area for excess rainwater, a cooling measure, and a microclimate of their own because of their naturally planted and shaded design.
All KCAP projects incorporate sustainability, and Erni-Areal is a prime illustration of how we do this. The building blocks are intended to be partially constructed from prefabricated wood and partially from recycled concrete, which will only be utilized for the basements, ground floors, and building cores. Due to the efficient way in which it simplifies the complicated building process in this difficult region, this hybrid solution has both economical and environmental advantages. Erni-Areal has a maximum amount of natural ventilation, solar panels, green roofs, heat pumps, and measures to combat heat stress, minimize noise, retain water, and improve the microclimate. The project aims to meet the SNBS (Standard Nachhaltiges Bauen Schweiz) regulations while still being small and environmentally friendly.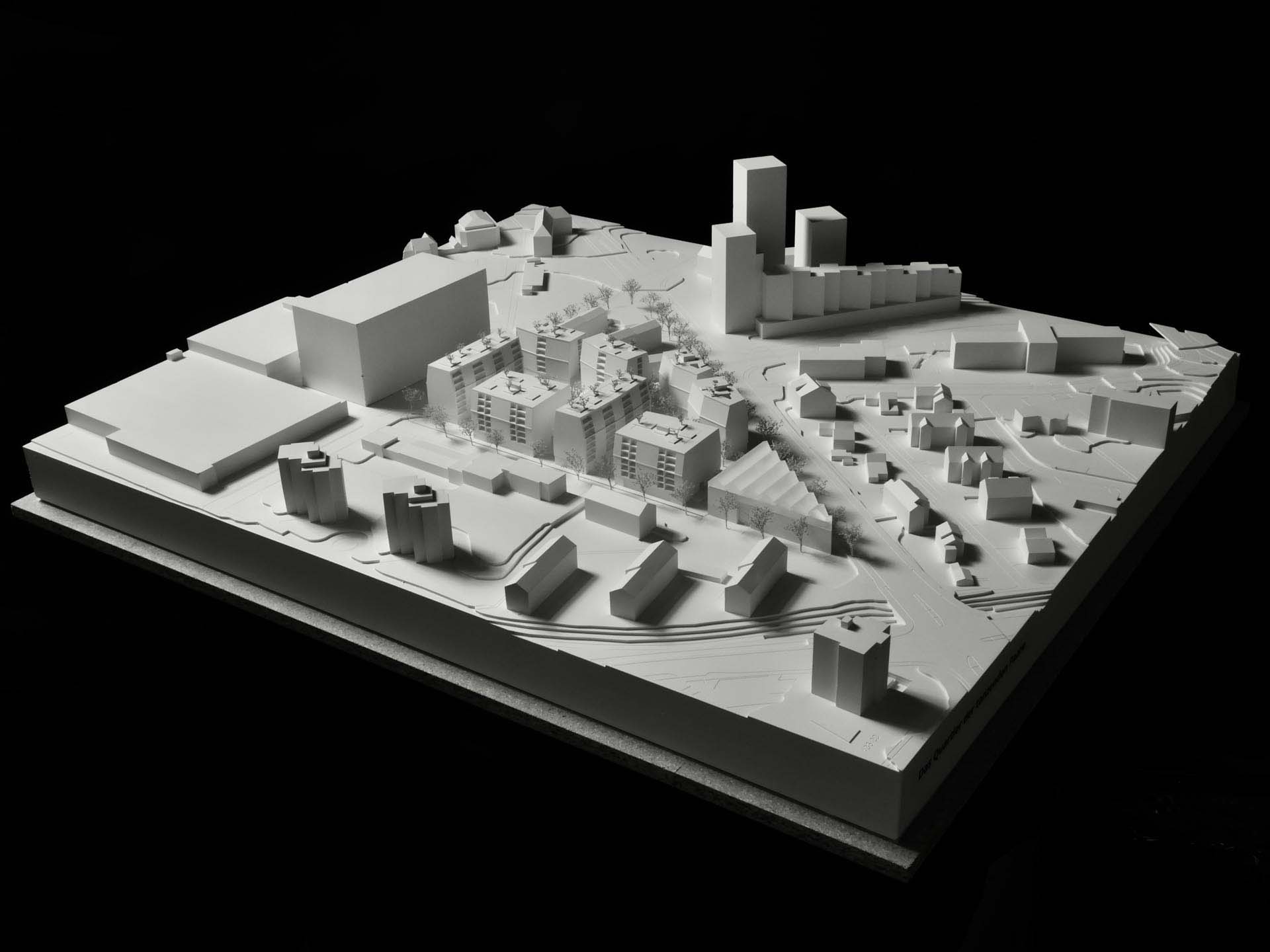 In order to create a community center with an emphasis on urban food production, the current ERNI offices will be conserved and enlarged with a greenhouse. This glass pavilion will shine brightly for the new neighborhood at night.
"We wanted to maintain part of the area's industrial atmosphere, and add variety as well as coherence, so as to create a true neighbourhood feeling."
Ute Schneider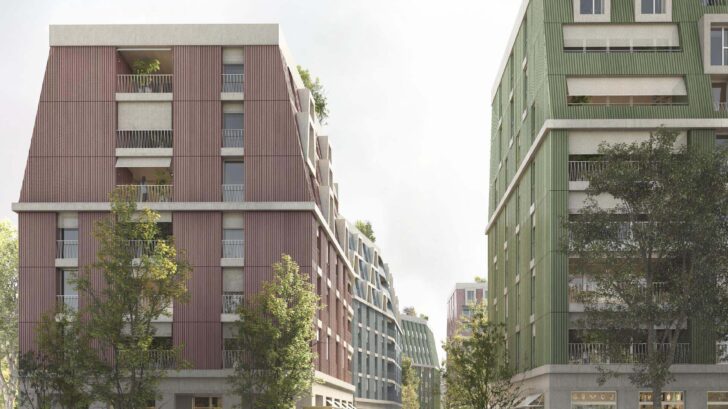 Project information
Location: Zurich, Switzerland
​Client: Mobimo AG
​Year: 2022 – current
​Status: ongoing
​Program: 36.000 m2 (GFA), transformation of an industrial area into mixed use neighbourhood with 279 apartments, office and commercial programme
​Role: Urban planner and architect
​Collaborators: Studio Vulkan (Landscape Architect), Raumanzug (Sustainability Consultant)
Visuals and drawings: © Filippo Bolognese, © KCAP
Find more projects by KCAP – www.kcap.eu