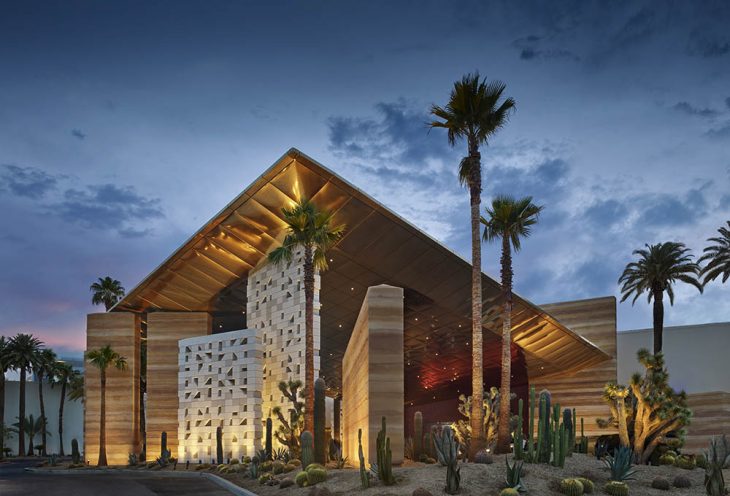 Rockwell Group have recently completed their latest hospitality project – the new Virgin Hotel in Las Vegas – a re-conceptualised and revitalised property in the former Hard Rock Hotel. Rockwell Group has been developing Virgin's signature playful spirit since 2015, when the firm designed Richard Branson's first Virgin Hotel in Chicago in 2015. For the new Las Vegas hotel, the practice has designed the interiors for the 'Virgin Spaces' that surround the casino. We talked to Greg Keffer from Rockwell Group about their inspiration, design approach, and the major challenges they faced in the design process.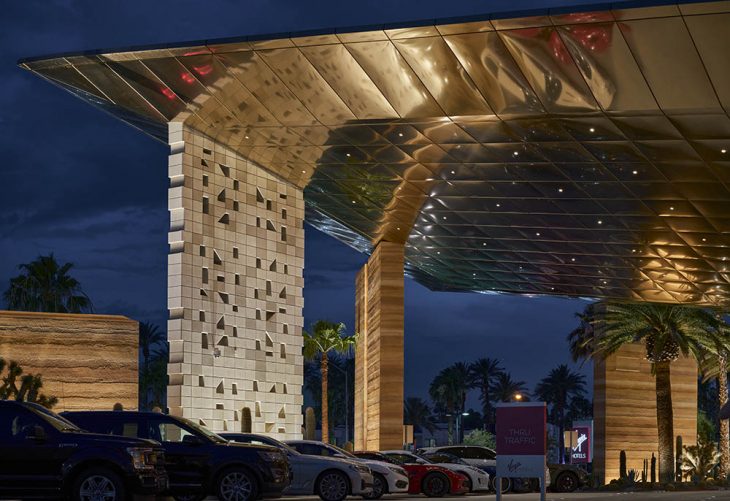 What was the brief for the project, and what did you set out to achieve with your design?
We were tasked with revitalizing and re-conceptualizing many of the property's (a former Hard Rock Hotel) public spaces with discovery and charisma around every corner, as well as bold, flexible design that radiated a sense of place—though the hotel is not on the Strip, it needed to speak to the heart and soul of Las Vegas in every way.
What considerations go into building a luxury hotel?
I think of a luxury hotel as one where every space and surface has been considered and designed, where everything is expressive and contributing to the whole, from the material of a reception desk to the functionality of a guest room armoire. The most important step in the design process is developing a narrative. Design must be relevant to today, while also nodding to history and addressing the future. We always begin by spending time with client to try to understand the possibilities of the narrative: the backstory and the intent. Ideally, the client will bring us in at the very beginning of the project and give us a seat at the table long before the program has been set, before the site has been selected, and after the project is complete. Then we move onto a lot of research. Our goal is to identify every facet of a problem, material, or business before we even begin to think about a solution, and the research itself is inspiring.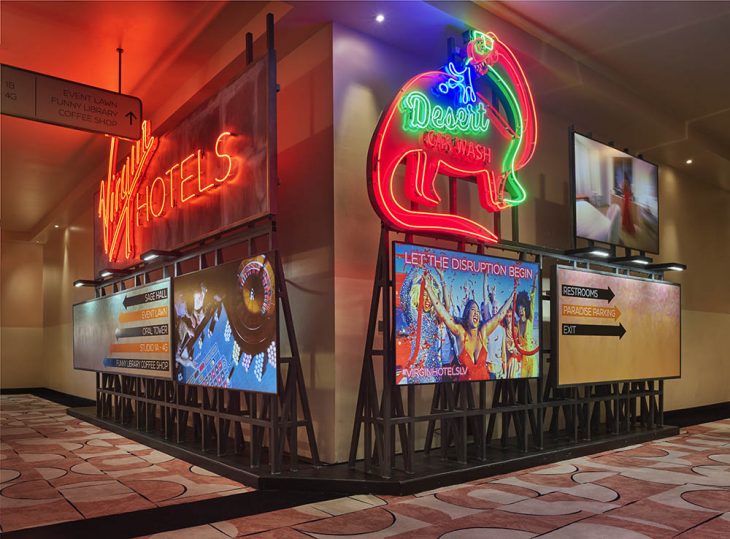 This process has led to projects such as the Moxy Chelsea and Moxy East Village—hotels that are deeply rooted to their neighborhoods and local contexts, with amenities that transition seamlessly between work, leisure, restoration, wellness, and entertainment. We've also become much more attuned to the idea of hotels serving locals just as much as out of town guests and our design anticipates this and responds to it.
Covid-19 is obviously forcing us to re-think hospitality. People need to connect, so well designed public spaces where they can safely mingle and socialize, particularly in densely populated areas, is now a luxury.
Were there any challenges in the process of transforming and renovating the existing building?
Given the iconic nature of the Hard Rock, which had a strong presence in Las Vegas for 25 years, our greatest challenge was to create a fresh and memorable statement for a new brand.
What is the basic concept behind your approach to the Virgin Hotel and can this concept also be transferred to other hotel projects?
Our concept for the project was unique to this specific hotel—we approach every project from scratch, building a narrative and design language that fits the client, program, location, and "audience" (or guest). So in that sense, what we did in Las Vegas at the hotel cannot be replicated. However, we do have a set of guiding principles that help us imagine each project: Taking guests on a journey throughout a space; creating moments of intimacy as well as spectacle; building anticipation through the choreography of spaces; paying close attention to craft and materiality; etc.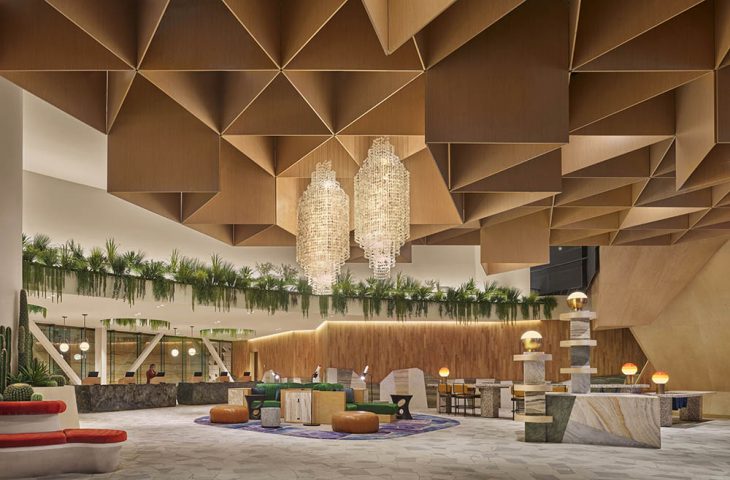 I've read that the project is an homage to the city of Las Vegas and its surrounding desert landscape. How did you manage to achieve that?
The hotel is a couple of miles away from the iconic Strip, and Rockwell Group chose to accentuate this separation by creating a luxury destination that taps into the wider context of the desert landscape with pure forms and sculptural moments. Wherever possible, blur the lines between indoors and out, with skylights, glazing, and an outdoor terrace. We imagined taking guests on an adventure along a desert highway spotted with natural wonders and follies. We were inspired by Donald Judd's Chinati Foundation in Marfa, TX, where the desert is inextricably linked to his art, and Learning from Las Vegas, the 1972 book by Robert Venturi, Denise Scott Brown, and Steven Izenour, which categorized the expressive architecture and imagery that is unique to Vegas. In an abstracted way, we pulled these references into the hotel, from monumental geometric volumes like the ceiling in the lobby, to humorous spectacles like the Shag Room.
How do specific designs contribute to the guest experience?
We created an inclusive series of lounge and dining spaces that invite guests to linger and explore. For example, the main lobby, gathering, and lounge space for the project, the Junction, announces Virgin Las Vegas's departure from the Vegas norm right away and helps guests orient themselves. The ceiling was our biggest intervention here: A plywood, coffered, hung ceiling undulates throughout the space, creating a monumental sculptural moment. It contains light wells that glow at night. More than simply a check-in area for the hotels, the Junction is a place for remote work, relaxation, or gathering with friends or family. Rockwell Group introduced new glazing to the Junction so that guests can look out onto a cactus garden. A flagstone floor also helps bring the outside in. Even our interventions in the casino, we brought the desert environment in, to give guests a sense of place. The gaming floor takes inspiration from the desert landscape's golden hues, mirages, and hazy atmosphere, with a rich palette of gold, red, and precious stones. We also celebrated the soft curves of desert formations. And our red carpet design mimics curving tracks in the sand dunes.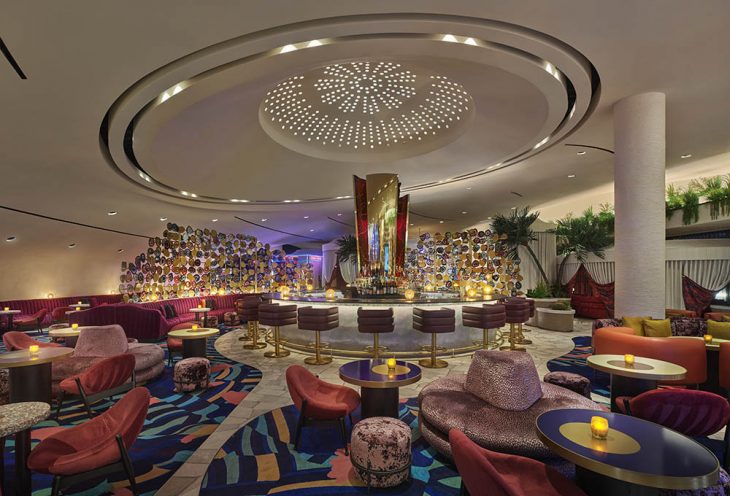 What is the most challenging stage of designing the interior of a high-end hotel?
I would say it's developing a narrative that's going to set a project apart and offer guests a new experience.
What kind of impression do you want to leave on the hotel's guests?
We want our designs to lead guests on a journey of discovery, and for them to create shared memories in our spaces.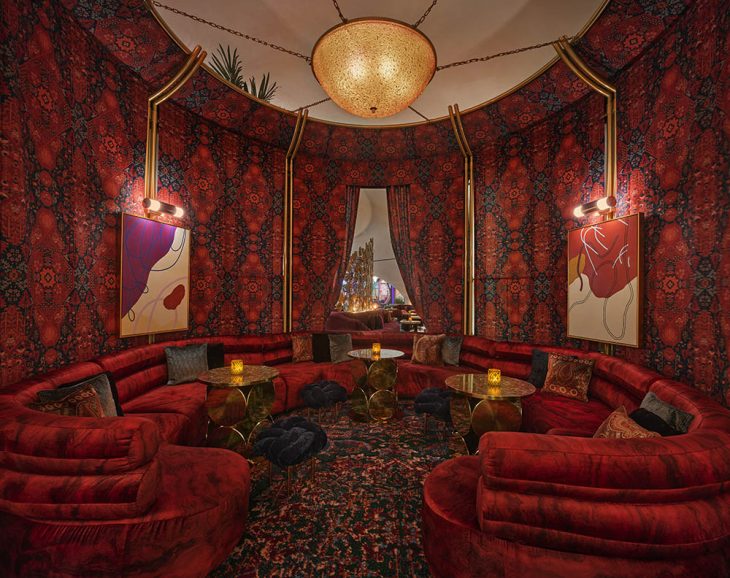 What do you feel are the greatest challenges for today's architects?
As architects, a combination of creativity and problem solving by dreaming up alternate possibilities is absolutely essential right now—both for our own health and wellbeing and our planet. We're finding that collaboration is more important than ever. No one discipline holds all the answers. We need to embrace every unexpected source and work with one another across disciplines to uncover and design better solutions, together.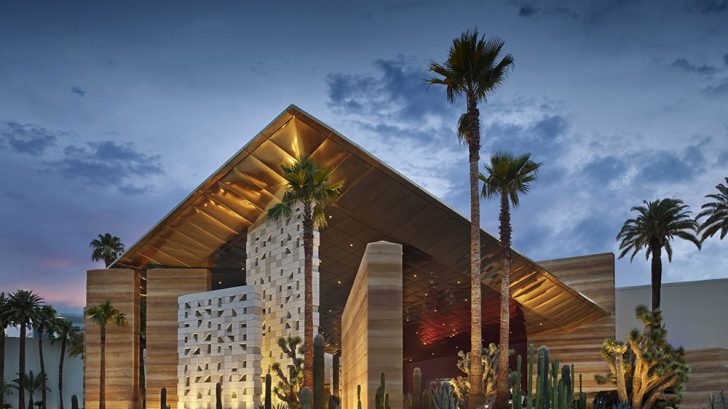 Photography: Nikolas Koenig