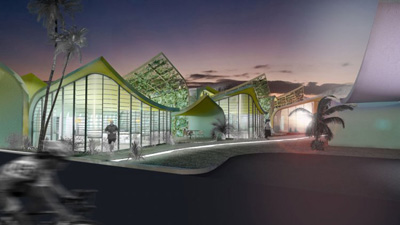 Project: New Boom Community
Designed by Sadar+Vuga
Client: Boom Communities
Location: Palm Springs, USA
Building area: Residential: 4.298,58 sqm, Boutique hotel: 820,74 sqm
Total floor area: Residential: 5.837,18 sqm, Boutique Hotel: 3.126,93 sqm
Storeys: Residential : 2, Boutique Hotel : 3
Website: www.sadarvuga.com
Noted architecture practice Sada+Vuga designs a project for a massive residential and hotel complex on a location in Palm Springs. For more images and architects detail description continue after the jump:
From the Architects:
Clusters of flowers were used both as a spatial and formal prototype to generate social porosity. A less defined boundary between individuals and the homes they occupy will activate social interactions. An individual occupies a series of volumes and ambiances, indentifying themselves within a cluster of diverse individuals.
Various levels of Private and Public, Indoor, Outdoor, and Covered Spaces run through this porous cluster of houses. Within the larger LGBT Resort one can easily identify themselves as living within this grove of flowering homes. At the micro level, the boundaries of any one individual unit is blurred to increase the awareness of community and to stress the importance of neighbourly interactions. Being one of the first neighborhoods of the LGBT Resort to be seen from Da Vall Drive, an iconic and unforgettable form was needed to serve as an anchor point for the community. A series of repeatable elements were created that read both as individual objects and as a uniform whole. This composition of perpendicular elements creates a soft, deep facade that invites people to visit not only the neighborhood Sadar+Vuga designed, but the entire LGBT Resort Community.
Homes flower upward and bloom outward within this grove to create, and exist within a space that blurs the boundaries of public and private. All homes are comprised of two halfs, an Indoor Home and an Outdoor Home. Each Outdoor Home blends into the surrounding public space, making impromptu meeting between neighbors the norm. Allowing each home to collectively "Own" the meandering "in-between" public space dramatically increases the possibility for unplanned and community wide events to take place.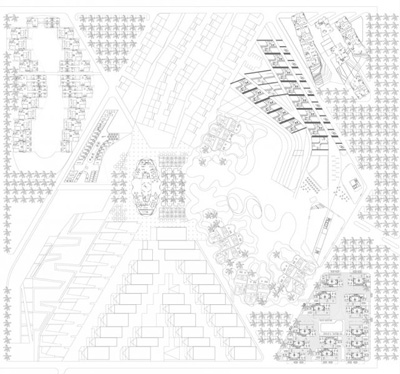 The central pool area serves as the hub of this community. Sure to be the meeting point for most, this area is ideal for community barbecues and events. It can easily be seen from rooftop terraces surrounding the green space. Placed between Community's central square and the Health and Nursing area, the Hotel's form serves both as a visual anchor point and as a practical shading device for this hot environment. The heart of the building is a void allowing for an open-air plaza to form of the ground floor. In it's center is the 'Fountain of Youth' with a series of arcade-like spaces around it. The fountain plaza serves as a smooth passage under the builiding between different parts of the resort. The arcades are also present on the outside edges of the Hotel and allow for outdoor shaded seating and cafe areas. Rooms on the upper floors are each allotted a large covered outdoor balcony for relaxing or dining to a view of Palm Springs.