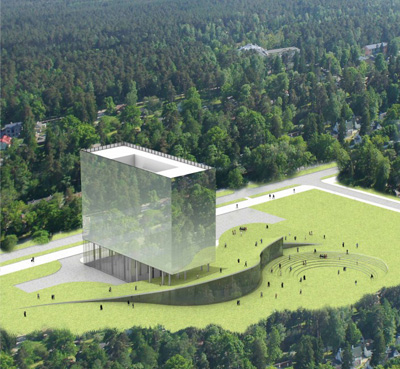 Project: Hotel Liesma
Designed by Nobutaka Ashihara Architect
Location: Jurmala, Latvia
Website: www.naa-arch.com
New York City based Nobutaka Ashihara Architect delivers a contemporary shaped proposal for the design of Hotel Liesma in Latvia. For more images and architects description continue after the jump:
About the Project:
The existing is transformed by morphing the guestroom tower to a pure geometric shape, removing its bottom 3 floors to create the hotel entry and adding these floors on top. The new is a linear sinuous curve that crosses under the transformed pure geometric shape. This sinuous curve has an undulating green roof that is a pathway, connecting the west and east ends of the site welcoming pedestrians to pause and relax while traversing the site. The undulating form of the sinuous curve also achieves its own vertical balance as it sweeps through the site.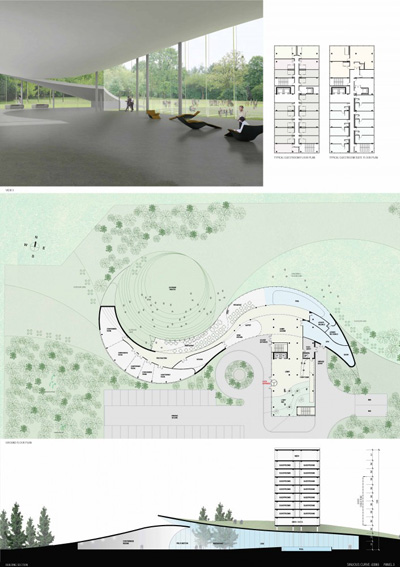 Through these 2 architectural gestures, a new equilibrium is achieved between old & new and man & nature. This balance of the sinuous curve creates an indoor musical space by the hotel entry at one end and an outdoor musical theater at the other end. In between, the lobby, lobby bar, pool, gym, breakfast buffet, restaurant and conference are attached to the sinuous circulation curve in a manner that preserves and enhances the nature of the curve.
The morphed reflective glass sheathed tower melts into its natural surroundings, enclosing the hotel guestrooms and the back of house areas. There are 7 guestroom floors (floors 3 through 9) with 84 standard rooms, 18 family rooms, 12 business rooms, 6 junior suites and 1 presidential suite for a total of 121 keys. The elevated 2nd floor houses the back of house functions of the hotel including administrative offices, housekeeping storage, linen rooms, engineer's workshop, staff lockers and canteen. There will be a small cellar footprint for utility connections and trash storage. There will be a mechanical penthouse at the top of this tower.
Intertwining the hotel with nature, using the linear sinuous curve and the pure geometric tower, spaces have been created where music can be celebrated, both in an active and passive manner, whether the music is man made or perhaps just the sounds of the waves reaching the beach, the wind whistling through the trees, or of birds singing. As is the relationship between the 2 distinct parts of the building to each other and to nature, this duality of co-existence can be experienced and appreciated in the spaces created by our proposal.
Source ArchDaily. *