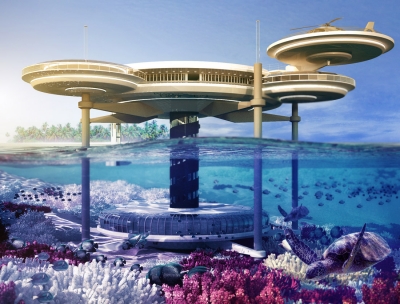 Project: An Underwater Hotel
Designed by Deep Ocean Technology (DOT)
Technology: Lech Rowinski (Technical University of Gdansk)
CEO: Arkadiusz Majerski
CFO: Jacek Zdrojewski
Company's Development: Grzegorz Malenczuk
Architecture: Pawel Podwojewski
Executive Creative Director: Pawel Podwojewski
Location: Dubai, United Arab Emirates
Website: www.deep-ocean-technology.com
Deep Ocean Technology brings the future closer with their design of An Underwater Hotel imagined for a location in Dubai.
From the Architects:
Going above and beyond all standards Water Discus Hotels comprise two discs – an underwater and above-water one. This combination will allow guests to admire the depths of the ocean while making the most of the warm climate.
The two parts of the structure are connected by three solid legs and a vertical shaft containing a lift and stairway. The size of each disc has been adjusted to local conditions.