Decks greatly enhance the property and landscaping of any home they're attached to. A well-built deck can increase enjoyment of the outdoors, assist in entertaining, and give family members a place to gather in warm weather. In fact, many homebuyers surveyed say that a deck tops the list of things they'd most like to see in a home.
Decks come in all shapes and sizes, allowing you to customize them to your lifestyle and architectural style. Check out these 5 stylish deck features to help create a deck that is as attractive as it is enjoyable.
See more after the jump: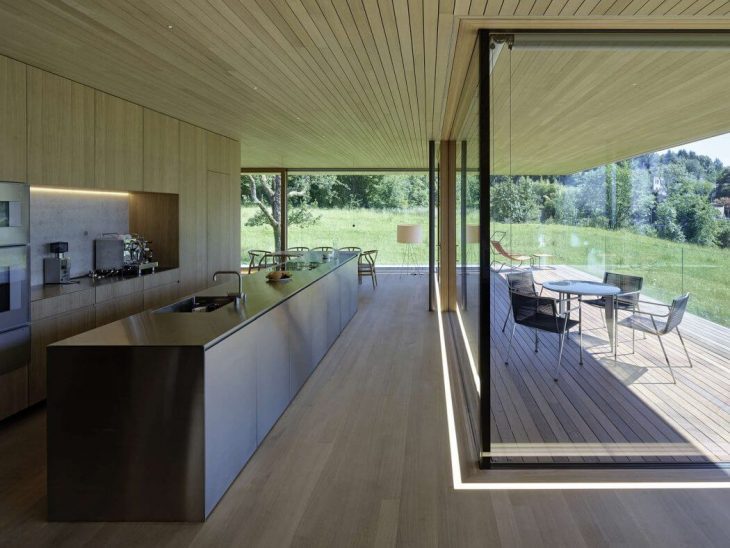 Firepit
Turn your deck into an outdoor gathering point year round with a built in firepit. Firepits are an instant focal point anywhere they're installed, encouraging people to gather around them to chat or simply to relax. By building the firepit right into your deck, you can increase the functionality of the space, while giving people a natural conversation area to move to.
Many maintenance-free deck materials are also fireproof, which makes it possible to create any type of firepit design on the deck itself safely. Or, if you choose to build a wood deck, consider creating a raised firepit with very thick sides to help contain stray embers safely. You can even build your firepit to match the contours of the deck itself to create a more aesthetically pleasing design.
Built in Furniture
If you entertain regularly, consider building some furniture right into the deck itself. Things like built in benches, shelves, planters, tables, and storage units greatly enhance the function and usability of the deck as well as its style. Consider running a built in bench around the perimeter of one end of the deck, periodically raising the platform to include niches where guests can place their drinks.
Built in furniture also works well around a built in firepit, allowing you to combine two distinct features into one, cohesive deck design. While you're building in things like seating, you may also want to consider adding in shade from a pergola, additional storage, and some privacy railings to make the deck into a private retreat.
Contrasting Wood Tones
While there are a lot of maintenance-free deck materials on the market today, wood decks still get a bigger return on investment, of around 71% according to Remodeling Magazine's Cost vs. Value report. One way to emphasize the natural wood and enhance the style of your deck and your exterior home design at the same time is to use contrasting wood tones in the deck itself.
For example, you may want to choose a dark wood tone for the majority of the deck, then choose a lighter wood tone to accent certain areas, such as the railings, a border around the seating section, or the backing behind a built in bench. Using two different wood tones adds depth and dimension to the deck. It also allows you to match any accent colors you may have in the rest of your exterior home design, such as trim or door colors, creating a more stylish exterior.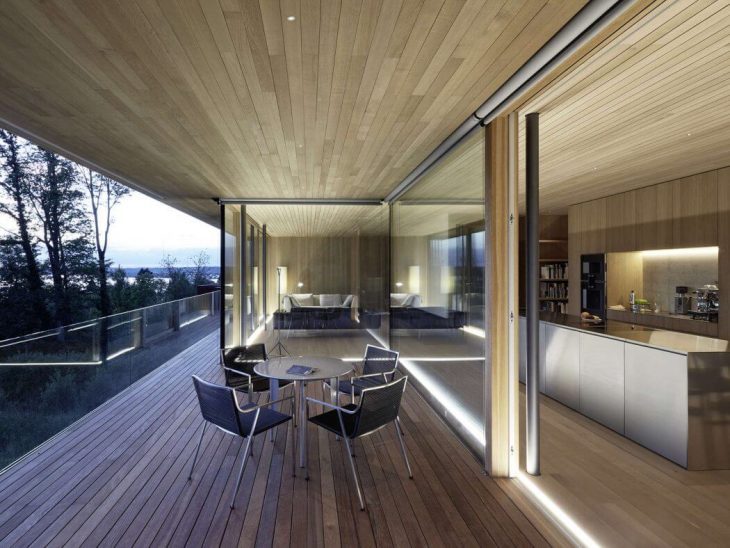 Lighting
If you use your deck around the clock, consider doing away with the lanterns and tiki torches and building lights right into the deck itself instead. Deck lighting has a lot of beautiful, subtle options for adding light right to the deck at any level. For example, you can include lights in the railing on either side of the stairs to light the way up the deck. Or you can recess lights into the floor of the deck around the perimeter to create subtle, ambient light. Deck lighting is also available that uses solar energy, turning on automatically as soon as the sun goes down so it won't add to your energy bills or necessitate you going inside to activate them once it becomes dark.
Curved Deck Design
The vast majority of decks built have a square or angular layout and perimeter. Why not change that up and create a more fluid design with a curve? Decks that have a curved or circular layout appear more organic in shape and design, moving elegantly around the space they're in, rather than making sharp corners. Curved decks can also be more functional in terms of space layout, particularly if you're building in features such as firepits and benches to make the most of the curves. Modern pool decks are a perfect venue for incorporating a curved design.
Enhance Your Deck Design
Decks and porches both help increase the amount of enjoyment you can get from your home year round. Whether you're replacing an existing deck or building a new one, there are many ways that you can enhance the design to create something that's stylish as well as functional. Try adding any or all of these five features to your new deck design to create an area that's going to enhance not only your enjoyment but your lifestyle and your curb appeal as well.
Images from House D by Dietrich / Untertrifaller Architekten