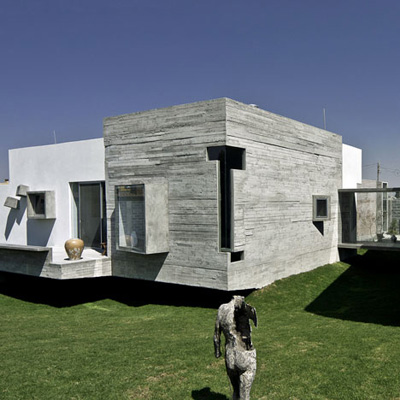 Project: House for Two Artists
Designed by M + N Arquitectos
Project Manager: Oscar Barrios Torres
Team: Gabriela Urbina Grande, Silvia Trejo
Constructed Area: 262 sqm
Location: San Andres Cholula, Puebla, Mexico
Website: www.mnarquitectos.net
Family home taken with a sentiment of art is House for Two Artists in Mexico designed by M+N Architects.
From the Architects:
The proposal began with a generally undefined idea which allowed for the possibility of change and the introduction of new ideas along the way in relation to the spatial and architectural plans in general. This lead to the creation of a two-stage plan: one for living and one for work.
The property is surrounded by beautiful views of the city and surrounding landscape. The home/workshop was intended to be situated in direct relation to the cardinal points.
The windows were thought of as cubes orientated toward those same scenic views and this idea gave way in turn to two distinct lawn and garden spaces.
The intention of this project was to make an architectural plan differentiating various spaces by the use of unique construction materials including a glass bridge dividing the workshop from the living area.
As such, the layout ended up being a rectangular prism shape, parallel to east-west corresponding to the public/circulation areas within the home where there are three constructive modules: First, in concrete, directed toward the south illuminating the master bedroom; second, in brick, directed toward the north illuminating a study/office area; and finally, a transparent bridge connecting the house to the workshop directed toward north – south.
The idea evolved into highlighting an architectural plan while visually differentiating various modules made with like materials where each one has its own distinct goal or intention depending on options in relation to temperature, acoustics, or the distinctive qualities of any given living space.
The public areas include a dining room, kitchen, living room, and hallway (which also serves as a library lending to dual function and form). The floor of the home, finished in polished cement, unites the project in its entirety.
The windows are planned to offer multiple views to the surrounding area and are thought of as distinctive architectural elements identifying unique aspects of the home. Beyond that, each window is of a particular dimension and frames specific views while creating spaces where, for example, seats may be placed for moments of reflection.
Structural Design: Prodies Ing. Ismael Ramirez
Lighting Design: MN Diseño e Iluminación
Constructor: Patricia Perera
Promotor: Carlos Arias / Rip Parker
Source Dezeen. *