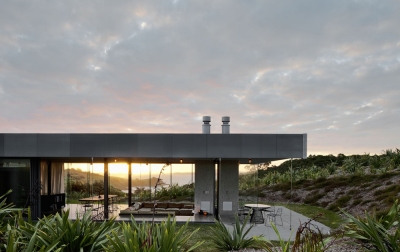 Project: Island Retreat
Designed by Fearon Hay Architects + Penny Hay
Location: Waiheke Island, New Zealand
Website: fearonhay.com
Photography: Patrick Reynolds
Shaped for a spectacular location in New Zealand is Island Retreat house coming from Hay Architects + Penny Hay studio.
From the Architects:
An arrangement of freestanding structures around a sheltered central courtyard rests in a saddle above Matiatia Bay. The natural undulations of the saddle have been subtly emphasized to form a natural setting for three roofed structures and freestanding raised pool. Inspiration for the site came from a study of lightweight, canopy- like structures, tensioned to the ground plane. Draped roof planes are tensioned to the surrounding landscape over interior and exterior spaces.