Modernising A Log Cabin
|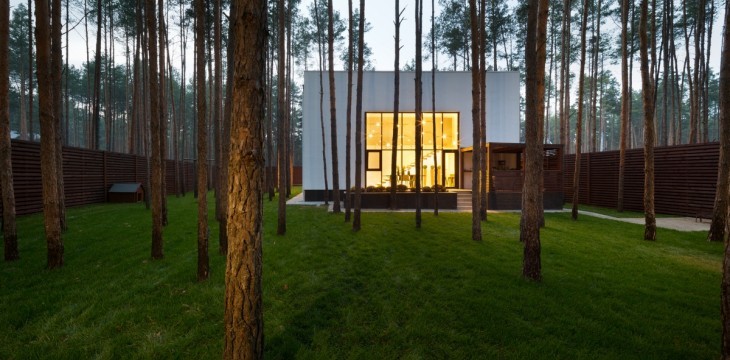 Over the last few years, there has been a massive increase in city professionals opting to buy a log cabin in a rustic setting to act as the perfect weekend getaway. With that being said, it is no wonder why so many who are already adjusted to the modernisation of urban culture would want to incorporate their outdoor home away from home. Fortunately with this trend being on the rise, innovative ideas are now being introduced that look to revamp the typical décor that such quaint properties tend to have. Photo above architect Viktoria Yakusha.
Here are the top tips for modernising your log cabin.

Natural Simple Pieces
Using natural furniture to decorate your city getaway log cabin is the perfect way to add hints of modernisation. Much like contemporary décor, log cabins kits have been defined by their use of simple furniture made from natural materials; so keeping this balance is crucial to making sure you do not clutter it. So instead, opt for pieces of furniture that will imply a clean yet rustic look to reinforce a more modern feel.
Opt For Smart Storage
More times than not storage in log cabins can be very limiting, and therefore it should be noted that you will have to be smart with your storage. To do this, opt for solutions such as multi-purpose furniture that can be used in numerous ways, yet still giving your cabin an avant-garde yet homely feel.

Be Bold With Colour
One of the easiest ways to modernise a log cabin is to be daring with your colour palette, especially as it is often seen as a striking contrast to the wooden exterior. This can be achieved by adding throws and cushions to your cabinwhich will add style and colour to it, yet still give it that timeless quaint idea of simplicity. What might be good to also take in to consideration however, is to not overdo the amount of colour that you add to your cabin, as this will overpower the wooden furnishings. To stop this, apply hints of bold colours discreetly to your cabin's décor instead.
While it might sound like an ambitious task, in actuality modernising a log cabin is relatively straightforward. What is key to take in to account is that it is much like decorating a primary property, with only a few tweaks needed in order to balance out the idea of rustic meets contemporary, for something that is truly picturesque.