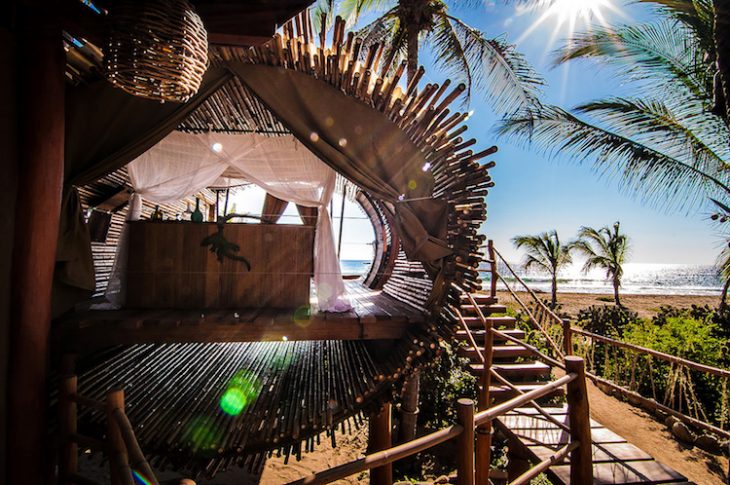 The Playa Viva sustainable resort in Juluchuca, Mexico, has unveiled a treehouse suite surrounded by lush palms. The 700 square feet beachfront treehouse was designed by Deture Culsign. The firm aimed to "visually intrigue and highlight sustainable strategies to deliver a natural immersive guest experience." The treehouse is made of bamboo with electricity and hot water provided by solar power.
The concept of the design is for guests to experience indoor and outdoor living within one seamless space. The locally sourced wood blends into the surroundings, with an open air sitting room and private bathroom located on the ground floor. The ceiling of the bathroom is intentionally curved away, opening up to the sky and creating an outdoor shower sensation. The upper sleeping area, or perch, contains a king bed and two person hammock—perfect for gazing out the open cylinder onto the private beach.
Guests are asked to leave their inhibitions behind, embracing the au naturel vibe of the treehouse, which was built by California-based Artistree. The suite can sleep three people with prices ranging from $445 to $620, depending on the season, meals, and yoga classes included. The resort itself sits on 200 acres and includes an estuary, an Aztec archeological site, turtle sanctuary, and a coastal forest and mangrove ecosystem which supports an array of wildlife.