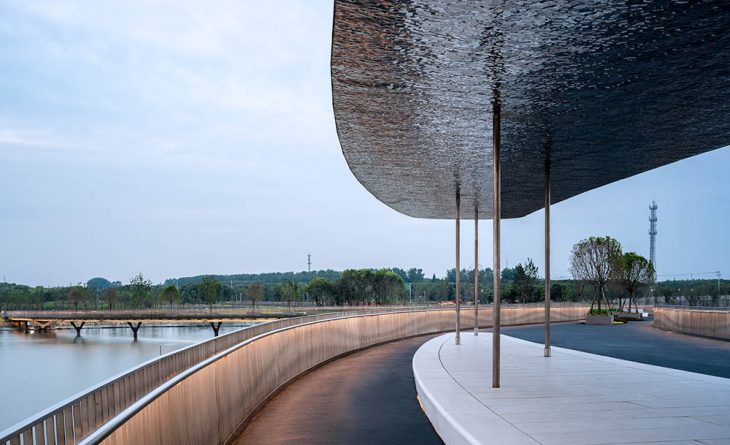 BAU recently completed their latest project in Shanghai, China: Yuandang Bridge. The pedestrian bridge connects Jiangsu and Shanghai and is a dynamic ensemble, integrating ecology, transportation, landscape and culture. Take a look at the complete story after the jump.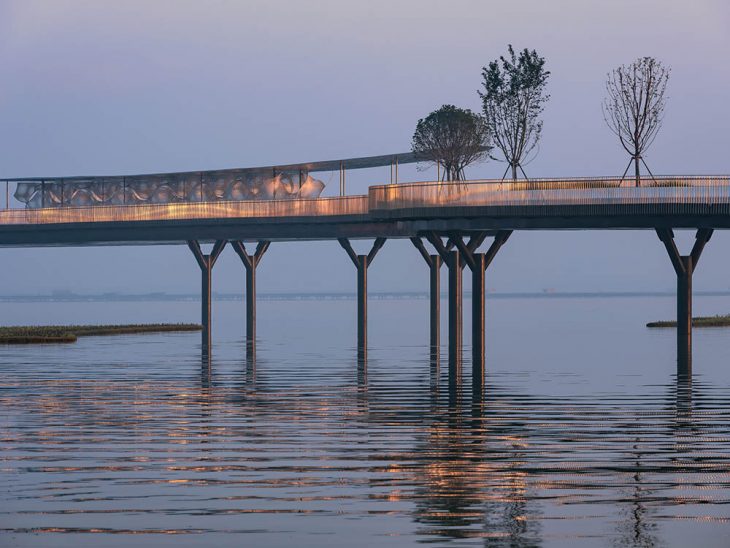 From the architects: The Yuandang Pedestrian Bridge celebrates the coming together of Jiangsu Province and Shanghai. The 586m bridge is a hybrid structure incorporating landscape, infrastructure, and architecture. It is located in a key location where the two jurisdictions meet.
The figure of the bridge resembles a ribbon and echoes water ripples on the Yuandang Lake below. Trees and shrubs are incorporated in the bridge, giving the appearance of a floating garden connecting the two banks.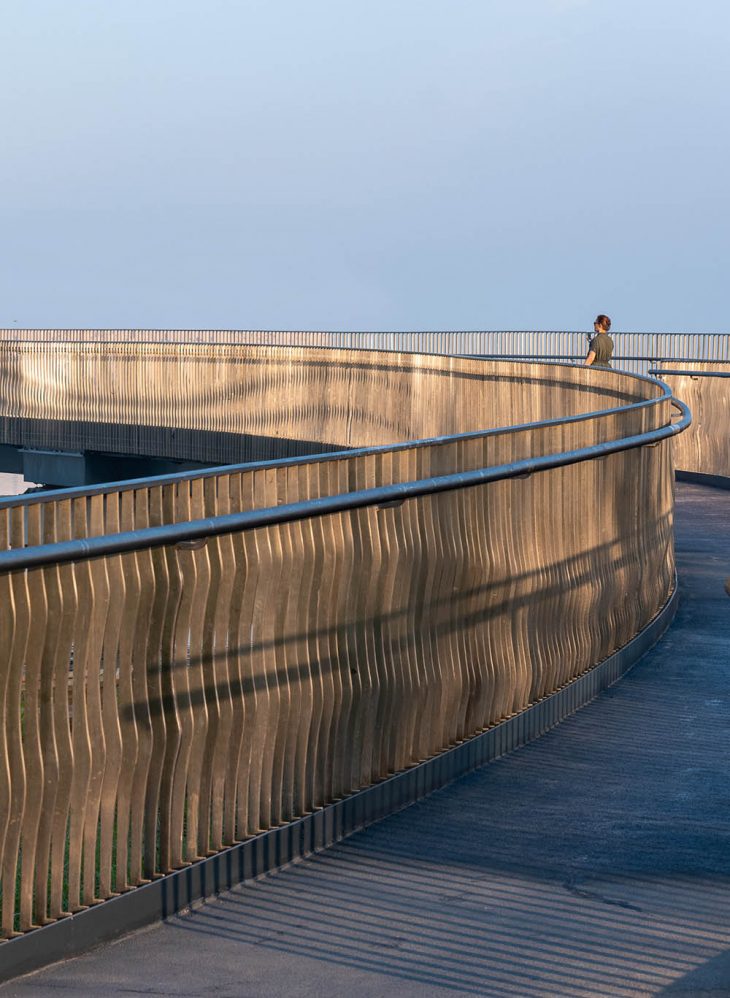 The six-meter-wide bridge deck is divided into three bands: cycling path, vegetation band and walking path. The winding bridge has three widened sections for resting and enjoying the lake view.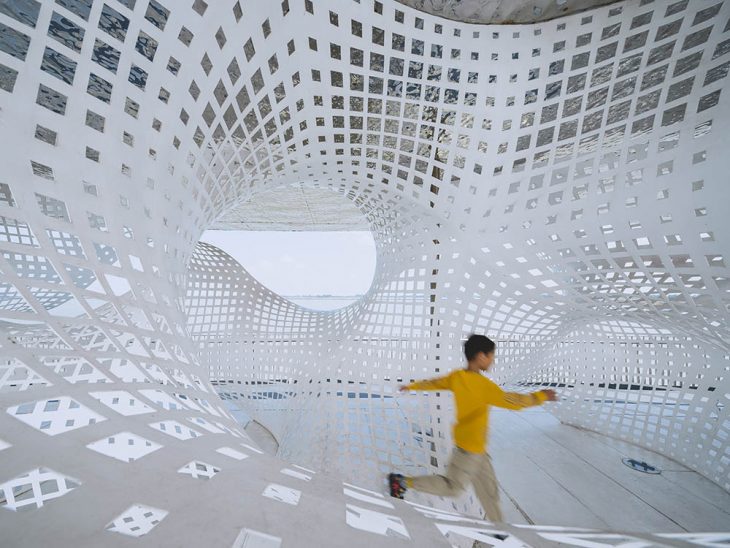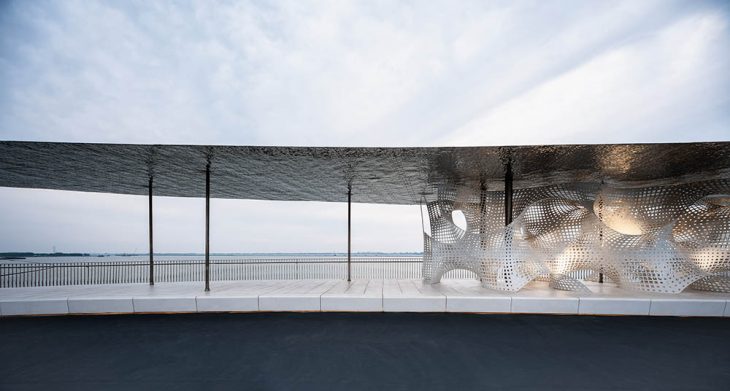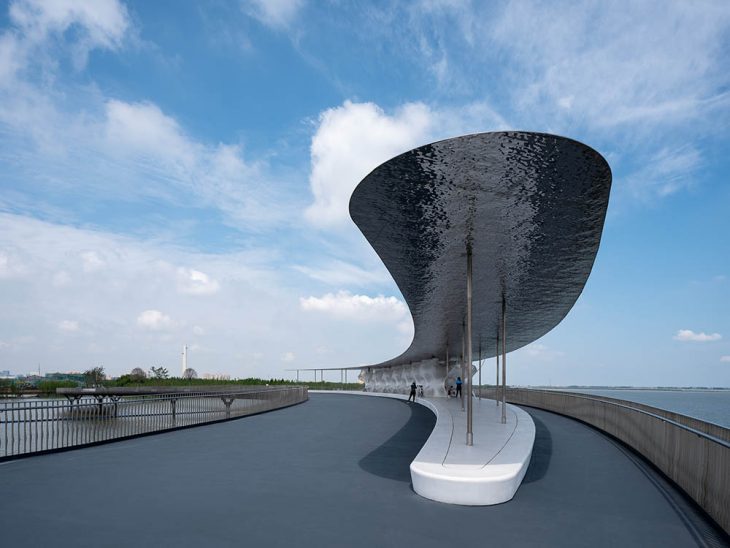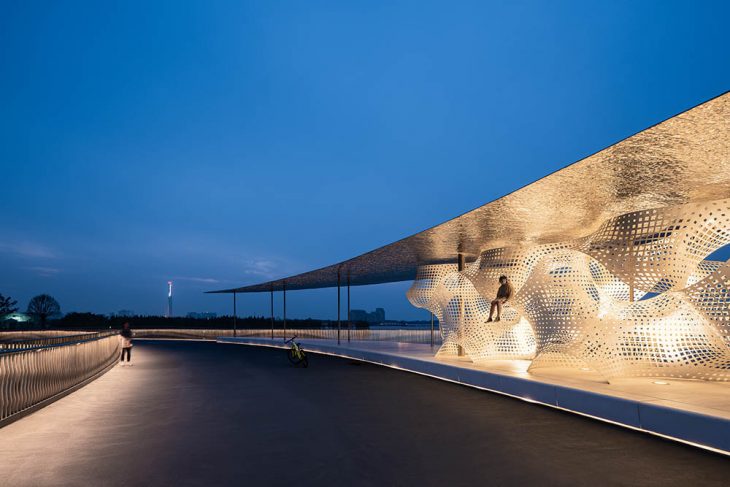 Taking inspiration from local sculptural traditions, the bridge's pavilion explores contemporary mathematics modeling to create a porous wall that is both sculpture and playground. The bridge is a dynamic ensemble, integrating ecology, transportation, landscape, and culture.
Project Data
Project Status:Completed 2020
Location:Qingpu, Shanghai, Suzhou Jiangsu, China
Year: 2020
Construction Cost:CNY 86,000,000
Typology:Urban design, public landscape
Program:Pedestrian bridge, pavilion, bicycle path
Project Leader: Huang Fang
Team:BerryPan Linlu , ZhuQizhen , YanXiaoxi , GuoLiexia, ShiZhengting, Sheng Bailu, Zhao Zheng
Invested by: China Three Gorges Corporation
Client: Construction Bureau of Fen Lake High-tech Industrial Development Zone, Jiangsu Province, Shanghai Qingpu District Water ConservancyManagement Institute
General coordinator:Yangtze River Delta Ecological Integration Development Demonstration Zone Executive Committee
Engineering: Shanghai Investigation, Design and Research Institute Co., Ltd
Contractor: CCCC Shanghai Dredging Co., Ltd.
Photographer: Zhu Runzi