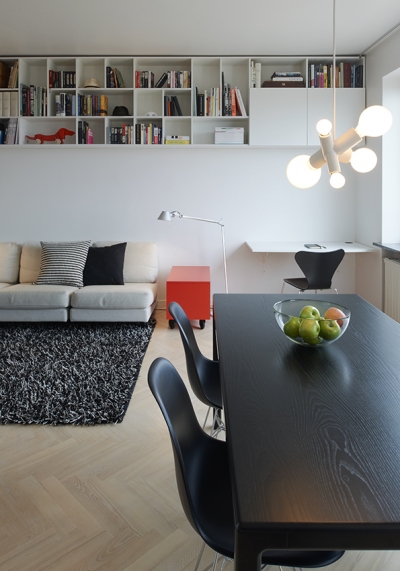 Project: Apartment on Kungsholmen
Designed by Rotstein Arkitekter
Location: Kungsholmen, Stockholm, Sweden
Website: r2a.se
Located on a top floor in a functional styled building from the 1930s in Stockholm's Kungsholmen interior design of this lavish apartment is work of Rotstein Arkitekter practice.
From the Architects:
The apartment is overlooking the Stockholm skyline from the top floor in a functional styled building from the 1930s. The new design of the studio offers an open space that enhances the presence of the outside cityscape. With the new placing of the bathroom and kitchen, Rotstein Arkitekter created a very efficient plan. Built-in storage is combined with the kitchen and strengthens the axis from the entrance towards the window. A storage unit in the middle of the studio physically separates the living area from the kitchen, but keeps the visual connection between the two spaces. The mirrored sliding door by the entrance and the black glass in the kitchen enlarge the space and reflects the natural light. White stained ash floor, black coloured areas on the walls in combination with curtains in black velvet and light see-through linen are the main components used in the interior.