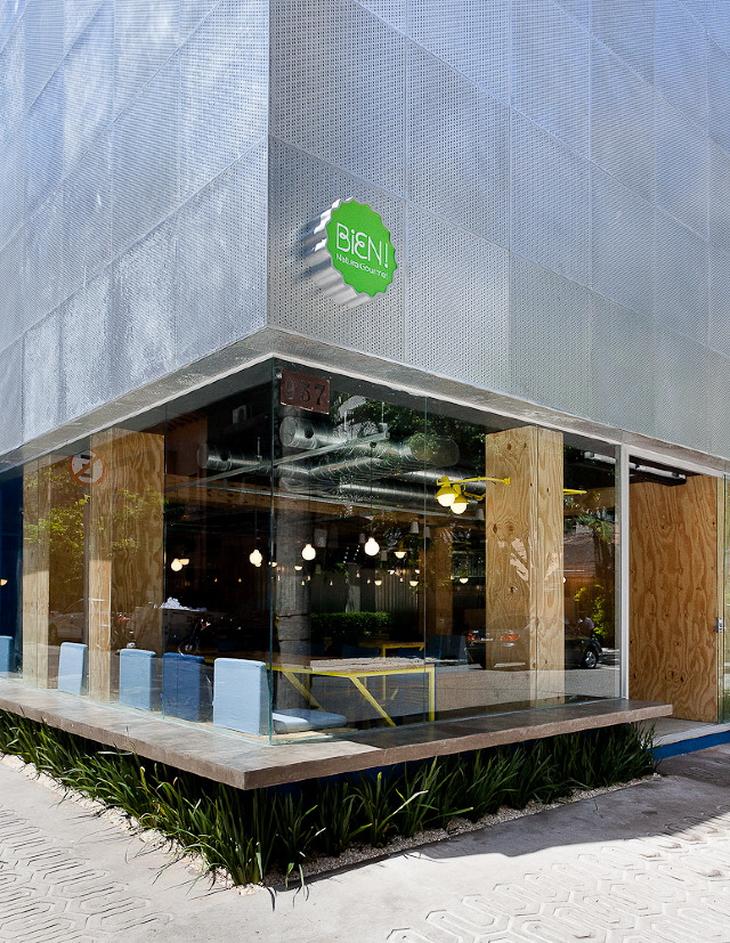 The beautifully colorful design for Bien! Restaurante in São Paulo, is work of Brazilian practice Suite Arquitetos. See more of the space after the jump:
From the Architects:
The architecture of Bien! Restaurant is oriented toward the street and toward the City of São Paulo. The small two floor building occupies a discrete corner in the middle of itaim, in the capital's South Zone, and was refurbished to receive a natural food restaurant, opened only during the day, in which the light enhances the colours and emphasises the movements. The joining of these two factors, light and city, defined for the space and almost industrial, but comfortable, design and contemporary concern for the environment. Young architects Carolina Mauro, Daniela Frugiuele and Filipe Troncon, from Suite arquitetos, had, as a starting point, the expansion of the possible limit. In the ground floor a transparent glass box surrounds the area of the dinning-room and gives it continuity while revealing to passerby the raw materialness of the tables, chairs and coatings. One floor up, a detached metal box, formed by perforated metal plates protects the kitchen's volume, closets, bathrooms and office, and allow the light and air in without revealing the traditional framework of doors and windows.
Project: Bien! Restaurante
Designed by Suite Arquitetos
Location: São Paulo, Brazil
Website: www.suitearquitetos.com.br