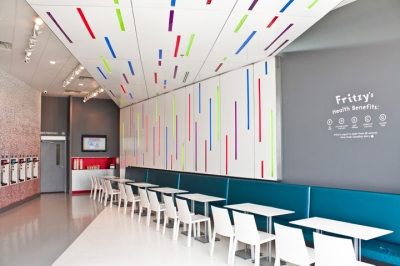 Project: Fritzy's a Frozen Yogurt and Bulk Candy Shop
Designed by PrototypeDesignLab
Total Floor Area: 800 sqf
Location: Toronto, Canada
Website: www.pdlab.ca
Check out the solution for Fritzy's Frozen Yogurt and Bulk Candy Shop in Toronto, Canada by PrototypeDesignLab designers who shared with us their engaging design. For more images as well as the architects' description continue after the jump:
From the Architects:
The design for this 800-square-foot frozen yogurt and candy shop fuses a highly efficient plan with an expressive surface that cloaks the walls and the ceiling. The attention of the patrons is immediately drawn to the glowing, white volume composed of a white high-gloss surface wrapping the walls, ceiling and floor. Its striking linear pattern of coloured, acrylic strips induces a horizontal vertigo, which, seen through the glass storefront, serves as a visual invitation to pedestrians on the street. The vitality of this architectural surface becomes the brand's identity. The surface performs as both a fantastical and functional main element: it integrates a bulk candy bar of endless variety, LCD monitors, and an eat-in counter, as well as embedded lights that tease out a richness and depth from the architectural surface and provide visual seduction. The sensation is further accentuated by the mirrored back wall that continues the pattern and doubles the experience of the visitor.