The warm welcoming interior of Le Petit Brioche in the in Valencia, is work of talented creatives at Binomio Estudio practice.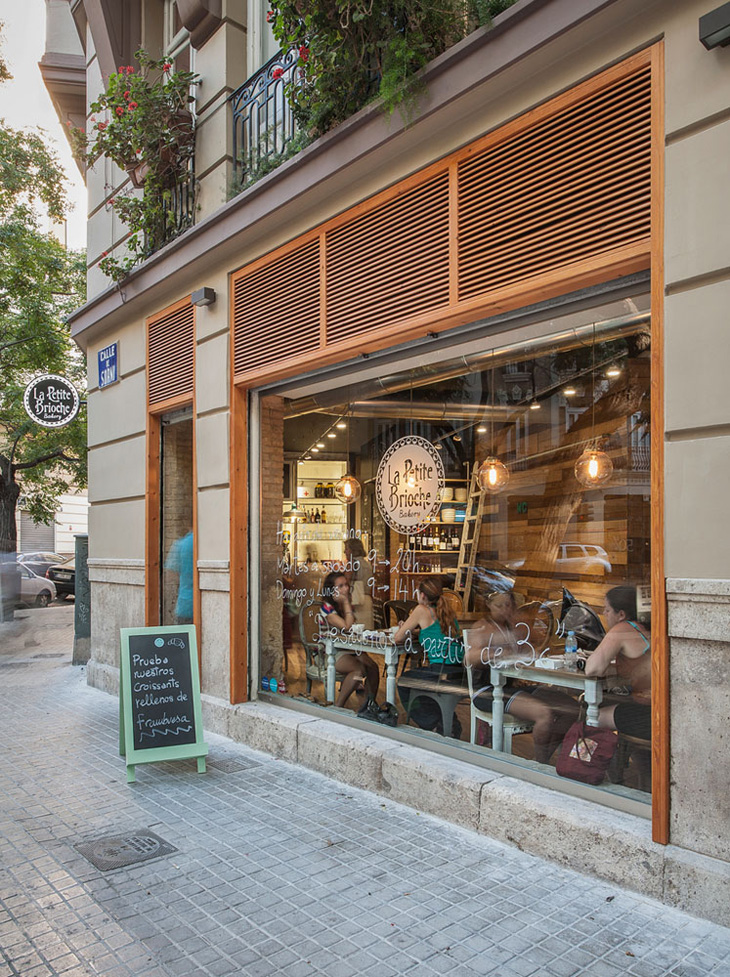 From the Architects:
The project is located on the street Sorní in Valencia, where we can find a large number of historic buildings with a high compositional value. The number 28 is a small store of 63 m2 just on the corner where it has always been the shoe-shop of the neighborhood. Due to the small size of the room and for functional purposes, we had to compress the storage place, the toilets and the kitchen further over the dividing wall of the room, so we leave the public area and the counter in front of the opening windows. Also we placed the counter just beside the kitchen in such a way that the people on the street will be able to see how the products are been elaborated and how the work is been done up there. We have worked with the old materials of this particular place like the stone and brick's wall but we wanted also to use warm materials like wood. Doing this way, we wanted to create a counterpoint between them that ennobles the space but giving at the same time a unique style. The electricity and air conditioning facilities are left out of the wall, so they are showed on purpose, providing a manufacturing character to the space that emphasizes the industry vs. traditional duality We painted the façade with the same colours of the building thus to be in tone with the whole building. The gaps are emphasized through wooden frameworks that allow the woodwork protection while framing the daily life of La Petite Brioche. Bengallent SL, the promoter of the order, requested us a draft of a Bakery that keeps the friendly and traditional character of small neighborhood stores.

Project: Le Petit Brioche
Designed by Binomio Estudio
Area: 63 sqm
Location: Valencia, Spain
Website: binomioestudio.com