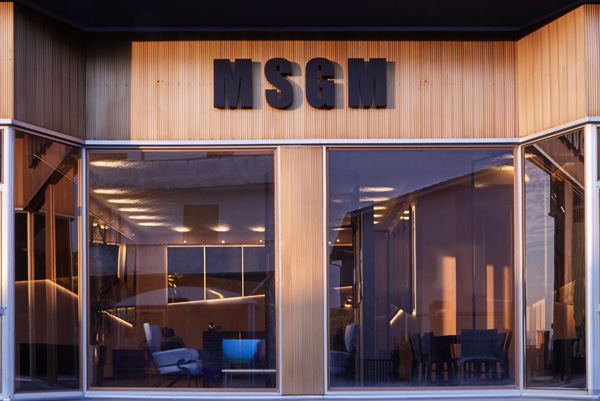 Architect Fabio Ferrillo – founder of the Milan studio OFF Arch – designed the renovations to the production site lobby of MSGM, one of the most exciting fashion brands of the moment which was founded by Massimo Giorgetti in 2010. The project has a precious soul that redevelops the original building's details and geometries while reinterpreting them with an entirely contemporary sensibility, incorporating glamorous and sophisticated touches.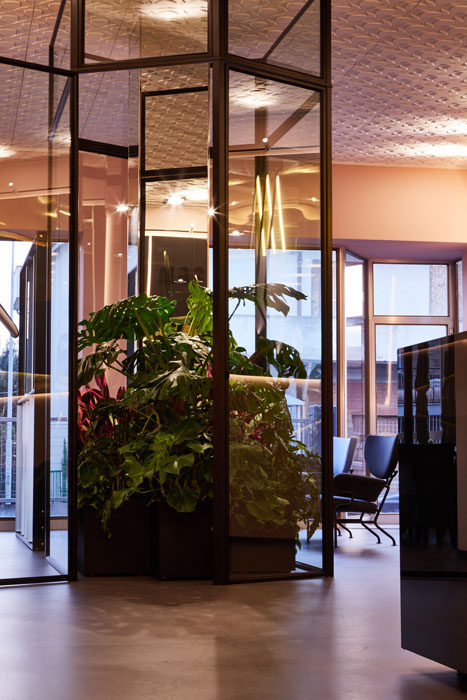 The MSGM headquarters in Filottrano, in the province of Ancona, occupies an industrial facility of considerable size whose lobby was the subject of significant renovations by architect Ferrillo: the building is accessed through an entrance hall, which was doubtlessly the most interesting part of the project.
The complex had been in a neglected state for many years. Its technical ceiling dating back to the 60s had an interesting three-dimensional diamond-shaped pattern; the architect decided to preserve this pattern and enhance it with a highly contemporary, visually striking design.
"My inspiration – as Fabio Ferrillo himself said – came from the great tradition of luxury hotels in Tokyo, especially the precious Okura: a clear example of how attention to every detail combined with the freedom to create diagonal forms of light and matter can create sophisticated atmospheres. Giulio Minoletti's meeting rooms of the 50s – especially the Casa del Cedro in Milan – and his use of large, coloured surfaces and various sheens was my inspiration for creating a freely traced system of brass, black stone and green onyx panels on the walls softened by a warm pink. The walls are enhanced by the background lighting rendering the material light, and by slender linear lamps".
A large, diamond-shaped glass structure marks the centre of the lobby and houses a dense greenhouse, which is repeated on the façade with a small garden of succulents; the divider in movable blades of varying glass separates a meeting space featuring a large black glass and onyx table. The large frame in bronzed aluminium was the subject of meticulous restorations, as it allowed a glimpse of the interior style from the exterior. The hall provides access to the main staircase, which with a game of diagonals in white marble, black stones and various glass, creates a new, current space.